How to fix a corrupted user profile in Windows 10
Here you will find out:
what to do if your user profile is corrupted
how to fix a corrupted user profile in Windows 10
how DiskInternals Partition Recovery can help you
Are you ready? Let's read!
What to do if your user profile is corrupted
Some Windows users have experienced it: you try to access your PC, only to get blocked by an error message of a corrupt user profile. How would you handle such a situation? What are the possible workarounds to apply? Read on.
How to fix a corrupted user profile in Windows 10
Here you will find 3 great methods and any of them can be helpful for you.
Method 1: Create a new user profile
The user profile is already corrupted, as the error message reads; hence, one of the recommended workarounds is to create a new profile. However, before you can be able to create a new user profile, you must have admin access on the computer. Notwithstanding, sometimes, you may be the only user operating the computer, and yet this error occurs; being that you are the only user on the PC, your account is the Admin account on the computer, but since it is now corrupt, what should you do?
Well, Windows has a failsafe built-in admin account. The account is meant to come in handy when your default admin account is unable to log you in. To activate this hidden admin account, you need to boot the computer into Safe Mode, open Command Prompt, and run the following command: net user administrator /active:yes
Now, log in with the unlocked admin account; it typically does not require any password. After logging in, follow the steps below to create a new user account.
Open the Windows Settings page by right-clicking on the Start/Windows icon on the taskbar and select "Settings".
Click on "Accounts" and further click on "Family & Other People" on the left pane.
Choose "Add someone else to this PC".
You can either enter your Microsoft account details or click the "I don't have this user's details" link to create the new account using a username and password.
After creating the user account, while on the "Family & Other People" page, click on that new account and change the account type to "Administrator".
You may also need to transfer all files and settings of the old user profile to the new one you just created.
Method 2: Use Windows Registry to repair the user profile
If there is another admin account you could use to log into the computer, then this method can be employed to help the situation. By repairing the corrupt user profile through the Windows Registry page, the error could be fixed without much effort.
Press Windows key + R and type Regedit into the box.
Quickly navigate to HKEY_LOCAL_MACHINE\SOFTWARE\Microsoft\Windows NT\CurrentVersion\ProfileList. (simply copy the path and paste it into the address bar).
Click on the "S-15-5-21-xxxxx" folder on the left pane and double-click on "ProfileImagePath" to confirm the user profiles. Do this until you find the "S-15-5-21-xxxxx" folder for the corrupted user account.
Now, right-click on "State" in the same folder for the corrupt user. Select "Modify" and set the "Value" data to "0".
Close the registry, restart the PC and try logging in with that user account.
Method 3: Run SFC Scan and DISM
A lot of Windows PC users already know how effective the SFC and DISM utilities can help in fixing most Windows errors. Well, they can come in handy in this situation, too. However, these commands run through the Command Prompt or PowerShell, and the user running them must have admin access on the PC. Actually, this method comes in handy if you do not wish to mess with the registry entries.
Log in to the computer with an admin account and launch Command Prompt as an admin.
Enter the SFC command: sfc/scannow
Hit the Enter key on your keyboard to start the process.
After the SFC scan is completed, close Command Prompt and launch it again as you did before.
Run the DISM command: DISM /Online /Cleanup-Image /RestoreHealth
Hit the Enter key on your keyboard to start the process.
Close the Command Prompt and restart the computer.
Restore deleted partitions using a software tool
Since these workarounds are a bit technical, chances are that you may mistakenly delete some important files and partitions from your computer. If you're faced with such a situation, there's nothing to worry about, as DiskInternals Partition Recovery will help you to recover all your files.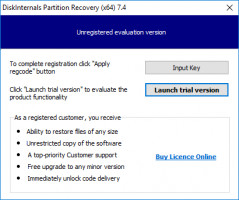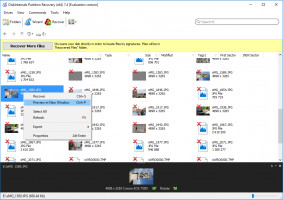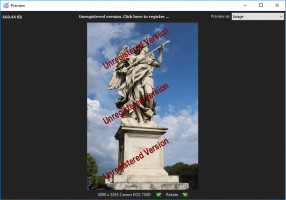 DiskInternals Partition Recovery is a professional data recovery software tool with support for various file systems and file types. It features a clean interface that anyone can easily understand, and it is compatible with all Windows versions. This software will help you to recover deleted partitions in just three steps: launch, scan, recover.