Last updated
: May 08, 2023
How to Restore Deleted Partition in Windows?
Mistakenly deleting a partition that contains important files can be frustrating, but you're not the only one it has happened to. Many people have mistakenly deleted their disk's partition – even the bootable partition – and still restore partition (with the files intact) by using a Partition Recovery software.
Partition loss or data loss happens to everyone; even if you're too careful not to delete the partitions yourself, the system may be attacked by a virus or malware, and you'd end up losing your files and partitions. Aside from malware and accidental deletion, OS crashes, power surges, software updates, and other scenarios/actions can lead to data/partition loss. How to restore partition?
The main thing is to have a reliable software tool you can fall back on when you need to restore partition. This article acts as a guide to restoring lost partitions on any hard drive using DiskInternals Partition Recovery to restore deleted partition.
What is the restore partition?
A restore partition, also known as a recovery partition, is a hidden partition on a hard drive that contains important files and tools that are used to restore a computer to its original factory state. The restore partition is typically created by the computer manufacturer and is used to recover the operating system, device drivers, and pre-installed software in case of a system failure or other issues.
The restore partition may contain a backup of the entire operating system, including system files, application software, and user data. This allows users to restore their system to a working state without the need for a separate backup or installation media.
To access the restore partition, users typically need to press a specific key or combination of keys during the computer's boot process. The exact key or combination of keys varies depending on the computer manufacturer and model.
To access the restore partition, users typically need to press a specific key or combination of keys during the computer's boot process. The exact key or combination of keys varies depending on the computer manufacturer and model.
Is it possible to restore a partition?
Yes, it is possible to restore a partition, but the success of the restoration depends on the reason for the partition loss and the actions taken after the partition was lost or damaged.
If the partition was lost due to accidental deletion or formatting, you may be able to recover the partition using data recovery software. There are many data recovery tools available, both free and paid, that can help you recover lost partitions and data. However, it is important to note that there is no guarantee that all data will be recovered, and some data may be permanently lost.
If the partition was lost due to hardware failure or other physical damage, such as a bad sector on the hard drive, data recovery software may not be able to restore the partition. In such cases, you may need to replace the damaged hardware or seek professional data recovery services.
To prevent data loss and ensure that partitions can be restored in case of an issue, it is recommended to create regular backups of important data and to keep a backup copy of the partition on an external drive or cloud storage. This way, if the partition is lost or damaged, you can easily restore it from the backup.
How to Restore Deleted Partition?
If you have accidentally deleted a partition and need to restore it, you can try the following steps:
Step 1: Select the Hard Disk with Deleted Partitions to restore partition
First, you have to download and install the DiskInternals Partition Recovery software. After the installation, launch the program and follow the Recovery Wizard, which will launch automatically.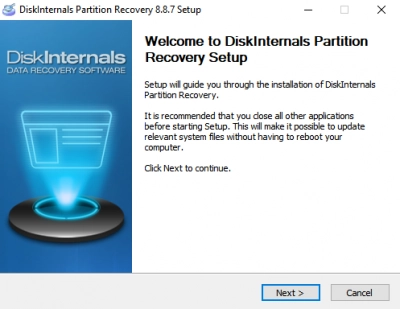 Select the hard drive that contains the partition(s) you lost; DiskInternals Partition Recovery supports HDD, SSD, flash drive, external hard drive, memory cards, IDE disk, SATA disk, SCSI disk, etc.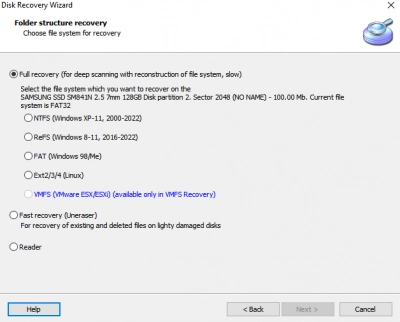 DiskInternals Partition Recovery supports FAT, ReFS, UFS; HFS, NTFS, ReiserFS, APFS(reader mode), RomFS(reader mode); Reiser4, XFS, Ext2, Ext3, and Ext4 file system formats, making it one of the best Partition Recovery software tools for Windows OS (11, 10,8.1, 8, 7 and XP) computer users. Furthermore, the software lets you preview various file formats for free.
Step 2: Select Dive and "Scan" to dearch and restore partition
When you have selected the hard drive that contains the partition you lost, simply choose "Recovery Mode." This software supports three recovery modes: Full Recovery, Fast Recovery, and Reader mode. If the partition has been long deleted, which means it may have been overwritten with new data, use the Full Recovery mode.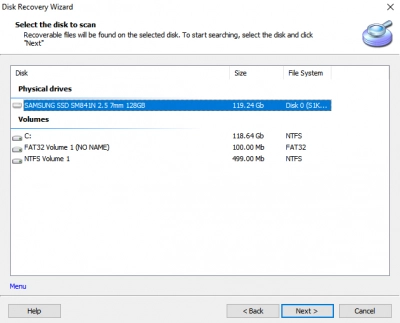 In Full scanning mode, DiskInternals Partition Recovery searches every part of your disk and recovers every data that has been lost from the drive. This mode also automatically repairs file structures and bypasses Windows security options to ensure that you recover the partition/data you seek.
Fast recovery mode is also efficient, but it may not discover all your lost partitions and files. It is advisable to use this mode only if you're in haste and the files/partition you want to recover haven't been lost for a long time.
Reader mode is used to access and open drives that won't naturally open on Windows File Explorer (e.g., EXT drives from Linux systems or macOS disks).
Step 3: Preview and Restore Partitions
If you chose the Full Recovery mode, the scan might take a longer time to complete – you can cancel it at any time if you can't wait longer, but it's advisable to let it run completely before proceeding.
After the scan is complete, you will see all your lost partitions; you can open them to view the files saved inside. Other recovered files would be marked with red asterisks – so you can easily differentiate between lost/recovered files and existing documents on your drive.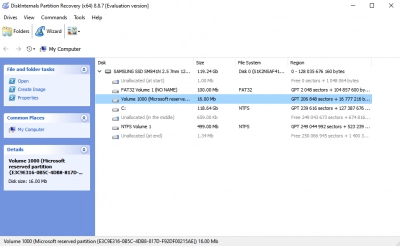 The good thing is that DiskInternals Partition Recovery lets you preview virtually all recovered files for FREE. So, you can preview and confirm that you have recovered your files and partitions before proceeding to save them back to the system. To actually resave your lost partitions and files, you will need to buy the license.
Conclusion on how to restore partition
Partitions help segregate storage media, so you can store different file formats separately for easy access or specific reasons. Getting back deleted partitions is pretty easy and fast when you use an intuitive, professional software with up to 99 percent efficiency in partition recovery. So, partition loss isn't something to throw you off balance; you can always get back everything and regain access to your important files.
FAQ
Please rate this article.