Last updated
: Sep 18, 2021
Recover Deleted Email and Fix Outlook Databases
DiskInternals Outlook Recovery recovers messages and attachments lost or deleted from the Deleted Items folder, and repairs corrupted PST and OST databases produced by all versions of Microsoft Outlook including the latest Outlook 2007. The new recovery tool recovers all email messages, attachments, Outlook and WAB contacts, tasks and calendars from healthy and corrupted Outlook databases, including parts of damaged PST files.
New Outlook Recovery Engine
The revamped Outlook recovery engine is able to locate, recover and repair damaged Outlook databases from formatted, corrupted and repartitioned hard disks, and can reconstruct highly fragmented PST files from multiple parts randomly distributed on the disk. The new Outlook recovery engine makes it possible to extract useful information including email messages, attachments, address books, tasks, etc., from separate fragments of large PST files.
Ease of Use
The easy step-by-step Outlook recovery wizard guides you through the entire process of email recovery. Whether you are about to recover a single email from the Deleted Items folder, need to repair a corrupted database or want to recover your email from a crashed hard disk, you can perform the recovery by selecting answers to simple questions and clicking Next.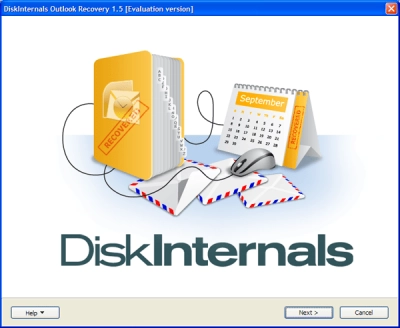 Fully Automated Outlook Recovery
DiskInternals Outlook Recovery provides fully automated recovery, repair and extraction of messages, contacts and appointments for lost and damaged PST and OST files. Whether your hard disk is healthy or badly damaged, DiskInternals Outlook Recovery is able to scan the entire surface of the hard drive in order to locate, recover and repair damaged Outlook databases. The recovery is completely automatic. Just select the disk that contains your email, and DiskInternals Outlook Recovery will do the rest automatically!
Outlook Recovery works with the various file systems
HFS, NTFS, FAT, exFAT, RomFS
UFS, HFS, ReiserFS, Reiser4
Preview Recoverable Messages and Attachments
You can preview recoverable email messages and attachments before saving the database or recovering email. DiskInternals Outlook Recovery can preview messages and attachments in many formats such as images, compressed archives, music and video.
Export to Other Mail Clients
While recovering email, you can export your messages into a different format. DiskInternals Outlook Recovery can automatically export your email into Outlook, Vista Mail, Outlook Express, and EML formats.
DiskInternals Mail Recovery
Outlook Recovery is a part of DiskInternals Mail Recovery

Frequently Asked Questions
Related articles