Sending / receiving 0x8004210a Outlook error? Fix it today!
If you need to fix Outlook send/receive error, coded 0x8004210a, you are in the right place. Here you will find out:
the reasons, why error happens
methods, on how to fix it
how DiskInternals Outlook Recovery can help you
Are you ready? Let's read!
About Outlook error 0x8004210a
Outlook error code 0x8004210a is quite common among all versions of the application.
You might receive a message "Outlook Error 0x8004210a" when you receive or send emails. Most often, this is due to a bad connection to the mail server. But why this is happening is not entirely clear. The following paragraph will help you deal with this.
Why error 0x8004210a has happened
Error 0x8004210a may occur due to many factors. Let's try to list them:
Maybe your message is very large, so the application simply does not have enough time to send it.
Account issues can also cause Outlook error 0x8004210a. For example, incorrect account settings, profile damage, etc.
Your connection may be too weak to send or receive messages. The connection may also be interrupted or unavailable.
Errors may have occurred during an application update, which results in Outlook error code 0x8004210a.
Your antivirus is outdated, as a result of which the application may be damaged by a virus or a worm. Or, on the other hand, the updated antivirus may interfere with the normal operation of the program.
These are the main reasons for the Outlook send / receive error 0x8004210a. If your mail is important to you (what is probably so), you need to fix it for correct use. Let's find the best solution to the problem for you.
Method 1. Antivirus issues
To solve the problem, you need to move from simple to complex. Therefore, the very first thing you should do is disable or even remove your antivirus. Perhaps it is interfering with the normal transfer of data and causes Outlook error code 0x8004210a.
You can also go to the antivirus program settings and enable unlimited access to Outlook.
If this method did not help you, try method 2.
Method 2. Malware in the mailbox
Malicious software can be in your mailbox, and this can interrupt Outlook and cause error 0x8004210a.
So clean your inbox: delete all suspicious messages with ".exe" attachments. Also, review the Outbox and check for any messages that are stuck and are waiting to be sent. If you find any, immediately remove them!
If, after doing this, the problem hasn't disappeared, proceed to the next method.
Method 3. Outlook timeout setting
Perhaps your message is too large and sending it takes too long according to the specified parameters.
Outlook also blocks data transfer by knocking out the message "Outlook error 0x8004210a". There is a way out of this situation: increase the time allowed for sending messages. Here's how to do it:
On the taskbar, left-click on the "File" tab, then click on the "Account Settings" tab. Open your account and click on "Edit" -> "Advanced settings" -> "Internet email settings" -> "Advanced". In this window, you need to increase the server timeout. After this action, just click on "OK".
Now check if the error 0x8004210a still exists. If all is well, congratulations! If not, do not worry; read on!
Method 4. Move Outlook files to a new computer
Try this method, as it's possible that the messages will open on a new computer.
In order to use this method, you need to make sure that there is an Outlook application on another computer, and also connect the data storage device to the computer (you can also use the cloud to transfer data). Now copy the PST file to the USB flash drive and connect it to the new computer. Paste this PST file in a safe and memorable place.
And now the final touch: paste the rules file into the "% USER_NAME%\Local Settings\App Data\Microsoft\Outlook" folder. Now you can use the PST file on the new computer.
If you have failed, do not panic. There are some other good options for getting rid of error 0x8004210a.
Method 5. Do you need to delete Outlook add-ins?
To answer this question, you need to start Outlook in safe mode, and if sending / receiving messages is OK, then nothing needs to be done.
But if you could not send / receive emails, you need to remove add-ins. And here's how to do it:
Simultaneously press Windows + R. In the new window, type "Outlook.exe / safe" and press Enter. Open Outlook in safe mode. Left-click on the "File" tab. Next, click "Options" -> "Outlook Options" -> "Add-ins" -> "Go".
Remove unnecessary add-ons from the list provided. Exit the application and log in again. Check if Outlook error code 0x8004210a remains.
If it doesn't work out? Proceed to the next method.
Method 6. Use MS Office Repair
Try using this utility to fix Outlook error 0x8004210a. Right-click on Start and select "Control Panel".
Then click on the "Remove Programs" tab. You will see a list of all the programs installed on your computer; select MS Office Repair. Left-click on "Change" -> "Restore". Then follow the recommendations of the Recovery Wizard. After the process is complete, restart the computer and re-open the application.
If Outlook error 0x8004210a doesn't bother you anymore, great!
If the error has not disappeared, proceed to method 7.
Method 7. Use DiskInternals Outlook Recovery
You can use DiskInternals Outlook Recovery to restore email, contacts, attachments, and diaries.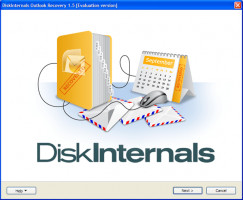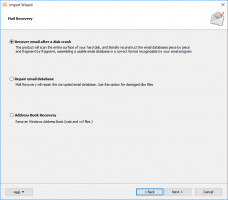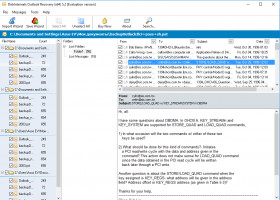 This application works with all versions of Microsoft Outlook, without exception. All recovery steps are as automated as possible for ease of use, and there is a Recovery Wizard that will help in all situations. You can also use the Preview feature at no cost. You will be able to see the quality of your data recovery. In addition, a trial version of DiskInternals Outlook Recovery is available for download, which is also completely free. And another bonus: When you restore email, you can export your messages to any other format without problems.
Therefore, do not waste time; rather, restore your messages using DiskInternals Outlook Recovery. This is a surefire method in your case!