How to fix error code 0x80040154
Here you will find out:
what is 0x80040154 error code
how DiskInternals can help you
Are you ready? Let's read!
About error code 0x80040154
In this article, error 0x80040154 will be examined, and correction methods will also be provided.
Usually, this problem indicates damage to a PST file, which is a very important file, where all kinds of information are stored. The error is typical for all relatively new Windows versions: 7, 8, 8.1, and 10. However, the error is not critical or terrifying, which is good. This article will show how, without leaving the system and without resorting to the help of specialists, to solve and remove the Windows 10 error code 0x80040154.
But first, let us draw your attention to the reasons that indirectly or directly may lead to Outlook error code 0x80040154.
Reasons for Outlook error code 0x80040154
First of all, it is worth noting there may be a conflict between a freshly installed antivirus program and built-in Windows protection from Microsoft.
Other reasons include:
Infection or damage to a PST file by third-party malware.
Accidental deletion of important system files.
Incorrect or damaged profile.
Exceeding the PST file size limit.
A non-direct removal of the program. Undetermined "tails" can continue to work, but only if it is incorrect.
These are the main and most common causes of the problem of error code 0x80040154. Now you can begin to fix the problem and save the information stored in the application.
Method 1. Run antivirus to get rid of 0x80040154 error code
Here you need to try all the options. First, update your antivirus and run a computer scan.
You need to be sure that there are no threats to your computer. After that, restart your computer and try starting Outlook. If this does not work, then temporarily disable the antivirus (how to do this is found on the official website of the manufacturer). This is necessary to make sure that the antivirus does not interfere with the application and is compatible with it. If nothing happened and the error continues to appear, then the antivirus has nothing to do with it.
Then proceed to the method described below.
Method 2. Disable add-ins to fix error code 0x80040154
Sometimes the included add-ins only harm the normal operation of the application.
And if you turn them off, nothing bad will happen, but the application can work as normal. To do this, simply open Outlook and simply click the File tab on the taskbar. After that select "Parameters", then left-click on "Add-ins". Deactivate all available add-ins and click Apply.
Then it is recommended that you restart your computer.
Now, code 0x80040154 should disappear. The application should be available for use.
Method 3. Launch in safe mode in Outlook
Starting Outlook in safe mode can be done through the command line.
Press Win + R or, through the START menu, select the "Run" command.
A window opens with a command line. In it, we enter the following command: "Outlook / safe" (the command is entered without quotes). Press Enter or click "OK" and run Outlook in safe mode.
You can safely work in the application.
And to start the application in normal mode, close Outlook and open it as usual.
Method 4. Create a new profile in Outlook
This method will help if you have a problem with the profile.
In this case, create a new one and transfer all the information from the old profile there. Therefore, you must have a backup of the PST file. If there is none and the PST file is currently unavailable, you have to restore it.
You can do this with special professional software: DiskInternals Outlook Recovery.
It will instantly do file recovery and stop your suffering.
Method 5. Restore your Outlook files
As mentioned above, DiskInternals Outlook Recovery is the best option for restoring a PST and OST database, including tasks, incoming and outgoing mail messages, WAB contacts, attachments, Outlook contacts, calendars, and even parts of damaged PST files.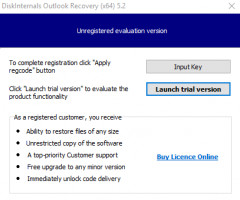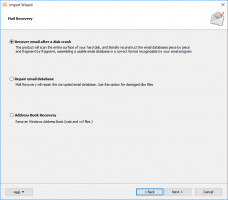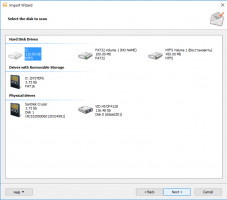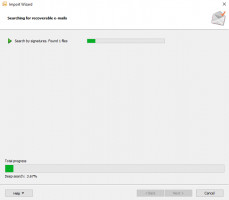 The entire recovery path is divided into successive stages, and the Recovery Wizard will help and guide you in the right direction at each stage. After scanning, you can see all recovered files for free and only then decide whether you need them or not. If you do need them, immediately buy a license and get a license key. It, in turn, makes it possible to export all recovered files.
The Export Wizard will also help you with this. As a bonus, you will receive an annual subscription with technical support.
Method 6. Reinstall Outlook to remove error code 0x80040154
Reinstalling will delete all the accumulated files; therefore, be sure to make a backup in advance or restore them using Outlook Recovery.
Now proceed to reinstall Outlook. Right-click Start and select Control Panel. Select the section titled "Programs and Features." In the list that appears, you need to find the Microsoft Outlook utility and click the "Delete" button on the top toolbar. Now you need to wait until the process is completed. After that, restart the computer and proceed to install Outlook. This can be done using the installation disk if you have one, or by downloading the program from the Internet.
After that, just follow the instructions of the Installation Wizard and restart the computer.