Last updated
: Sep 12, 2022
Mail Recovery. Recover and repair Windows email!
How will you respond to the electronic disaster? The usual undelete and data recovery methods likely won't help you restore the email database in its entirety, and your mail program will refuse opening a corrupted or incomplete email database. If your hard disk is totally out, you'll be unable to do even that, and will need using partition recovery tools followed by undelete followed by Outlook Express or Windows Mail repair tools.
DiskInternals Mail Recovery is able to locate, recover and fix broken Outlook Express, Vista Mail, Microsoft Outlook, Thunderbird and TheBat email databases on severely corrupted and damaged disks in one action.
Recover and repair lost or corrupted Outlook Express and Vista Windows Mail databases and messages automatically. Even if your email is completely gone, DiskInternals Mail Recovery scans the entire hard disk and locates the deleted email folders, recovers the files and repairs the database if it is corrupted.
DiskInternals Mail Recovery combines the functionality of two great data recovery products in a single convenient package. Think of DiskInternals Uneraser and Outlook Express Repair combined for greater convenience and flexibility!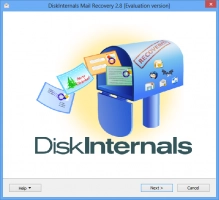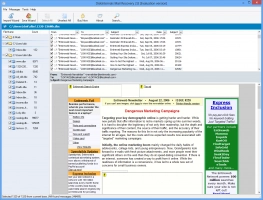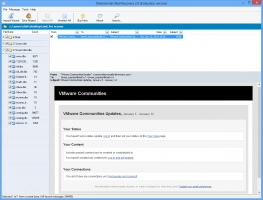 Imagine your Outlook Express email database deleted or the file system corrupted. If that happens, you would need an undelete tool to get the files back. Generic unerasers typically scan your hard disk and list a whole bunch of files with damaged, crippled file names. What use is this information to you if all you need is your email database?
DiskInternals Mail Recovery support file system as UFS, exFAT, NTFS, FAT, ReFS, HFS, Ext2/3/4, ReiserFS, XFS, Reiser4, RomFS(reader).
If the entire partition is formatted or corrupted to the degree it's completely inaccessible, you'd need a disk recovery utility to recover the partition. DiskInternals Mail Recovery saves your time by allowing you to skip this step and recover Outlook Express email folders in a matter of minutes!
Deleted files, corrupted file systems and damaged disks often result in data corruption. What use would be a corrupted email database to you if you cannot access your messages with Outlook Express? DiskInternals Mail Recovery will repair the corrupted email database, allowing you to access your email in Outlook Express without a problem!
To make the repair even easier, the program offers export and import wizards that help detect accounts, choose messages, and save them to a given destination. Mail Recovery can also extract attachments and HTML letters so that all your precious data can be recovered and the email account restored.
DiskInternals Mail Recovery fully supports Windows Vista and its new email client, Windows Mail. Recovering both Outlook Express dbx and Windows Mail eml formats makes DiskInternals Mail Recovery a great future-proof investment.
Try it now. You can download a full-featured trial version of DiskInternals Mail Recovery for free.

Frequently Asked Questions