Last updated
: Sep 27, 2023
Exploring the Best Free PST Recovery Software in 2023
Loss of important data can be a nightmare for professionals and individuals alike. Among the various types of files that can potentially be lost, PST files from Microsoft Outlook stand out, often holding valuable emails, attachments, and calendar events. But there's good news! The landscape of data recovery has evolved, and now there are several free PST recovery tools designed to help you retrieve your vital information. In this article, we'll walk you through the best free PST recovery software options available in 2023, ensuring that you can reclaim your lost or damaged files with ease and efficiency.
Recover Lost PST Files for Free: A Look at DiskInternals Outlook Recovery
PST files, the lifeblood of many professionals relying on Microsoft Outlook, are vulnerable to accidental deletion, corruption, or damage. Misplacing these critical files can be daunting, but fortunately, recovery solutions are available. Among the myriad of tools on the market, DiskInternals Outlook Recovery stands out, offering users an opportunity to recover their PST files for free. In this guide, we'll introduce you to this software, its free capabilities, and the added advantages of opting for a licensed version. By the end, you'll be equipped with the knowledge to make an informed decision and potentially restore your invaluable data.
Before diving into the recovery process, it's important to understand what a PST file is. PST, or Personal Storage Table, is a file format used by Microsoft Outlook to store mailbox items such as emails, contacts, calendar events, and more on your local computer. Their importance cannot be understated, as they often hold critical personal and professional data.
Why PST Files Get Lost or Damaged
There are several reasons you might find yourself needing a PST recovery tool:
1. Accidental Deletion: It's a common mistake. In an attempt to clean up or reorganize, one might accidentally delete vital PST files.
2. Software Corruption: Software bugs or unexpected shutdowns can lead to corrupted PST files.
3. Hardware Failures: Hard drive crashes can result in lost data, including your PST files.
4. Virus Attacks: Malware or viruses might corrupt or delete your PST files.
5. Oversized PST Files: Older versions of Outlook have size limits on PST files. Once a file exceeds that limit, it becomes prone to corruption.
Why Choose DiskInternals Outlook Recovery?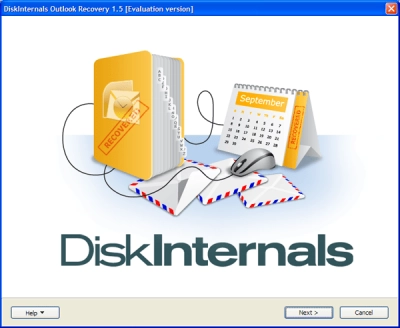 DiskInternals Outlook Recovery is designed to address the above issues, offering a robust set of features tailor-made for PST file recovery:
User-Friendly Interface: Even if you're not tech-savvy, the software's intuitive design makes the recovery process straightforward.
Preview for Free: One of the standout features is the ability to preview recoverable items without paying a dime. This ensures you know what you're recovering before making any financial commitment.
Advanced Scanning Mechanisms: The software dives deep, scanning each sector of your drive to ensure maximum recovery potential.
Support for Various File Formats: Beyond PST, DiskInternals supports recovery of OST, DBX, and many other mailbox formats.
Steps to Recover PST Files with DiskInternals Outlook Recovery
1. Launch the Software: Once installed, open the software. You'll be greeted with a wizard to guide you through the recovery process.

2. Select the Drive: Choose the drive where your PST file was located. The software will then scan for recoverable items.

3. Preview Recoverable Files: Once the scan completes, you can preview the recoverable items. This feature is free and helps you ascertain what data can be retrieved.

4. Recover for Free or Buy a License: At this point, you can recover some data for free. However, for full recovery capabilities, consider purchasing a license. This not only supports the developers but also ensures you get the most out of the software.
Data loss can be stressful, but tools like DiskInternals Outlook Recovery make the recovery process manageable. Whether you're just seeking a quick preview or you need full recovery capabilities, this software offers a flexible solution. Always remember to keep regular backups of your important data, but if the unexpected occurs, know that recovery options are available at your fingertips.
FAQ
Related articles
Please rate this article.