Recovery Partition and How to Delete It on Windows!
In this article, you will find out:
everything you need to know about recovery partition
how to delete the recovery partition
how DiskInternals Partition Recovery can help you
Are you ready? Let's read!
Recovery Partition and it's varieties:
A recovery partition is a partition on the disk that helps to restore the factory settings of the OS (operating system) if there is some kind of system failure. This partition has no drive letter, and you can use only Help in Disk Management.
The recovery partition has two varieties:
The first of the varieties is the most widespread and installed with the Windows operating system on a GPT disk and occupies a negligible amount of disk space.
The second is set by the computer manufacturer (like Lenovo, Dell or HP). It occupies a significant amount of disk space since it is this part of the recovery partition that contains the manufacturer settings for application drivers and other things that allow you to restore these default settings. This partition is also called the OEM section.
Peculiarities of the Recovery Partition on the Windows after Upgrade
A curious thing is that every time you update Windows, a new recovery partition is created. This happens due to a lack of free space in your recovery partition or in system reserved partition. As a result, you will get as many recovery partitions as you update your system.
When you get a new recovery partition on your disk, the old recovery partition can be removed without worries, as it is nonfunctional. That's how you can get a bit of free space.
Before You Start
Before start to delete a recovery partition on Windows, you need to make sure that these actions are appropriate.
If you are not an experienced user, it will be easier for you not to erase the recovery partition at all. It is useful if, for example, your computer operating system failed and needs to be reinstalled. In this case, you do not need to contact professional help or search for an installation disk. You can simply use the recovery partition and retrieve your computer to the default settings.
If you are a professional, then you can easily erase recovery partition on Windows 10, 7 or 8. BUT! It is pretty important that you have a backup or Windows system image. So, in case the OS is corrupted or you are not satisfied with its performance, you can use the image or backup, whichever is convenient for you. It also recommended having personal files back up, just to prevent their loss in any way.
If you have the backup of personal files, then even when something goes wrong with your Windows OS, you can always re-install it with no worries about your data.
Remember! You can't undo a deletion of the recovery partition.
Which one Recovery Partition to remove
As mentioned above, when a system is updated, a new recovery partition is created. This means the old recovery partition will be outdated. That means, that you better keep the current one and delete the old recovery partition.
But which one is old and which one is current, you may ask?
For that, you will need to use the command line: right-click Start and select "Command Prompt (administrator)". In the window titled "cmd.exe", type the following command: "reagentc / info" and press Enter. In the Windows RE location line you will get something like: "...\device\harddisk1\partition2\..." Now you need to recheck it with Diskpart; and with that tool, you can also delete it.
Otherwise, you can enter the Disk Management and check: on the which of the disks you see sign "Recovery Partition" with no letter. And as it was said above, if you use right-click on it, you can see there only "Help" and no other options like "Open" and etc.
Delete the recovery partition with Diskpart
To erase the disk recovery partition, you can use the built-in utility Diskpart.
So, in the same Command Prompt window enter "diskpart". Then type "list disk":
and
"select disk 1" (1 is an example; you need to select the disk number that you get after the reagentc command above).
When you have selected the disk, type "list volume".
As you may guess, that will give you the whole list of disk volumes. Select the partition you want to delete (recovery partitions have the label "Recovery pa").
Now, type "select volume n", where n is the number of the partition to delete.
Type "delete volume n".
As a result, the partition will be deleted. These actions need to be carried out separately for each section to be deleted (that's in case if you would decide to deleted and the old one and the new one recovery partitions).
After deletion, restart is highly recommended for the computer.
How USB recovery drive can help to Delete recovery partition
A less common way to remove a recovery partition is to create a USB recovery disk. Yes, you don't misread! And don't be afraid: it is an excellent method! But remember, it is better to use a clean USB drive, since all data on it will be deleted. In addition, the system will tell you how much space you need to create a recovery disk. Based on this, select a device with sufficient memory.
Instructions for creating a USB recovery disk:
1. Eject your USB drive. Yes, eject it from the computer.
2. Click the Start button and enter the following in the search bar: "recovery disk". From the suggestions, select "Create Recovery Disk". In the new dialog box, check whether the box above "Copy recovery partition from PC to recovery disk" is checked. (If the checkbox is not checked, then you simply do not have a recovery partition).
3. Connect the pen drive to the computer and choose it; click Next.
4. Use left-click on "Create". The data transfer process begins.
5. Wait for the completion of the process. And pay attention! There will be two suggestions:
click on the "Finish" and leave the recovery partition on the computer.
delete the recovery partition. And since it was the point of this method, you need to choose this one.
The process is complete. Don't use your USB drive like a usual pen drive. Keep it in a safe place.
If You Need to Restore Your Ordinary or Recovery Partition
Everybody makes a mistake and if for any reason you want to restore a deleted recovery volume or any other partition, you will need professional and reliable recovery tool.
DiskInternals Partition Recovery is the one you need. This software works on each of the disk partitions and has a built-in recovery wizard, so it is simple to use. The recovery wizard will accompany you at all steps of restoring a hard disk file or partition. Therefore, it does not matter whether you are new to this business or a professional.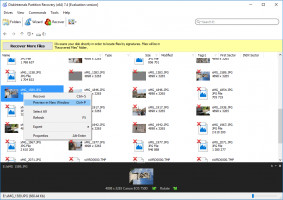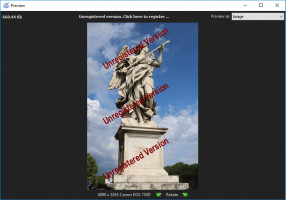 Partition Recovery supports a lot of file systems like: XFS, Ext2 / 3/4, UFS, HFS, NTFS, ReiserFS, FAT12, ReFS, and Reiser4.
You can use a trial version of DiskInternals Partition Recovery for free and make sure all your data can be recovered correctly. How you will find out that? With the preview feature!
The trial version also has a preview function, so you be sure that your files are fine and you will get them back as they were before. After you confirm that the files or partition can be restored, you need to purchase a license and enter the license code; that will give you the ability to save search results.
Would you need reinstallation or rescanning? No.