Last updated
: Nov 15, 2022
How to Recover Files from Formatted Partition in Windows 11/10/8/7?
There are many reasons why people lose access to their important files and documents. One of the common problems you'd face is missing/corrupted partitions, which would definitely lead to loss of files and data.
Moreover, if you mistakenly format the wrong partition, all the files saved inside will get lost. But well, whatever happens, if you find out that files in your formatted partitions are lost, you can recover them using a professional partition recovery tool like DiskInternals Partition Recovery.
In this article you will find out:
What Exactly Is a Formatted Partition?
How Is Formatted Data Recovery Even Possible?
How to Recover Your Data Using a Professional Recovery Solution
Ready? Let's read!
What Exactly Is a Formatted Partition?
A lot of people get confused over the term "Format." The truth is "format" or "formatting" can mean different things, depending on how it is used in a sentence. To start with, formatting a disk (HDD, SSD, or any other computer storage drive) means deleting everything on the disk and setting it to a new file system.
Similarly, formatting a partition means setting or choosing a new file system for the partition. When partitioning your drive, it means you're creating formatted partitions for saving different types of data or files – each partition runs on a particular file system and has designated data it is supposed to save.
Of course, every operating system has a set of file system formats it supports. So, if you put a drive with a wrong partition into the OS, you won't be able to access the files inside. For example, Linux supports EXT file systems, and Windows supports NTFS and FAT file systems.
If you put a drive with EXT partitions into a Windows PC, you won't be able to access the EXT partitions, which means you can access the files inside; you'd need to reformat the partition to NTFS or FAT32 file system to be able to access whatever would be saved inside, afterward. The same applies if you put a drive with an NTFS partition into a system running Linux OS.
Partition formatting lets you decide the file system you want for the partitions on your hard drive. But then, if format – or rather, ref-format – an existing partition, all the files saved in the partition (prior to the formatting time) would be deleted. However, if you find yourself in such a scenario (lost important files due to partition formatting), there's still a way out – you can recover your files.
To create or format a partition on Windows OS systems, you can use the free built-in Disk Management utility or a third-party software application. This article goes deeper to explain how you can recover data from formatted partitions.
How Is Formatted Data Recovery Even Possible?
Yes, when you format a partition, everything saved inside gets erased, and the volume becomes empty for new data to be saved inside. But then, when files or data are deleted/erased/formatted, they don't just varnish. Well, don't get confused here. Let's further explain this information.
You see, when a file is deleted from a storage media/drive, the file doesn't vanish into thin air; it simply goes into an insignificant sector of the drive, where it stays until it is overwritten with new files. This is why you should stop saving new data when you notice that some previously saved important files are already missing – you should stop saving new data to prevent the deleted/lost ones from being overwritten.
Aside from a file getting deleted, whichever reason made a file lost from a storage media, the file isn't completely erased immediately, so you can still recover it. That said, recovering files from a formatted partition is very much possible – even so, you can recover files erased using the SHIFT+DELETE permanent delete function.
However, it is important to adhere to the following tips when you plan to attempt data recovery on a formatted drive. Adhering to these tips can guarantee higher efficiency and the possibility of getting back all your lost files.
Tips For Recovering Data From Formatted Partitions
Stop saving new files and data on the partition (and drive entirely) immediately after you notice some files are already lost. This is to avoid overwriting the lost data.
Do not reformat the partition to another file system – don't even reformat it at all, regardless of whether you'd select the same file system or another.
Windows have a free built-in Disk Check utility; while this tool is safe to use, it is not advisable to use it first when you need to attempt data recovery on a Windows system.
Use a reliable partition recovery software solution to ensure higher chances of recovering your files.
Recover Your Data Using a Professional Recovery Solution
You can get your files back from the formatted partition using DiskInternals Partition Recovery software. This software app works on all Windows OS versions from Windows 7, 8, 10, and 11.
1. Download The App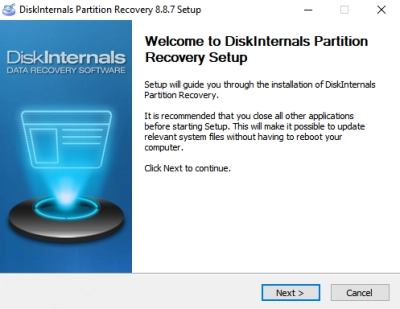 Firstly, you have to download DiskInternals Partition Recovery from the official website. After downloading, double-click on the .exe file and install the app.
2. Launch The App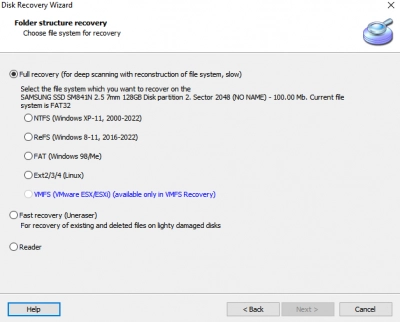 After installation, launch the app and select the drive where you created the partition – the drive where the formatted partition is contained. When you click and select the drive or partition, then click the "Next" button to continue.
3. Choose a Recovery Mode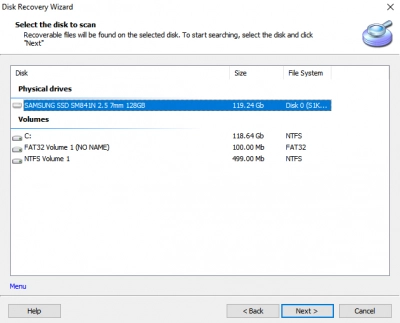 You will need to choose from the available recovery modes – Full and Fast Recovery modes. Use the Full Recovery mode if you want to recover everything you have lost. The Fast Recovery mode is quick but may not recover all your lost files.
4. Preview The Files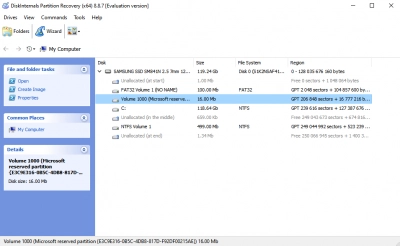 Click "Finish" to complete the recovery scan, and you'll see all files and folders deleted from the partition. You can preview the files to confirm they are the ones you want to recover.
5. Recover The Files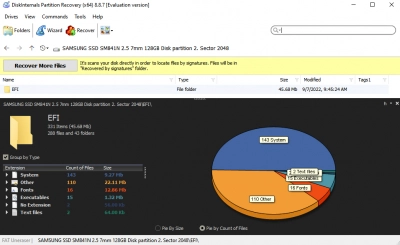 After previewing the files, you can resave them to another drive or partition or mount them to another storage media. Also, you can save the recovered files to remote locations via FTP connections.
Note: You shouldn't save the recovered files to the same partition or drive; choose another storage device.
Conclusion
This is a detailed explanation of how to recover files from formatted partitions in Windows 11/10/8/7 systems. The DiskInternals Partition Recovery software is a professional app, yet free to use and proven to recover lost partitions with up to 99 percent efficiency – ensure to use Full Recovery mode.
DiskInternals Partition Recovery works even when you do a Full Format on the selected disk or partition. It has been the favorite go-to application for many IT experts for over 18 years. The intuitiveness and features of this software solution are second-to-none. Plus, it works on practically all Windows OS computers.
Related articles
Please rate this article.