What should you do if Windows detects a hard disk problem? The detailed algorithm is here!
It happens, that Windows has detected a hard disk problem and you may don't know what should you do next.
In this article, you will find out:
the reasons behind the error
how Partition Recovery can help you
Are you ready? Let's read!
Reasons for hard disk problems detected in Windows
The error "Windows detected a hard disk problem" may be seen on the screen if:
Viruses or other malicious programs have damaged the disk
There were file system corruption or registry problems. This may occur due to problems with the hard disk itself, as well as improper user actions; i.e., by chance.
In any case, "Windows has detected a hard disk problem" is very serious, and if you do not pay attention to it in time, you can lose all the information on the computer.
So do not hesitate!
Why a hard drive problem is dangerous
Most often, if you get an error message "Windows detected a hard disk problem", you'll have to deal with:
The system ceasing to perform its tasks; in the end, the hard disk may become unusable.
As mentioned above, the loss of all or some of the information from the disk.
Damage to the system files.
The "blue screen of death".
As you can see, this is a very serious mistake, but it is worth trying to fix it. Below are the best methods for fixing the error "Windows detected a hard disk problem".
Method 1. Launch an Antivirus Program
Run your antivirus and scan the entire hard disk. You must have a good and powerful antivirus program. The result of the disk check depends on it. If after scanning, the "Windows detected a hard disk problem" error bothers you, then the reason is something else. Proceed to the next method.
Method 2. SFC as a Hard Drive Error Solution
This method can be used by any user since SFC is a built-in tool for checking and repairing a disk.
So right-click on the Start button. From the list, left-click Command Prompt (administrator). A new window will appear, where you need to enter the following command: "sfc /scannow". Then press the Enter key. The process of scanning and subsequent correction of errors found will start. Then restart the computer. Check if you still have the error of Windows a hard disk problem. If not, great!
If so, however, proceed to method 3.
Method 3. Restore all lost files
Sometimes, due to a disk repair, all or part of the data is lost or it becomes inaccessible. It is easy to fix with the help of special professional software like DiskInternals Partition Recovery.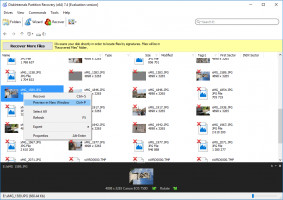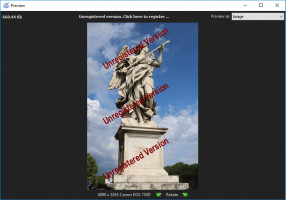 This modern, convenient and high-quality tool will recover data of absolutely any type and size by converting the file system. A reliable wizard will help you at every stage of recovery, so if you are new to this business, do not worry: you are protected. This application works with the following file systems: FAT, ReFS, UFS, HFS, NTFS, ReiserFS, Reiser4, XFS, Ext2, Ext3, and Ext4, etc. There is a free Preview function you can use before restoring the found data. After viewing the file, you will be sure of the quality of the recovery process.
In addition, using the trial version of the program, you do not need to spend a cent, but can simply test it and try it out. As you can see, with the program DiskInternals Partition Recovery, there are no pitfalls.
Method 4. Try CHKDSK
A good tool for fixing a disk is CHKDSK. It perfectly recognizes mistakes and fixes them. Unfortunately, the data from the disk will be damaged (they will be cut into pieces of 512 KB). This is a big minus of this method. However, if you make a backup of the data in advance, it will not affect you. In any case, if the data is still cut and everything seems to be lost, use DiskInternals Partition Recovery; it will help you.
Everything is fine? Disable the message!
If you have checked your computer thoroughly and have not found any errors, you can disable the error message "Windows detected a hard disk problem".
To do this, follow these steps: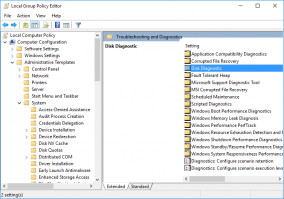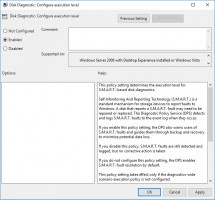 Left-click Start and in the search bar, type "gpedit.msc". Press Enter. Go to the "Administrative Templates" section, then select "System". Click on the "Troubleshooting and Diagnostics" tab, and then left-click on "Disk Diagnostics". Here you need to disable the execution of diagnostics and click "Apply". Be sure to restart the computer.
The error "Windows detected a hard disk problem in Windows 10" will not bother you again.