How to fix a dead external hard drive and restore files
Here you will find out:
the most popular cases when the external hard drive can be dead
how to revive a dead external hard drive
how DiskInternals Partition Recovery can help you
Are you ready? Let's read!
External Hard Drive: Dead or Not?
This question requires an assessment of the state of the disk.
So, for example, an external hard drive may not be detected; it may make scratching noises; it responds too slowly, or it may not respond at all. In all these situations, it is impossible to say for sure that it is dead, but that it can become so can definitely be said. That is, you need to try to restore the external hard drive since there is a possibility of the loss of information.
The situation is completely different if the disk was ejected, and after that, it does not work. Do not waste your time, do not open the box yourself; send the disk to the nearest tech support company. They should help.
Case 1. The external hard drive is not detected
Here is how to revive a dead external hard drive in this case:
1 - Remove and disconnect the drive. Now try connecting it to other USB ports.
2 - Try another USB cable, then restart the computer.
3 - Try connecting the drive to another laptop/PC; better yet, one with a different OS.
This, hopefully, should work.
If this drive only works with another laptop/PC, back up your data to external storage. Format it on your computer. Check if it is working fine now.
Case 2. The external hard drive works but makes a scratching noise
If there is a sound that has never been heard from your disk, make a backup copy of it from the disk. Do not use this drive as storage anymore. Any incomprehensible sound emanating from the hard drive indicates that it will soon break down, as its moving parts will become unusable.
If you need to retrieve some lost documents, photos, videos, etc. from a dying external storage device, Partition Recovery will be your indispensable helper. The software can help you even after a file system failure and recover data from each partition separately.
File systems that are supported by this program for retrieving data from a dead external hard drive include FAT12, ReFS, HFS, NTFS, ReiserFS, Ext2/3/4, XFS, etc. The recovery wizard built into the program can work in several modes: "uneraser", "reader" or "recovery". When restoring files, remember not to rush, so the program can calmly and gradually do its job. With the help of the preview function, you can verify the unsurpassed quality of the work done. In addition, you can do all this absolutely for free.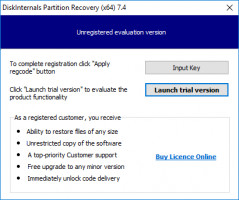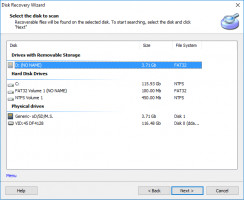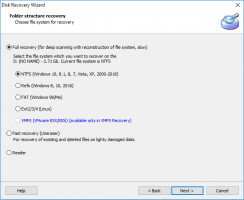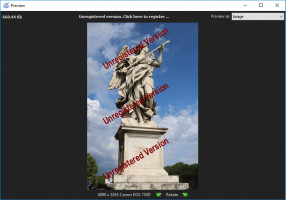 A licensed version is required only if you wish to keep the information you found. Everyone wants their valuable information to be only with them and be protected from prying eyes, so the confidentiality of data retrieved with this program is guaranteed.
Case 3. The external hard disk works too slowly
All your actions here depend on how often the computer starts to freeze.
If this is the first time, restart your computer or try another USB cable and port. Perhaps this is some single failure, which will be eliminated after a reboot. But, in any case, be on the alert and make sure that no more such failures occur.
If this happens often and the computer runs slower each time, make a backup copy. If you need to restore a file, use DiskInternals Partition Recovery. After that, format the disk; this will help you fix dead external hard drive.
Case 4. Other kinds of problems with the external hard disk
If nothing from the first 3 cases works for you, you can try the methods described below.
Remember: if you see that something is going wrong with your external hard drive (i.e., it works poorly or does not work at all), you need to hurry. Maybe your storage will hold on for several months but maybe only a few minutes.
Method 1. Is your disk "online"?
You must certainly make sure that the status of this disk is "online" in the disk management utility. If it is not, fix it:
For example, you may see the text "ONLINE (ERRORS)". First, check if the drive is connected correctly; that is if the cables are disconnected and inserted correctly. Did this not help? Do you still have a dead external hard drive? Make a backup copy of the data immediately.
Another option:
You see the text "Missing." You need to right-click on the disk and select "Activate disk." The situation should change.
The third option:
You see the message "Not initialized." If this status is also displayed on another computer with your dead external hard drive, initialize it by right-clicking on the disk; but it's better to avoid initialization, which will delete all the data. So either use the backup or DiskInternals Partition Recovery.
Method 2. If none of the USB attached devices work
There may be a possible problem with outdated drivers; updating them will help recover a dead external hard drive. To do this, just make a few clicks of the mouse: Open Device Manager -> Drives tab | Portable devices. Hover over the appropriate drive -> right-click. Select Update Driver software.
Method 3. USB controller problem
Another possible problem is USB controllers.
To find out if this is true, open the device manager. Next, select the Universal Serial Bus Controllers tab.
Select the USB Root Hub with the right mouse button. Immediately click on Properties -> Power Management. You must prevent the turning off of the drive to save power.
This should help recover a dead external hard drive.
Method 4. Formatting is a debatable option
Formatting may be a solution, but it is debatable.
If you saved your data (either restored and by making a backup copy), then you should definitely try it. If some data has not been recovered, it is better not to use formatting, because restoring files after formatting is not an easy task. It is unlikely that you will want to make your life difficult.