Last updated
: Jan 02, 2023
Free Partition Recovery Tools
You won't be thrilled if the disk partitions on your drive (HDD or SSD) are lost in any of the possible circumstances. Partition loss, however, is not a risky scenario; if you utilize a reputable Partition Recovery, you may recover the deleted partitions.
Partition recovery isn't a complex task when you use the right tool, and it is something everyone – that uses a computer – can do.
DiskInternals Partition Recovery has been proven for over 18 years to be the best and most partition recovery solution used by experts and regular PC operators. It is a powerful tool for partition recovery on any hard disk type; plus, you can run the app on any Windows OS computer.
Partition Recovery Tools: Free Download
Works On Different Kinds of Storage Media

DiskInternals Partition Recovery software works on any storage media you've got; this means that it can recover lost partitions from hard disk drives (HDDs), solid-state drives (SSDs), external storage drives, and other storage media types (flash drives, memory cards, IDE disk, SATA disk, SCSI disk, etc.). So, regardless of where you lost the partitions, you can still get them back using this awesome Partition Recovery tool.

The DiskInternals Partition Recovery software comes with a built-in wizard that guides the user(s) through every step in recovering their lost partitions. With the assistance of the Recovery Wizard, virtually any PC operator can use the DiskInternals Partition Recovery software without facing any issues and end up getting back all their lost data.

The recovery wizard launches immediately as you launch the software;  the entire Windows 11, 10,8.1, 8, 7 and XP partition recovery process is almost fully automatic; you can choose to close the wizard if you wish to continue with the recovery procedure manually. The wizard is made available to hasten the recovery process and make the app easy to use by novices. DiskInternals Partition Recovery is generally intuitive to use, and it's very fast in recovering files.

It's safe to say that with the addition of the Recovery Wizard, the DiskInternals Partition Recovery software app works automatically to get back lost files and partitions from a variety of disk types connected to your Windows 11, 10, 8.1, 8, 7, or XP computer system.

The Entire Partition Recovery Process Is Automatic

The Trio of Wizards

The DiskInternals Partition Recovery software didn't come with a one-for-all Recovery Wizard; instead, it comes with distinctive recovery wizards for each common file system format. In other words, this software features an NTFS Recovery Wizard, FAT Recovery Wizard, and a general Partition Recovery Wizard for all other file system formats. This makes DiskInternals Partition Recovery a much better alternative to other partition recovery software applications out there.

One of the things expected of a partition recovery is to support known file systems. Different computer users create disk partitions of different formats to save specific file formats. So, it is important for a partition recovery software to support as many file system formats as possible. 

The DiskInternals Partition Recovery supports FAT, ReFS, UFS, HFS, NTFS, ReiserFS, APFS (reader mode), RomFS (reader mode), Reiser4, XFS, Ext2, Ext3, and Ext4. So, you can recover any lost partition format using this software.

DiskInternals Partition Recovery Supports Many Various File Systems

DiskInternals Partition Recovery Has Three Disk Recovery Wizard Scanning Modes

There are three recovery modes to choose from when you use DiskInternals Partition Recovery. The recovery modes can all recover lost partitions; however, if you need to recover all your files and partitions, you have to use the Full Recovery option. Also, the recovery modes are easy to select and run pretty fast when scanning the selected hard drive. The recovery modes are Fast Scanning, Full Recovery, and Reader modes.

Fast scanning (Uneraser): This is the fastest recovery mode to choose; it works best when you're in haste and want to quickly recover your partitions and files. When you select this scanning mode, DiskInternals Partition Recovery looks out for deleted files that are lying "on the surface" – it won't go deep to recover all lost files and partitions, and it won't rebuild any damaged file system on the logical disk.

Full scanning (Full recovery): This is the best-recommended recovery mode; not only does this mode launch a deep scan to recover every single data that has been lost/deleted from your hard drive, but it also repairs and rebuilds the damaged file system on the lost partition (software-based). Apparently, this recovery mode takes so much time – it may last for up an hour or more, depending on the volume of data to be recovered.

Reader Mode: When you select this mode, DiskInternals Partition Recovery lets you open an unreadable disk (disks that cannot be opened directly on Windows File Explorer, probably due to corruption or the disk was removed from a Linux/macOS system), and view the files saved inside. This mode is perfect for opening EXT drives on Windows OS.

One of the reasons DiskInternals Partition Recovery stands ahead of other partition recovery tools is due to the hi-tech previewing engine. The free trial version of DiskInternals Partition Recovery allows you to preview the recovered files to confirm that they were the files and data looking you wanted to get back. DiskInternals Partition Recovery can preview almost any file, and there's no limit to the number of files you can preview on the free trial version.

Preview Files For Free
Guide: Recover a Deleted Partition Step-By-Step
Using DiskInternalsPartition Recovery software as easy as ABC – download the app, install it, launch and recover your lost partitions.
1. Download The App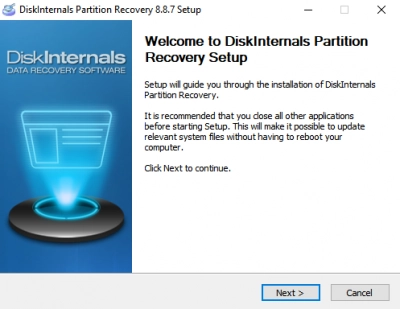 Firstly, you have to download DiskInternals Partition Recovery from the official website. After downloading, double-click on the .exe file and install the app.
2. Launch The App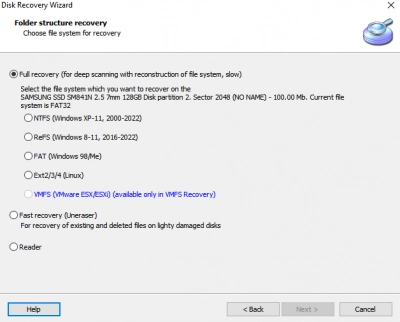 After installation, launch the app and select the drive (where the deleted/lost partition was previously created). When you click and select the drive or partition, then click the "Next" button to continue.
3. Choose a Recovery Mode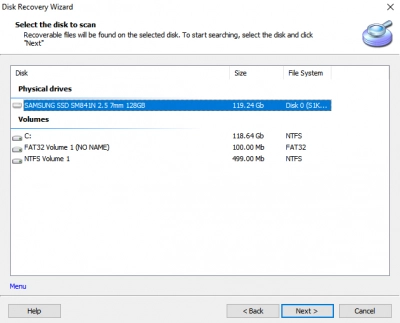 If you can still remember the partition format, select it and continue; if not, simply choose Full Recovery and proceed with the recovery scan procedure. The Fast Recovery mode is quick but may not recover all your lost files. Use the Full Recovery mode if you want to recover everything you have lost.
4. Preview The Partition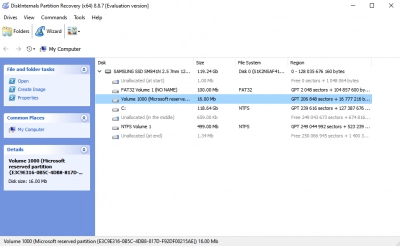 Click "Finish" to complete the recovery scan, and you'll see all the lost partitions, files, and folders deleted from the scanned drive. Here, you will find the boot partition and recover the files.
Ensure that you do not save the recovered files to the same partition or drive where they got deleted; save them to another storage device.
Conclusion
DiskInternals Partition Recovery is called a free partition recovery tool because it allows using all of its features without paying for the PRO version. You only need to upgrade to the PRO version when you need to resave the recovered files to another disk or remote storage via FTP. Overall, DiskInternals Partition Recovery is a data recovery tool built for everyone; hence, it comes with built-in recovery wizards for different types of recovery modes.
Related articles
Please rate this article.