Here is everything you need to know to flush DNS cache and to protect your data
In this article you will find out:
how to flush it on Windows
Are you ready? Let's read!
What is Domain Name System (DNS)
Let's first define what the Domain Name System (DNS) is for and, in general, whether it needs to be cleaned up. Let's say you enter a website into the address bar, but your computer doesn't actually know where to go. Therefore, it looks for this address on a DNS server, which maps it to the IP address of your computer to visit. To speed up this process, your computer saves some of these visits for easy access later, causing the computer to navigate to the sites you have already visited without having to query the DNS server each time.
Sometimes, not everything is so rosy; this cache can cause problems in the following cases:
The site you are visiting has changed the server and is no longer at the cached address.
You have malware that tries to redirect common pages to malicious sites.
In such cases, you'd better "flush" the DNS cache so that your computer can find web addresses in the DNS server.
Let's do it
Here are two methods of how the DNS cache can be flushed on Windows and on Mac. Choose your option!
Windows
Clearing DNS caches in all versions of Windows will not be difficult even for the most inexperienced users. Go to the command line: Click on the Start menu and enter "cmd" in the search bar, then right-click the command line option "Run as administrator". Next, enter the following command: ipconfig /flushdns and press Enter.
If everything goes well, you will receive the message "Successfully flushed DNS resolver cache." You should now be able to visit the website without any problem. If the site is still unavailable, then check the Wi-Fi connection; most likely the problem is in it.
Mac
Mac users also will not find it difficult to run the terminal command to clear the DNS cache.
However, depending on your version of macOS, this command may change. So, press Command + Space to open Spotlight and search for "Terminal," then press Enter to open it.
For Modern versions of macOS (from OS X Lion to macOS Sierra) use the following command:
sudo dscacheutil -flushcache; sudo killall -HUP mDNSResponder
Then press Enter.
For OS X 10.10.1, 10.10.2 or 10.10.3, a modified command is required:
sudo discoveryutil udnsflushcaches
Then press Enter.
If you get the message "Successfully flushed the DNS resolver cache", congratulations; you did well.
Protect your data!
As a result of this operation, important files may be lost; if this happens, use DiskInternals Partition Recovery to get them back. This professional application will restore every lost file in its original form.
Thanks to its simple and intuitive interface, this application can be used not only by professionals, but also by ordinary untrained users. Before purchasing a license, please try a free, fully functional trial version of this product and see the results you find.
This program works with all known file systems: NTFS, FAT, XFS, Ext2/3/4, ReiserFS, HFS, ReFS, Reiser4, etc. and can convert them if necessary. Only after you have made sure that your files have been restored correctly and efficiently will you need to purchase a license for this DiskInternals product. Be sure to use the preview function for the files found; it's convenient, practical and free!
Here is a step-by-step guide to recover partitions using DiskInternals Partition Recovery:
Step 1. Download and install this application on your device.
Step 2. The Recovery Wizard will load automatically and prompt you to make your choice:
Select the storage device you want to scan.
Choose what types of files you would like to recover.
Step 3. Scanning will start (full recovery, quick recovery, or reader mode). Wait; the larger the size of your disk, the longer it will take to scan the device.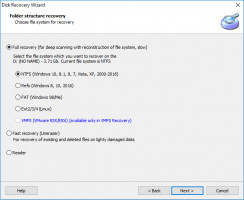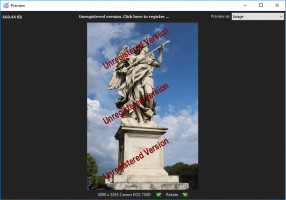 Step 4. As a result, you will see a list of files that can be recovered; they are marked with a red cross in the upper left-hand corner. Select the important file, right-click it and select "Preview in New Window".
Step 5. To export, purchase a license for this product. It is best to store the data somewhere safe to prevent overwriting.