The best solutions to recover a deleted folder
If you are wondering: "how do I can recover permanently deleted folders?", then you are in the right place! Here you will find out:
reasons why folder can be deleted
methods how you can restore deleted or lost folder
how DiskInternals Uneraser can help you
Are you ready? Let's read!
Reasons for the Deletion or Loss of a Folder
Most often, a folder is deleted by accident. For example:
You formatted a disk the folder was on
You accidentally pressed the Shift + Delete key combination, which resulted in the permanent deletion of the folder
A power outage or surge can adversely affect the performance of the PC as a whole and can corrupt the folder in particular
If you do not have an antivirus program or it has not been updated for a long time, a virus will likely damage the data
Sometimes the loss of a folder is the result of a damaged hard disk; most often, it does not happen all at once, and if you don't notice something wrong in time, you can easily lose this or that folder.
But, how do you recover permanently deleted folders? How do you recover a deleted folder from Windows 10?
Shift + Del Deletion Doesn't Mean It's Gone for Good
Some think that, if the user presses the Shift + Delete key combination, the file or folder will be permanently deleted. Visually, this is exactly what it looks like.
But in fact, all is not lost and recovery of the deleted folder is still possible. The deletion of the file name occurs, and the entire space is marked as available for reuse. That is, this place will be recorded as open for new information. Therefore, if you want to restore a folder, stop using the disk on which it is located.
Otherwise, data will be overwritten and now your data will be lost forever!
Method 1. Check for Ability to Recover from the Recycle Bin
First, go to the Recycle Bin and check its contents. Perhaps the folder is there. Then select it with the right mouse button and click Restore. Your data will be waiting for you on your desktop. If this method of recovering a deleted folder failed, proceed to the next method.
Method 2. Restore Deleted Folder from Backup
This method is good enough for recovering deleted folders in Windows 7 or 10.
Select Start, then click Control Panel. Now you need to left-click System and Maintenance and then select Backup and Restore. Сlick the tab Recover Files. Then simply follow the instructions until the end to recover the deleted folder.
If this method did not help, use the proven and safe method described below.
Method 3. Recover Deleted Folder with DiskInternals Uneraser
To restore a folder or view it, use the software tool DiskInternals Uneraser; it will probably be the easiest.
A friendly and accessible interface makes working in the application a pleasure. Even if you are a novice user, you can easily recover a deleted folder using the Recovery Wizard. Use the free trial version of this software, and only after making sure that your folders can be restored, do you need to purchase a license and a license key.
Follow the step-by-step instructions for how to recover folders from an external hard drive, which is described below and very soon your data will be returned to you.
1. Download and run DiskInternals Uneraser.
2. Open the software and left-click the wizard icon. Click Next.
3. Select the basic parameters for the search: the type of files you want to restore and the disk on which the folders were.
4. Scan the disk (quick or full). This procedure takes some time.
5. Preview and recover. Right-click on the file and select "Preview in new window" or press the hot keys Ctrl + P. If you have looked at the file, then it can be recovered.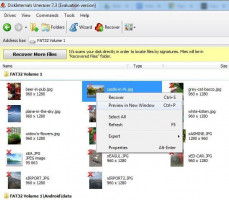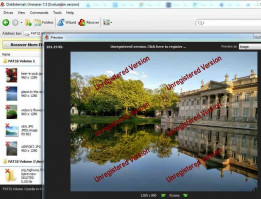 6. Saving. If you want to save the recovered folder, just buy a software license and enter the license key in the appropriate box. Keep the recovered files in another safe place.
Good luck!