Recover Overwritten Files: All You Need to Know
This article is fully dedicated to overwritten files. Here you will find out:
what is overwritten files and why you should be afraid of overwriting
is that possible to restore overwritten files
Are you ready? Let's read!
Overwritten files: what are they?
When data is overwritten, new information is recorded over the old information.
At the same time, unused file system clusters are used to record new information. This happens when, after data is lost, the user continues to use the disk for various purposes and writes new files over the old ones. Professionals are unlikely to make such an oversight, but ordinary users may not notice that they have overwritten the data.
Can overwritten files be restored?
Strictly speaking, it is impossible to recover overwritten files. BUT, if the file was archived or the file is skipped when other files were overwritten, it can be restored. Are the chances for recovery of overwritten files high? Answer: Definitely not. In any case, it is worth trying to recover overwritten files in Windows 10 or other versions. You may be lucky.
Method 1. Use "Backup and Restore" from Windows
Try to recover overwritten files to use the built-in recovery utility in Windows. To do this, go to Start and select "Backup and Restore." then select one of the options:
To enter "Backup and Restore" on Windows 10, press Windows button + S and you will see a search box. Type "Backup and Restore" or only "backup", as the best match will be "Backup and Restore (Window 7)". Click on it.
Use "Backup or restore your files", if Windows Backup was set up, or "Select another backup to restore files from". Here you can select any desired data for overwritten file recovery.
Again, this method is good if you have set up Windows Backup. If you haven't, proceed to the next method.
Method 2. Use a previous version of the file
This is another good option to recover an overwritten file. Try it; maybe fortune will smile on you.
You need to remember the exact name of the original file. Now create a new empty file with the same name in the same place and right-click on it. Select Properties. Go to the tab "Previous version". Now find and select the latest version of the file and click Copy. Now you just have to click the Restore button in the location you select.
If this method did not help, proceed to the next, more reliable method.
Method 3. Use DiskInternals Partition Recovery
This software is able to scan the disk thoroughly and recreate your file system to find your lost data. Therefore, you will be most likely to recover overwritten files with DiskInternals Partition Recovery.
The software works with the following file systems: FAT, ReFS, UFS, HFS, NTFS, ReiserFS, Reiser4, XFS, Ext2, Ext3, and Ext4. In addition, DiskInternals Partition Recovery is equipped with a powerful Recovery Wizard, which makes the whole process of overwritten file recovery as automated as possible and accessible even to ordinary users. This software has a free trial version; download and use it before purchasing a license to verify the accuracy and quality of the product. You will also be pleased with additional free features from the manufacturer, which takes care of every potential buyer.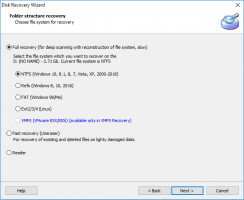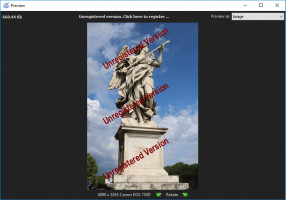 As mentioned above, it is not an easy task to recover overwritten files. However, if you are determined to do it, you are more likely to have a positive result with good, professional software. And DiskInternals Partition Recovery is the leader in data recovery!