How to fix "store data structure corruption" problem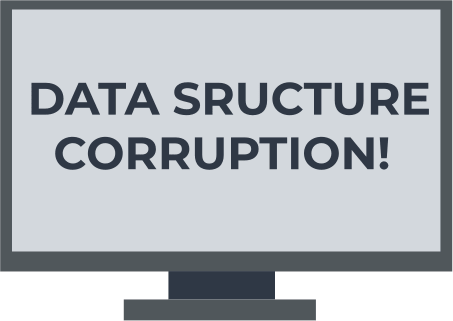 Here you will find out:
when you may get the "store data structure corruption" problem
how DiskInternals Partition Recovery can help you
Are you ready? Let's read!
Do you get the notification repeatedly?
As you can imagine, getting the error "store data structure corruption" in Windows 10 really cannot be a long-term problem. The first thing you need to do is simply restart your computer. Often, this is enough to solve the problem once and for all. If that doesn't help, then keep reading the article to find the right solution.
How to fix the "store data structure corruption" issue
Here are few methods that can be helpful and any of them can be your solution.
Method 2: Repair your operating system
If you have a new computer or use this computer very rarely, Windows may not have been installed correctly or the USB drive you used to install it may have been damaged. If so, you have to completely restore the operating system.
If you are not computer-savvy and have little programming experience, you should contact a service center.
Do you need to recover lost partitions?
Based on your own conclusions, you can then buy a license for this product and export the data (you will not have to go through the entire recovery process again; the results will be waiting for you). This utility works with all versions of Windows, including XP, Vista, 8, and 10. In addition, you can recover files of absolutely any type and size, for all kinds of file systems: FAT16, FAT32, NTFS, NTFS 5, ExFAT, HFS, HFS+, etc. The Recovery Wizard makes working with the application a pleasure: no effort is required, even if you are recovering partitions for the first time. You can use the detailed guide below.