What is Hyper-V Storage Migration, and when it is normally used
In this article you will find out:
what is Hyper-V Migration and how it works
difference between Quick and Live Migration
how to perform Hyper-V Storage Migration in different ways
Are you ready? Let's read!
What is Hyper-V Storage Migration, and when it is normally used
Hyper-V Storage Migration is a Microsoft technology that moves virtual machine (VM) storage from one location to another while the VM is still running. This technology has been used beginning with Windows Server 2012.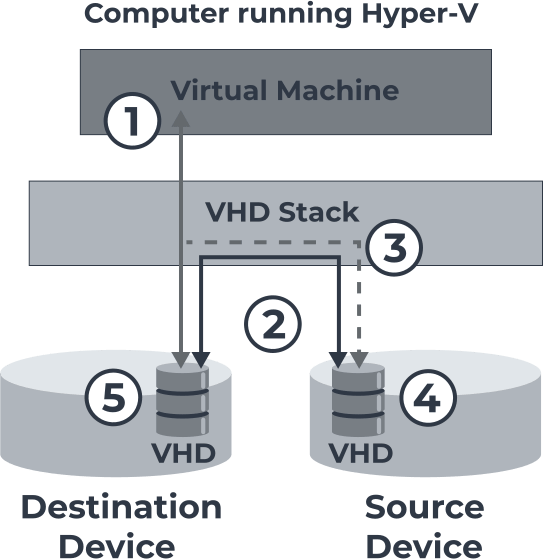 Most often, companies use this service when there is a lack of space in their main storage devices; when the storage device begins to experience problems with I/O operations; or when it is necessary to distribute high storage load among several storage devices.
Here's what you need to know about Hyper-V migration to another host:
Move your VHD and VHDX files first, then any leftover files.
Migration is available both within a single Hyper-V host and between Hyper-V hosts.
You can use Hyper-V Manager, PowerShell, or System Center Virtual Machine Manager for migration.
The Hyper-V host must have access to the target storage device.
You can run multiple migrations at the same time, but the performance of the VM will suffer.
How Hyper-V Storage Migration works
At first glance, the migration process is quite complicated. But, once you figure it out, everything will be much easier.
First, you need one of these tools to start the migration: Hyper-V Manager, PowerShell, or System Center Virtual Machine Manager.
Once storage migration begins, VHD files, virtual machine configuration files, and other data are migrated from the source storage device to the target location.
Read operations are performed on the source VHD, and write operations are mirrored on the source and destination VHDs.
The virtual machine will be switched to the new virtual hard disk after the copying process is complete, which in turn minimizes downtime.
Once the migration is complete, the original storage device with all of its contents will be removed from the Hyper-V host.
Quick and Live Migration: what's the difference?
Both migration options require the source and destination hosts to be members of the same failover cluster. But if we look closer to these two migration options, we will notice many differences. Let's try to highlight the main ones.
Quick migration:
Can only be done on virtual machines when they are powered down, so downtime is high.
Source and target hosts must have access to the same repository (but not at the same time).
Files are not moved during this migration; only the owner of the virtual machine is migrated.
This migration approach is almost always successful when other migration options fail.
Live migration:
This migration approach more often results in errors, which prevent migration from succeeding.
Failures have virtually no effect on a running virtual machine; it continues to run on the original host without interruption.
Live migration moves the active state of a virtual machine without taking it offline.
How to perform Hyper-V Storage Migration in different ways
Let's see the options:
1. Using Hyper-V Manager.
First, make sure that the Hyper-V role is enabled. Then open Hyper-V Manager and right-click on the virtual machine from the list. Select "Move" and click "Next". Go to the "Select Move Type" section and click "Move Virtual Machine Storage". Here, indicate what exactly you want to move:
All virtual machine data to one location.
All virtual machine data to different locations.
Move only virtual hard disks of a virtual machine.
Then take a few more steps with the Wizard and select the items to move and the target location for the virtual hard disk of the virtual machine. Then click "Finish" and wait for the migration to complete.
2. You can also use PowerShell with administrator rights to migrate VMs.
To do this, open PowerShell and enter the command: Move-VM Storage 'Windows Server 2012' -DestinationStoragePath C: \ Virtual Hard Disks.
This command will start the process of Hyper-V migration of a VM to another device.
Protect your data with RAID Recovery
DiskInternals RAID Recovery is a specialized tool designed for recovery of various levels of arrays, which automatically checks the current state of the RAID array, controller, disks, and file system.
The program uses the latest and most robust techniques to recover your files: documents, images, and multimedia. You don't need any special technical skills, because the Recovery Wizard automates recovery as much as possible and actually does the job for you.
DiskInternals RAID Recovery supports all known RAID types: RAID 6, RAID 60, RAID 0, 0 + 1, 1, 1 + 0, RAID 4, RAID 5, 6, 50, 5EE, 1E, and 5R. With this software, no Windows restrictions are a hindrance; they are skillfully bypassed by the program.
This step-by-step guide will help you to use RAID Recovery:
1. Download DiskInternals RAID Recovery and install it on your computer as recommended. Next, run the program (open the Recovery Wizard if you need assistance with the process).
2. The program will automatically detect the arrays and select the problematic one.
3. Next, select the scan option and run it.
4. Wait for the results to be displayed on the screen and preview them for free.
5. To export the recovered data to a safe and secure place, you need to purchase a license. You can do it on the Internet without leaving your home.
Hyper-V Live Migration: troubleshooting and tips
Live migration between hosts with different processor versions is not possible if the compatibility setting is not enabled in the virtual machine settings. It can only be done when the virtual machine is turned off.
Migration of VMs without sharing is possible in one case: when the migration of non-clustered virtual machines occurs.
If there is not enough free space for migration, you have no choice but to look for another Hyper-V with sufficient memory.