RAID Recovery for Mac
Here you will find out:
What kinds of RAIDs are there
When DiskInternals can help you
Are you ready? Let's read!
RAIDs are used to improve the performance and reliability of computers. While they are not commonly employed in home settings, they may be used to construct highly fast server installations and allow organizations to continue operating without interruption if a hard disk fails. RAIDs are fantastic for redundancy, but they also allow for rapid read and write rates in situations where data must be available at all times.
Everything, however, is vulnerable to hardware failure, and while this is unlikely, it is always a possibility since hardware may break. We're going to look at how to recover data from RAID hard disks on a Mac in this post.
RAID on the Mac: What Is It?
A RAID, or Redundant Array of Inexpensive Disks, is a group of physical hard drives that have been connected together in order to provide redundancy. Instead of seeing these hard disks as separate drives, your computer sees them as a single drive.
What Kinds of Raids Are There?
There are five distinct RAID levels, each with its unique set of applications. Let's have a look at the various RAID Arrays available for Mac and see how they operate.
RAID 0 – Striping
A striped volume is also known as a stripe set. This is ideal for users who require large storage capacities and quick performance. Due to its lack of redundancy, RAID 0 is usually not recommended for those seeking data security. At the individual drive level, RAID 0 may be repaired.
RAID 1 – Mirroring
By continually copying or duplicating data across two hard drives, this RAID ensures redundancy and data security. This creates a full backup that includes every last bit of data. If you can't let your computer go down for any reason, this is a useful setup to have. If one of your hard drives fails, you can usually remove it and replace it with a new one. In most cases, this restores the RAID without causing data loss.
RAID 5 – Striping With Parity
One of the most common RAID configurations. It is far more efficient in terms of reaching maximum capacity and redundancy. Block-level striping with distributed parity is included in RAID 5. It has a checksum called parity built into it. It requires four hard disks, and if one fails, the data may be accessed from the other three. In most cases, recovering data from RAID 5 isn't necessary because the failed hard drive can be replaced and the system can continue to function.
RAID 10 – Combining Mirroring and Striping
This RAID array combines the advantages of RAID 1 and RAID 0. It is a single solution that combines improved capacity and fault tolerance. You double your capacity and performance. It's ideal when you need to balance performance and space while staying within a budget. As long as multiple hard drives haven't failed, recovering your data from this RAID is usually a breeze.
Let's look at the differences between a software and hardware RAID now that we've covered the RAID kinds.
Software RAID vs. Hardware RAID
It all comes down to how the storage drives in a RAID array are connected to the motherboard in your Mac, whether it's a software or hardware RAID. This could be a server or another computer, for example.
Hardware RAIDS
RAIDs that are created by the motherboard or a separate card are known as hardware raids. A main example of an external hardware RAID set is NAS, or network-attached storage. A file-level computer data storage server connected to a computer network that allows numerous users to access a shared quantity of data is known as a NAS.
Software RAIDS
The operating system on your computer creates a software RAID. Because it is more software-based, implementing a software RAID is usually less expensive because it does not necessitate the high cost of purchasing hardware. The majority of these are done on an internal server.
Because both have advantages and disadvantages, there is no clear winner. It all depends on what you're attempting to accomplish.
Mac RAID Data Recovery
DiskInternals RAID Recovery is a professional software application that allows you to recover lost files and partitions from all kinds of RAID arrays. It is the favorite RAID backup & recovery tool of many IT experts; this software program has been regularly updated for more than 15 years.
More interestingly, DiskInternals RAID Recovery comes with a suite of useful features, as well as support various file systems. With the software, you would definitely get back your lost data from both software and hardware RAIDs; it works for macOS, Linux, and Windows OS. There are three (3) recovery modes supported by this program; there is also a built-in Recovery Wizard to guide users.
DiskInternals RAID Data recovery services are reliable and work only on Windows PCs. It supports all file types and works pretty very fast.
First Step:
Firstly, you need to turn off your computer/network server and disconnect the RAID drives in the array.
Second Step:
Remove the drives and connect them to a computer system via USB or any other supported means of connectivity.
Third Step:
Boot the computer where the hard drives are connected and install DiskInternals RAID Recovery software. After the installation, launch the program and follow the Recovery Wizard prompts to recover your lost files from each of the connected drives, one after another.
Mac RAID Data recovery - recovery tips
These are tips you should have at the back of your mind when attempting to recover files using DiskInternals RAID Recovery.
Don't rush the process - allow each step to run completely and successfully before proceeding to the next. Else, you may not recover all your lost files.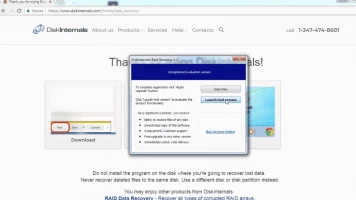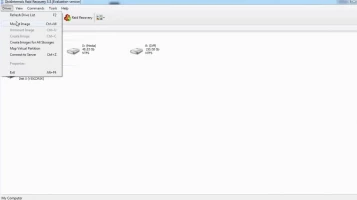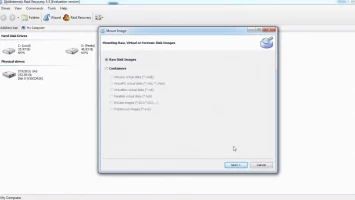 Verify that you chose the exact disk drive that had the lost files you want to recover. If you select the wrong drive, you won't get back any of the lost files.
DiskInternals RAID Data recovery services come with a previewing engine, so you can preview the recovered files before saving them back to your local or remote storage.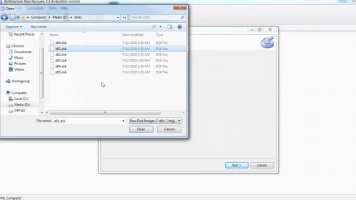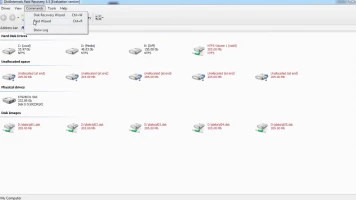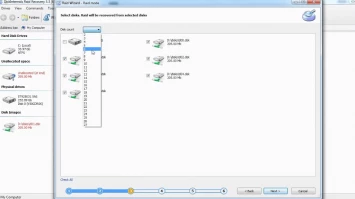 Important Note: Don't save the recovered files on the same drive where they were previously saved - from where they got lost.
Why Choose DiskInternals RAID Data recovery services?
Yeah, there are pretty many RAID Recovery tools out there, but DiskInternals RAID Recovery is much-advanced and backed by IT experts. It works very fast too, and there are three recovery modes you can choose from. Hereunder are other reasons to choose this recovery software:
Retrieves lost files from software and hardware RAIDs
Supports manual and automated recovery (Recovery Wizard) options
Can save recover files from remote directories or local drive
Supports Unicode filenames and multi-level folders
Allows you to create backups for free (disk images)
Automatically fixes pool and filesystem parameters, including disk order
Recovers previous versions of files if available
Verifies checksums to validate data credibility.
RAID Failure Prevention Tips
To prevent RAID array failure, there are some handy tips you need to know. It's simply knowing the common reasons why RAID arrays fail and then implementing safety measures that would curb those "reasons."
Firstly, you should always monitor the RAID disk drives' critical SMART parameters, health status, and temperature routinely. This will help you identify RAID array failure signs earlier and fix them before it escalates.
Secondly, always back up your data regularly because no one can be too sure when data loss could occur.
Don't perform CHKDSK or SFC scans in a bid to fix and repair RAID array errors.
Don't ever use the "beta" version of a RAID firmware, OS, or system file. However, ensure to keep your OS and critical software apps updated to their latest stable versions regularly.
Retain at least two new or empty drives, which would be used to replace failed drives in the array.
DiskInternals RAID Recovery provides expert data recovery services for all RAID systems. Our RAID data recovery experts can promptly retrieve your lost data, whether it was lost due to physical damage or a logical error. We offer a full range of RAID services, and our professionals can answer any questions you have concerning data recovery. Our professionals have answered the most commonly asked questions about RAID data recovery services in the section below. If you have any further questions that aren't answered here, please contact our customer service department to talk with a RAID specialist.
Related articles
Please rate this article.