ZFS Recovery
Did you just discover that your ZFS files are missing from your PC? Well, you can recover them - all of them - using a professional ZFS data recovery software - DiskInternals RAID Recovery.
Article content:
How DiskInternals RAID Recovery may be useful?
How to recover ZFS data using RAID Recovery
Video guide on recovery process
System requirements and compatibility
What is ZFS File System
ZFS, Zettabyte File System, is a file system format developed by Sun Microsystems for NAS solutions. It comes with better security, reliability, and guarantees better performance. This file system integrates its software-based RAID - RAID-Z.
The ZFS format detects bad data blocks using checksums, and it is structured to instantly repair logical errors to maintain the integrity of data stored on the arrays. Typically, enterprises use ZFS for their big storage servers due to its higher security features.
ZFS is different from other filesystems; it acts as a dual platform; a filesystem and logical volume manager; thus, with ZFS, it is possible to combine different storage devices into a single storage with several redundancy levels.
Furthermore, ZFS is a copy-on-write file system, so modifications to a file create new metadata records instead of modifying the existing one. Notwithstanding, the file system is structured to duplicate metadata records and store user data according to redundancy levels.
Note: Although ZFS is more secure than other file systems, it is possible to lose your files due to different actions such as user negligence, software malfunctions, and other mistakes.
ZFS Pool
The Zettabyte File System, ZFS, also serves as a volume manager that combines various storage devices in a ZFS pool. A ZFS pool is used to create one or more file systems (datasets) or data blocks. There are many types of ZFS pools and they differ in redundancy level.
1. Single Disk
This type has no redundancy and metadata records are duplicated in different disk sectors.
2. Stripe Pool
This pool is similar to RAID0 where data blocks are distributed in member disks, and metadata records are distributed over the pool member disks.
3. Mirror Pool
In this pool, metadata records and user data are stored differently - in two copies.
4. RAIDZ1 Pool
Similar to RAID5, this pool calculates parity functions over the data blocks. The block size can vary on the same pool.
5. RAIDZ2 Pool
This pool can withstand two drive failures and still rebuild; this implies to say that one of your drives fails, the pool can still withstand another drive failure before or while you're rebuilding, without losing your pool.
6. RAIDZ3 Pool
RAIDZ3 is a redundant RAID-Z configuration that can withstand up to three device failures without any data loss.
Note: All of these ZFS pool types are fully supported by DiskInternals RAID Recovery.
How DiskInternals RAID Recovery May Be Useful?
DiskInternals RAID Recovery is a professional software tool that provides you with the right set of tools for RAID and ZFS data recovery. It is designed to recover both software and hardware RAIDs; hence, it features manual and automated recovery (via a Recovery Wizard) options.
Using DiskInternals RAID Recovery, you'd get back all your lost ZFS files and export them to local or remote locations. This RAID recovery software supports Unicode filenames and multi-level folders. More so, it allows you to create disk images, which act as a clone/backup copy of your drive - this is a way of protecting your files against possible data loss scenarios.
DiskInternals RAID Recovery bypasses Windows restrictions to make ZFS data recovery simpler and faster.
Note: RAID Recovery is a feature-rich, comprehensive ZFS recovery program. It fully supports RADZ, RAIDZ2, MegaRAID, and DDF-compatible devices. It is also very fast and easy to use - if you're conversant with RAID data recovery, there's a Recovery Wizard to automate the process for you in clear step-by-step procedures.
Possible Problems With the ZFS File System
ZFS is a unified file system and volume manager; thus, it is liable to encounter different failure modes. There are three main categories of problems you may face with the Zettabyte File System (ZFC).
Note: A single pool is liable to experience all these three errors. So, it is advisable to run a complete repair procedure - fixing the errors one after another.
1. Missing devices in a ZFS Pool
When you remove a device from a ZFS pool, ZFS places the device in a "FAULTED" state so you can't open it. In some cases, this can cause the entire pool to become unavailable until the device is reattached.
Tip: Reconnecting the removed device can fix this error immediately; yes, it is that simple.
2. Damaged devices in a ZFS Pool
"Damaged" can mean different failure scenarios. Listed below are the commonest damages to face in a ZFS Pool.
The Most Common Causes:
Transient I/O errors due to a bad disk or controller
Corrupted on-disk data as a result of cosmic rays
Driver bugs causing data to be moved to a wrong location
Another user overwrote portions of the physical device
3. Corrupted ZFS data
You'd be faced with corrupted ZFS data when many errors affect a top-level virtual device.
Tip: Regardless of how impossible the situation seems, DiskInternals RAID Recovery can help out.
How to Recover ZFS Data Using RAID Recovery
DiskInternals RAID Recovery software is a comprehensive solution for recovering files from various advanced file systems, which includes ZFS. This software can recover data from badly damaged, unmountable pools and automatically detects the parameters and disk order.
RAID Recovery would still work to get back your files even if a new blank pool has overwritten the original one. Simply, this software solution recovers deleted ZSF files - including their previous versions - and verifies checksums to verify the file data details.
Steps to Use DiskInternals RAID Recovery
Recovering files with DiskInternals RAID Recovery is a straightforward process that can be done manually or following the on-screen instruction of the Recovery Wizard.
First Step:
Download and install RAID Recovery on the Windows OS system. This software is compatible with Windows 7/8/8.0/10/-11 and Windows Server 2003-2019.
Second Step:
Launch the app after installation and select the affected target array. Next, choose a recovery mode: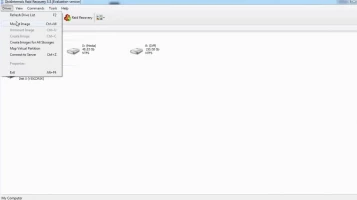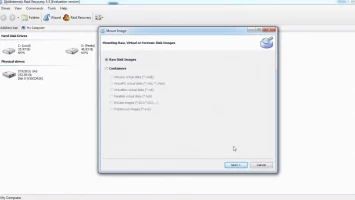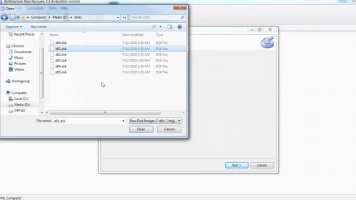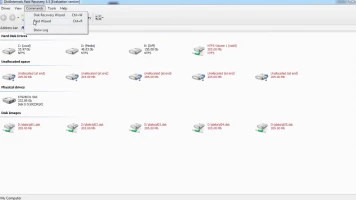 The Fast Recovery Mode scans very fast and saves time, but it doesn't get deeper to discover all the lost files. Full Recovery Mode takes time and retrieves all lost files.
Third Step: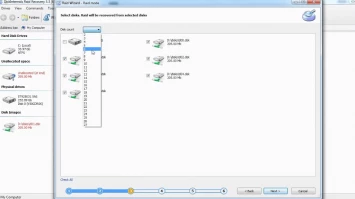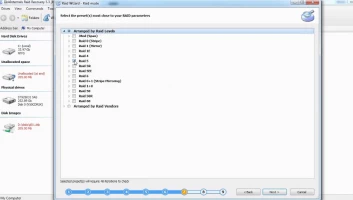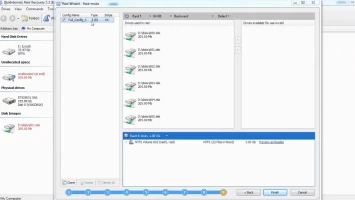 DiskInternals RAID Recovery would automatically check the status of the selected RAID array, controller, file system, or disk to recover lost files. You can preview the recovered files before proceeding to save them back to your local storage. To save the recovered files, you need to purchase a license.
Is the damage too deep/severe for you to restore? You can request guided assistance from RAID Recovery experts.
Recovery Tips:
Follow the recovery steps diligently - wait until each step executes successfully before proceeding to the next; don't hurry!
Make sure you select the right drive for the scan; else, the program won't find the file(s) you want to recover.
Preview the files before attempting final recovery.
Don't re-save the recovered data on the same drive where it was deleted/lost.
Video Guide On ZFS Recovery Process
Here's a video guide to clarify the entire steps explained above; watch to understand better:
RAID Recovery System Requirements and Compatibility
Requirements:
Windows OS 7, 8, 10, or 11
At least 100 MB disk space
Compatibility:
Hardware RAID, Hybrid RAID, Software RAID
RAID 0/1/0+1/1E, RAID 5/50/5EE/5R, RAID 4, RAID 6/60
Microsoft RAID, MS Storage Spaces
Conclusions
This article explains the Zettabyte File System (ZFS), the problems associated with this file system, and how you can recover files from ZFS drives. Also, this article explains how to use an advanced software tool - DiskInternals RAID Recovery - for ZFS data recovery. It is a comprehensive article about ZFS and RAID Recovery.
DiskInternals RAID Recovery can recover ZFS files efficiently; it also allows you to backup your important files by creating disk images of your drives. RAID Recovery is easy to use, thanks to the built-in Recovery Wizard.
Related articles
Please rate this article.