How to Merge Hyper-V Snapshots: course of action
Here you will find out:
what is a Hyper-V Snapshot and how it works
types of Hyper-V Snapshots
how to use Hyper-V Snapshots Merge
Are you ready? Let's read!
What is a Hyper-V Snapshot?
A Hyper-V snapshot (also called a Hyper-V checkpoint) is a complete copy of a virtual machine at a specific point in time. The snapshot includes:
The state as a file system.
The state of memory used by the guest operating system.
This means that a virtual machine restored from a snapshot will display even the applications that were running at the time the snapshot was taken.
This technology is enabled by default when your first virtual machine is created and if the Hyper-V role is present. The snapshot itself is taken within a few seconds and can be implemented on the VM in any state: off, on or saved.
Types of Hyper-V Snapshots
There are currently two main types of Hyper-V snapshots:
Standard snapshots include CPU, memory, and hardware configuration at a specific point in time. They are more commonly used in development and testing, and are not always considered a reliable backup strategy. This is because these snapshots can cause data inconsistency issues in non-VSS applications.
Production snapshots do not capture the state of virtual machine memory, processor activity, or hardware configuration. This type of snapshot is used as a backup within the guest OS to create snapshots of the virtual machine with data consistency. In Windows Server 2016 and Windows 10, production snapshots are created by default; if you are not satisfied with something, you can go to Hyper-V Manager and change the settings.
How Hyper-V Snapshots work
Hyper-V snapshots are differential virtual disks. Each of these has a parent-child relationship with a corresponding parent VHD. Hyper-V snapshots are organized in a hierarchical manner, and thus form a checkpoint subtree. One VM can contain up to 50 pictures; however, the more pictures, the slower the VM will work. In this case, you can delete unnecessary .avhd (x) files, and thereby merge the Hyper-V snapshots and the data they contain onto the parent disk or other virtual disk.
Hyper-V Snapshots Merge: how to do it
First, set up the PPC structure. In Hyper-V Manager in the center pane, select the required virtual machine. Next, go to the "Actions" section and click "Check Disk", then select the .avhd (x) file and click "OK". Next, define the parent of the selected .avhd (x) file and determine the order in which they are merged. To continue the Hyper-V merge snapshots process, the virtual machines must be shut down.
In Hyper-V Manager, select the desired virtual machine and click "Edit Disk". Next, click "Browse" and select the latest .avhdx file. Click on "Merge", then "To Parent VHD", then "Finish". Repeat this for each .avhd (x) file and reboot the virtual machine.
You can also use PowerShell, but make sure the Merge-VHD cmdlet is enabled on your computer. The main command you will need is: Merge-VHD Path = '' Destination path = '' . Now shut down the VM and restart the system.
As you can see, PowerShell makes this complex operation much easier.
Protect your data with RAID Recovery
DiskInternals RAID Recovery™ can recover your data and create a disk image! The probability of returning data of any format is over 95%. These are not just words, but a solid statement based on DiskInternals' 15 years of experience in data recovery.
RAID Recovery supports both manual and automatic identification of important parameters such as controller type, array type, file system, stripe size, disk order, etc. If there is any chance of file recovery, RAID Recovery™ will succeed!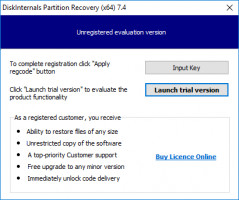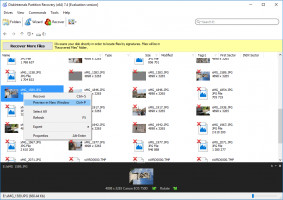 Please study this guide first and then download and install the application on your laptop:
In the new window, select the array that has been corrupted in some way.
Scanning (full or quick) and wait for a new window with search results. You can view all found files and folders for free, which is very useful.
To export the data to another medium, please contact the site to purchase a license and complete the process.