NAS vs SAN: what is the difference
Here you will find out:
what is NAS and what is SAN
what is the difference between them
how DiskInternals can help you
Are you ready? Let's read!
About NAS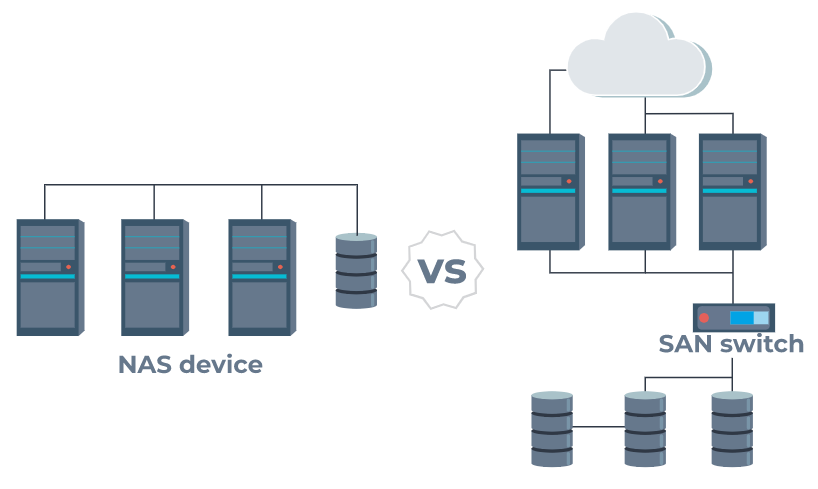 NAS is a network storage device that connects to your home network, providing access to data from all devices. This option for storing and using data is great for both home and office. The use of 2 or more drives allows you to reliably protect yourself from data loss in case of HDD failure. You will have access to your files at any time of the day. In addition, this comfortable device is quite inexpensive, and if you need to increase free space, you can do this with ease and without additional skills. The only thing is that, with a large influx of requests, the server can not cope with this and will thereby temporarily reduce its performance. The same applies to Ethernet: if there are a lot of packet requests with data, then quality and transmission speed problems may arise. In other words, if the server is not overloaded, then there will be no problems at all. If you use thin provisioning to transmit information, then there will be even more advantages to NAS. By the way, DiskInternals already has an article on the use and benefits of thin provisioning.
About SAN
SAN is a storage network that provides high performance and fast I/O. This type of data storage has many capabilities, and therefore its cost is certainly substantial. Therefore, more often SAN is used by large corporations.
So, what is the difference between SAN and NAS?
Of course, the difference between NAS and SAN is palpable. To say that one is better, or vice versa is a difficult question and maybe even the wrong one. It all depends on the preferences of the client and the goal pursued.
NAS can be used if you have a home network or a small business. SAN will be possible only for giant companies since SAN is an expensive device and requires specialized management.
As for carriers, NAS uses Ethernet, while SAN uses Fiber Channel Protocol. There are also differences in data access: NAS works at the block level, while SAN works at the file level.
The speed of reading operations in the SAN cannot be compared with NAS: SAN is very fast because different I/O protocols are used.
Based on the above, SAN and NAS are not competing for technologies; they are designed for various needs and tasks. SAN is a dedicated network of storage devices (which may include arrays of arrays, etc.). When they work together, excellent storage at the block level is possible.
Is there any data recovery difference between NAS and SAN?
There is a big difference in data recovery: for NAS, most DiskInternals software can be used; for example, Uneraser, Partition Recovery, and RAID Recovery.
All applications have a similar data recovery procedure, are equipped with a Recovery Wizard, and have a free trial version with the ability to preview search results.
So, DiskInternals Uneraser can be used if you have lost any data from your hard drive, external drive, etc. This application is fast and simple. You will have a better chance if you recover data immediately after it has disappeared.
DiskInternals Partition Recovery is an application with a more sophisticated data retrieval mechanism; here the whole process takes place at the level of disk partitions, with file system conversion if necessary. It should be used if you have a more severe case.
DiskInternals RAID Recovery works with the recovery of any arrays, while it automatically reads the structure and configuration of the array, scans it deeply, and produces unsurpassed results.
For SAN, it is difficult to recommend any software. Here, the issue of data recovery needs to be approached individually.