Last updated
: Feb 28, 2023
Top 8 Best NAS Recovery Software for RAID Recovery in 2023
It's not surprising that companies and individuals buy NAS (Network-Attached Storage) systems to keep their crucial data handy and easily accessible. NAS devices or systems are pretty good and help to improve efficiency in a networked environment; the architecture is awesome, and many techies are cool with it.
Similarly, some others – companies and individuals – use RAID technology for storing data. RAID is a network of hard drives (HDDs or SSDs) connected in different formats; thus, there is RAID 1, RAID 2, RAID 10, and so on. But one thing is common among NAS and RAID storage technologies; they both require hard disk drives, either HDD or SSD.
Since these storage technologies still make use of HDDs and SSD, it means you can lose data from them; thus, a NAS hard drive / RAID recovery software needs to be at your disposal to save you when such messes (data loss scenarios) occur. There are quite many recovery solutions to retrieve files from RAID drives and NAS hard drives, but here are the top options to choose from.
Best Raid Hard Drive / Best NAS Hard Drive Recovery Software Apps
1. DiskInternals RAID Recovery
DiskInternals RAID Recovery is a professional software app that helps users to recover files and lost data from all kinds of RAID arrays. It is a powerful tool built for experts and newbies – featuring an integrated Recovery Wizard that guides the user every step of the way to recover their files from RAID or NAS hard drives.
This software program runs on all Windows OS computers, including systems running on Windows Server OS. DiskInternals RAID Recovery can read all kinds of RAID arrays, as well as support all known file system formats for Windows, Linux, and Mac operating systems. With this intuitive, powerful tool, you will be able to get back any file type from your RAID or NAS hard drives.
DiskInternals RAID Recovery Features
Recovers software and hardware RAID

Intuitive interface 

Recovers files from corrupted RAID arrays – supports all RAID arrays from RAID 0 to RAID 60 and JBOD

Allows the user to mount virtual disks as local drives, and make them accessible from File Explorer

Bypasses Windows OS restrictions during recovery

Supports Unicode filenames and multi-level folders
DiskInternals RAID Recovery is a wholesome solution for NAS device owners and IT experts that save their data in RAID arrays.
How To Use RAID Recovery
1. Install and Launch the Program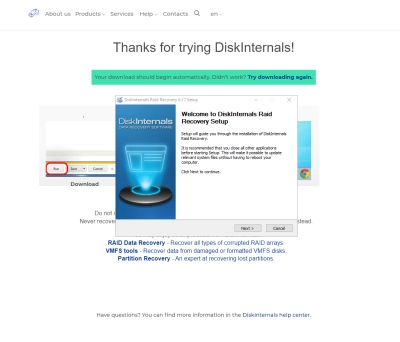 Download DiskInternals RAID Recovery and install the executable file on your system. Remove the RAID array drives or NAS drive(s) and connect them to the system where RAID Recovery is installed. Launch the software after the installation and it will automatically detect all connected drives.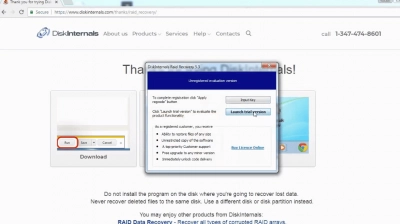 2. Choose Your Disks/Drives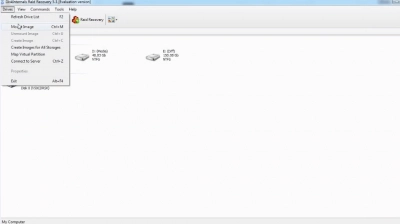 Select all the disks and drives in your RAID array or NAS device. DiskInternals RAID Recovery will try to automatically reconstruct the RAID configuration to start the data recovery process and get back your lost files.
3. Arrange the Array
Select "Arranged by RAID levels" if you're in automatic mode, and then select the correct RAID level. Recheck the recollected RAID to confirm or you can arrange the order of the drives from top to bottom.
4. Select the File System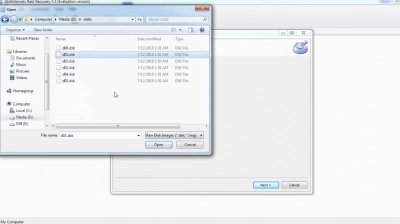 Now, select the file system you were using with the disks before the data loss occurrence. Once after selecting the file system, scan to recover your lost files.
5. Preview the Files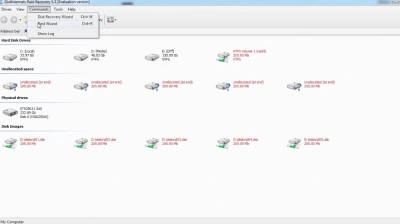 The recovered files will appear with a red asterisk to indicate that they are the lost ones. You can preview these recovered files to confirm they are in good condition. After the previewing, you'd need DiskInternals RAID Recovery Pro to re-save the files to your computer.
2. Reclaime Free Raid Recovery
ReclaiMe Free RAID Recovery is a totally free utility that helps Windows PC users to get back lost files from a wide variety of disk types and arrays. But, this software program cannot recover data from "All" RAID arrays like DiskInternals RAID Recovery.
With the Reclaime Free tool, you can only recover from RAID 0, RAID 5, RAID 10, RAID 6, RAID5E, and RAID 5 with delayed parity. This tool works on systems running Windows XP to Windows 10. It is also important to note that this utility doesn't support file-by-file recovery; it works with entire arrays.
Features:
Works with hardware and software RAID disk sets

Supports NAS disk sets

Allows NAS recovery for QNAP, Synology, NETGEAR, LaCie, WD MyBook, and similar devices

Support the BTRFS file system 

Reconstructs commonly used RAID types: RAID 0, RAID 5, RAID 0+1, RAID 1+0, and RAID 6.
3. Ontrack Data Recovery
Ontrack Data Recovery is a premium NAS server recovery service offered by Ontrack. This is not like other solutions discussed in this article; here, you pay a group of NAS recovery experts and engineers to help you retrieve the files and data you lost from any type of NAS device or server.
Ontrack has been in this business for a long and has successfully carried out NAS server recovery for quite many clients. When you go with Ontrack, all NAS servers and devices are supported, as well as all RAID array levels. But, Ontrack pricing is quite too high – starting from $213.95.
Features:
Remote NAS/RAID recovery

Supports all disk types from global manufacturers – Dell, HP, ACER, Apple, Cisco, D-Link, EMC, Freecom, LaCie, and many others. 

DIY NAS data recovery software
4. Stellar RAID Data Recovery Tool
Stellar RAID Data Recovery Tool recovers from both hardware and software RAIDs, as well as NAS devices configured to RAID 0, 5, or 6. You can also use this tool to gain access to corrupt or inaccessible RAID-based NAS servers of select companies and attempt recovery.
Features:
Supports Buffalo Terrastation, Iomega StorCenter, Synology, LinkStation, QNAP, LaCie, and other Linux-based NAS devices. 

Recovers from HDD and SSD RAID arrays

Rebuilds RAID arrays

Works only on Windows OS computers
5. EaseUS NAS Data Recovery Software
This software is built to function on macOS and Windows OS systems; plus, it has a user-friendly interface. The EaseUS NAS Data Recovery tool can directly retrieve lost files from NAS devices configured as single drives, RAID 0, or RAID 1.
Features:
Recover files that are lost due to mistaken deletion, virus attack, formatting, system crash, etc.

Supports popular NAS disk brands, such as Synology, Buffalo, QNAP, NETGEAR, Western Digital, and others.

Recovers from NAS RAIDs with EXT4 or BTRFS file systems

Seamless recovery process
6. R-Studio NAS Data Recovery
R-Studio is a professional data recovery solution that helps IT experts to recover files from NAS disks, mdadm, and LVM2 Linux RAID devices. This software program is reliable, pretty easy to use, and runs on all Windows OS versions. With this tool, you can recover files from RAID-based NAS storage devices, but it is quite expensive.
Features:
Supports recovery from formatted ext4FS disks

Can scan and recognize file fragments on RAID disks

Can retrieve non-standard nested levels of HDD or SSD RAIDs 

Provide both free and premium versions 
7. Home NAS Recovery
Here's a brilliant NAS disk recovery solution with a record 95 percent success rate. Home NAS Recovery is a software program to install on your Windows OS system, connect the NAS disks to the Windows computer, launch the program, and start the recovery process. This software app works pretty fast and due to its intuitiveness, virtually anybody can use it.
Features:
Supports a wide range of supported NAS devices

Price is per drive 

Uses the latest generation of NAS recovery algorithm
8. Runtime RAID Data Recovery
Thanks to the Recovery Wizard built-in, this is one of the easiest-to-use NAS/RAID data recovery solutions. Runtime RAID Data Recovery can retrieve lost files from broken RAID 5 or RAID 0 Array on NAS devices. It automatically tries to update the RAID parameters during the scan – a disk controller card is needed to handle all the RAID drives individually.
Features:
Built-in Recovery Wizard to guide the users

Recover XFS- or EXT-formatted NAS devices within minutes 

Supports single-drive, RAID-0, RAID-1, RAID-5

Comfortably previews a wide range of file types

Run from a WinPE Boot Medium or a Runtime Live CD

Robust disk search feature
Best NAS Drives in 2022 - RAID Hard Drive Arrays
Talking of the best NAS hard drives, there are quite many of them out there – large space, dependable, and pretty affordable. Getting a good NAS hard drive is very essential – because, no matter how much you splash on a NAS device, if the hard drive or SSD isn't top-notch, you'd experience several issues with the storage.
But how do you know the best NAS hard drive(s) to buy? To get started, you have to be clear on what type of drive you need – HDD or SSD, also, you need to consider how much storage capacity you need to contain all your documents and files. Here are some of the best NAS hard drives to choose from. But before then, what does RAID array means?
What Is a RAID Array?
The acronym RAID stands for Redundant Array of Independent Disks. It is a storage technology adopted by IT experts to improve data protection and faster performance, and enable the use of multiple drives for storing data. There are different types of RAID arrays and they all have specific benefits. The three common types of RAIDs are:
Hardware-based RAIDs

: Uses a physical disk controller to manage the RAID array, which may or may not be part of the motherboard.

Software-based RAIDs

: Uses the computer's hardware system resources to operate as the RAID controller.

Firmware or Driver-Based RAIDs: Uses a firmware controller chip that is part of the motherboard to manage the RAID's functions.
How Does a RAID Array Work?
To make a RAID array, multiple disks are interconnected; the array allows for the distribution of data across the interconnected disks. These disks could be SSDs or HDDs – you need a minimum of two different disks to form a RAID array. Due to the multiple disks used in RAID arrays, when one of the disks fails, you may still be accessible to access your files from the other disk(s), which is referred to as "Fault Tolerance."
Different Types of RAID Arrays
Here are the main common types of RAID arrays configured in companies and individual storage devices/systems.
RAID 0

: Requires a minimum of two disks; supports striping but does not support data redundancy – not recommended for critical systems. 

RAID 1

: Requires a minimum of two disks; supports data mirroring and redundancy.

RAID 5

: Requires a minimum of three disks; supports redundancy and is best for read-oriented databases.

RAID 6

: Supports all functions of RAID 5 and can still allow you access to your data even when two disks in the array have failed. 

RAID 10 (RAID 1 + 0): This is the combination of RAID 1 and RAID 0. It requires a minimum of four disks; supports striping and mirroring, as well as offers the best performance and redundancy, but is very expensive to set up and manage.
Note: There are other RAID array types, but these ones are the commonest ones used by a lot of IT experts.
How to Choose a RAID Array
Choosing the RAID array to set up for business or personal use can be confusing, but to keep it short, here's what you should know. RAID 0 and 1 are best for personal use, and RAID 5 is best for read-oriented databases that need distributed parity. RAID 6 and 10 are recommended for big businesses (enterprise work environment).
Best NAS Drives and RAID Hard Drives to Buy
1. Synology DS220j
Synology DS220j is an outstanding NAS drive for business or personal RAID array setup. It comes with an upgraded processor (although with limited RAM) and is easy to use. Thanks to the extra processor power, this hard drive is pretty fast and reliable. It costs around $182 and features an integrated media server to support multimedia content streaming. DS220j is compatible with 3.5-inch SATA HDDs, 2.5-inch SATA HDDs, and 2.5-inch SATA SSD.
2. QNAP TS-230
Starting with the stylish appearance, this NAS drive is one of the best out there in the market. It comes with 2GB of RAM, supports SSD caching, and runs with a Realtek RTD1296 ARM Cortex-A53 Quad-core 1.4 GHz processor. The QNAP TS-230 supports 2 x 3.5-inch SATA 6Gb/s, 3Gb/s drives, and QTS 4. 4. 1 (embedded Linux) – with a starting price of around $222.
3. Western Digital WD Red Plus
The WD Red Plus is a hard drive to put into your NAS drive; this hard drive is super-fast and comes in different capacities ranging from 1TB to 14TB with support for up to 8 bays and 180TB/yr workload rate. One of the reasons this drive still rocks is because it offers numerous storage space than its competing models. WD Red Plus is built for individual and business usage; it offers fast-paced performance in multi-drive environments and solid large-block sequential read and writes speeds.
4. Asustor Drivestor 2 Pro AS3302T
This is probably the best option for 2.5GbE LAN setups as it comes with plenty of apps for different uses. This NAS drive is meant for use by home users and small businesses that are looking for systems bigger than 1Gbit LANs.
Asustor Drivestor 2 Pro AS3302T is pretty expensive but offers improved LAN performance for users running the latest ADM 4.0 OS. It has plenty of functionality and allows you to add lots of third-party applications. This drive is available in 2-bay and 4-bay variants and is compatible with 2.5-inch or 3.5-inch SATA SSD/HDD drives up to 36TB (18TB x 2).
5. QNAP TS-251B
If you're not on a tight budget, this is one of the NAS drives to take away from Amazon or any other store where you can find it. The QNAP TS-251B has a compact design with versatile features, including an HDMI output port. QNAP TS-251B's features are specs are generous – such that will really entice you.
However, this NAS device do not come with support for many Synology apps – you may be comfortable with the selection it offers anyway, plus the intuitive interface. Also, the powerful processor and HDMI output on this drive make it appear like a pretty little PC. More so, it is a great media player and can run Office software apps.
Related articles
Please rate this article.