Last updated
: Apr 04, 2023
How to Recover Deleted Data from Empty Recycle Bin?
The recycle bin serves a purpose by temporarily storing your deleted files so that you may quickly recover them if you later realize that you need one or more of them. But, unless you use some sophisticated techniques, it is practically difficult to recover a deleted file from the recycle bin.
All Windows OS machines, starting with Windows XP and up to the most recent Windows 11, come with a standard Windows recycle bin folder. When Windows is installed, it is one of the default desktop icons. This article shows how to recover data removed from the recycle bin in case you unintentionally empty the recycle bin folder and need to retrieve those items back.
What Happens When You Delete A File?
On a Windows computer, selecting a file or folder and pressing the delete key immediately sends the item into the recycle bin. But, if you simultaneously hold down the SHIFT key and click the delete key, the item skips the recycle bin and is totally removed from the computer.
Before being permanently deleted from the computer, files in the recycle bin folder are kept there for thirty (30) days. But just because the files were "totally wiped" doesn't mean they can't be recovered! A deleted file really stays on a portion of the hard disk until it is overwritten with fresh data, regardless of whether it was removed from the recycle bin or by pressing SHIFT+DELETE.
So, if you discover you made a mistake by deleting a file/folder you shouldn't have removed, there are still chances of getting it back. However, this may require the use of a third-party data recovery software app like DiskInternals Uneraser.
Is Recycle Bin Recovery Possible?
Recycle bin recovery refers to getting back previously deleted or erased files and folders from the recycle bin folder. Sure, you can accomplish this if you utilize the appropriate built-in tools or outside software solutions.
But then, you can only recover files that are not yet overwritten; if the erased files are already overwritten with new data, you can't get them back.
So, it's advisable to act fast whenever you make the mistake of deleting files from the recycle – you should be fast enough, or the files become overwritten, and you won't be able to get them back.
How To Recover Deleted Data from the Recycle Bin
If you haven't emptied the recycle bin, recovering a mistakenly deleted data/file/folder is very easy. Below are the two quick and non-technical methods to retrieve files from the recycle bin when it is not emptied yet.
1. Press CTRL + Z
CTRL + Z is the shortcut for undoing recent actions or changes on a Windows computer; it can also help you in this situation. If you just deleted the file or folder, quickly press CTRL+Z, and the file will be restored to its previous directory. If you delete multiple files, continue pressing CTRL + Z until all the files are retrieved. Check for the files in their respective directories to confirm they have been retrieved.
2. Re-Check the Recycle Bin
If it's been a little long since you deleted the file but haven't wiped the recycle bin since then, then you should open the recycle bin folder and re-check the file there. You may even use the "Search Bar" to look up the file name and see if it's still available in the recycle bin. Once you find the file in the recycle bin, select it and click "Restore" to recover it to your PC.
Restore Data From Backups
If you have made backups of your files at some point, you can recover the deleted files from those backups.
A. Backup Drive
Your backup drive could be an external HDD, SSD, network storage, or USB flash drive. Whatever your backup drive is, you can recover your lost files from it.
Connect your external drive to the computer system
Open File Explorer, select the connected external drive, open it, and look for the lost files
When you find the file, copy it from the backup drive to your primary storage
That's it! Your files are back.
B. File History
The File History feature lets you easily get back previous versions of your files. It is a built-in Windows OS feature accessible from the control panel. Here is how to use Windows File History to retrieve lost files.
Windows Key + R to launch the Run dialogue box
Enter "Control" and hit the enter key to launch Windows "Control Panel"
Look out or search for the "File History" feature and open it
Select any of the available backups to restore from
Note: File History only works if you activated the feature earlier and backed up "a history" of your files to another storage drive. If File History is not previously activated on your PC, it won't work – you will need to try other methods.
C. Backup & Restore
Another free utility available on Windows OS is the "Backup & Restore" feature, which is equally available from the control panel page. This feature is similar to the File History feature in the sense that you need to activate it prior to the deletion.
Windows Key + R to launch the Run dialogue box
Enter "Control" and hit the enter key to launch Windows "Control Panel"
Look out or search for the "Backup and Restore" feature and open it
Under the Restore section, you can select to restore your files if you had earlier activated the backup option.
D. Previous Versions Utility
Microsoft knew that data loss was imminent, so it provided a lot of data recovery tools built into its system. Like the previous ones explained above, this is another free utility tool available on Windows Control Panel.
Create a new file or folder and name it exactly the same name as the one you mistakenly deleted. If you can't remember the exact file/folder name, try other methods because this one won't work.
Make sure the file or folder is saved in the same directory as the deleted/lost one.
Now, right-click on the file/folder and select Properties.
Toggle to the "Restore previous versions" tab, and you will see the available histories of the file/folder – you can restore anyone you wish to.
Recover Files with Data Recovery Software
Using a third-party recovery software is one of the surest ways to ensure you will get back the lost files. DiskInternals Uneraser is a professional software app that lets you UNDELETE files that were removed from the recycle bin. It also comes with many features, including a built-in Recovery Wizard that guides the user throughout the recovery process.
With DiskInternals Uneraser, the chances of getting back your files are over 99 percent. The software runs on all Windows OS computers, from Windows XP to Windows 11.
Step One: Install the Software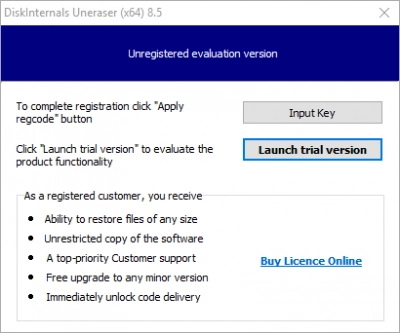 First things first, you have to install the Uneraser software on your computer system and launch it to recover your files.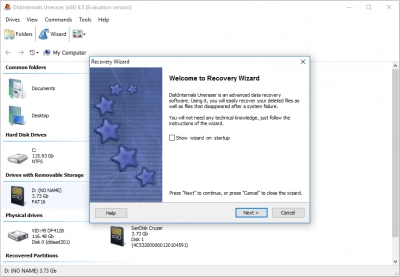 Second Step: Select the Drive and Scan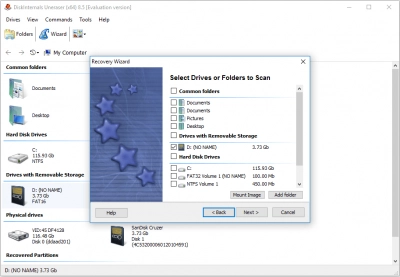 Select the primary storage disk used by your computer and choose Full Recovery mode. Fast Recovery mode may not recover files deleted from recycle bin, so Full Recovery mode is the best to use.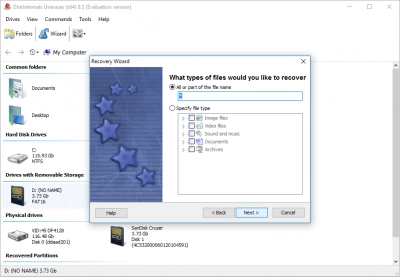 Third Step: Preview the Recovered Files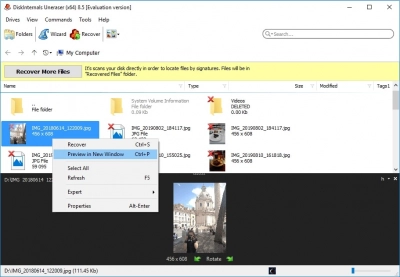 After the scanning is complete, the deleted files will appear with a red asterisk to separate them from the existing files on your drive. You can preview the recovered files to confirm they are the actual data you were looking out for. Once the files are confirmed, you can save them back to your PC (on another storage).
Fourth Step: Recover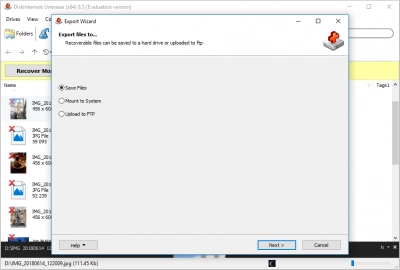 You will need to recover the files back to another storage drive – you can't save them back to the same drive where they were lost from. DiskInternals Uneraser also lets you export the files to remote storage via FTP.
Protecting Files From Accidentally Emptying the Recycle Bin
There are a few practices you can do to protect your files from getting lost unnecessarily. The most interesting thing is that these practices are completely safe and easy to do. Following them keenly will keep your files safer, and you may never need to look out for a data recovery solution.
1. Always Back Up Your Data
Try to always back up your important data to the cloud or external drive. Windows computers typically come with OneDrive built into them; you can set up synchronization with the cloud technology to do regular backups.
Some people even purchase dedicated backup storage devices or use a data recovery software tool. Aside from OneDrive, other good cloud data backup services include Google Drive and Dropbox, and they also have free plans.
2. Get an Uninterrupted Power Supply
An uninterruptible power supply, or UPS, retains power even when electricity is off. It saves your computer system from shutting down immediately after power goes off. Sudden shutdowns can lead to hard drive failures, which consequentially leads to data loss. So, getting a UPS can save you a lot of these stresses.
3. Hardware Maintenance
Always ensure that your hard drives are well maintained. Don't subject your PC to overheating or excessive vibrations – such conditions can damage the hard drive and lead to data loss. Also, don't let your hard drive sustain physical damage.
4. Install a Valid Antivirus Application
Many people frown against antivirus applications, but they are still relevant in combating malware and virus attacks. Always make sure your antivirus apps are up to date and it is activated to protect your system. Using a computer without an active antivirus protection app is very risky – the PC could get attacked at any time, and your files will go missing!
5. Don't Overclock!
Yes, overclocking your computer can boost performance and give you more speed to carry out specific tasks. But then, overclocking your computer can affect the drives and motherboard because it means exposing them to higher performance. Overclocking can make your computer's drives fail much earlier than they are built to last.
6. Use High-Quality Hardware Components
If, peradventure, one of your system's hardware components fails, get a high-quality one when replacing it. For example, if your PC comes with an HDD, and then the HDD fails, maybe you should switch to an SSD when replacing it. But if you must use an HDD again, ensure you buy an original one.
7. Check TRIM Status for SSD
If you use SSD, ensure to check the TRIM status; it is important to leave it active. However, if you discover that you've lost files already, disable TRIM to avoid permanent loss of the files/data.
Any Other Method to Restore Deleted Files from the Recycle Bin?
So far, this article has explained many ways to restore files deleted from the recycle bin. Notwithstanding, there is one more method worth mentioning.
Using Command Prompt
Yes, you can use the CLI command to unhide the deleted files from where they are hidden on the hard drive and then recover them. Hereunder are the steps to achieve this:
Right-click on Start and select PowerShell (Admin)
Type chkdsk D: /f and press Enter (replace "D" with your primary drive's drive letter)
Press Y until the command line reappears
Type the drive letter and hit Enter
Now, run this command: ATTRIB -H -R -S /S /D D:*.*
This will unhide hidden folders, and those folders may contain the files you were looking for. The Filenames will be shown in a generic form.
Conclusion
Conclusively, this comprehensive article details every possible means of recovering files lost from the recycle bin. Your best bet is to use DiskInternals Uneraser, but if you don't want to use a third-party solution, Windows OS offers many built-in tools.
FAQ
How to restore Recycle Bin icon that has disappeared from desktop?
1. Select the Start button, then select Settings
2. Select Personalization > Themes > Desktop icon settings
3. Select the RecycleBin check box > Apply
How to recover files deleted from the Recycle Bin on Windows 10?
1. Open the Recycle Bin by double-clicking on its icon
2. Locate the items that you want to recover
3. Check the box next to the files or folders you want to retrieve
4. Right-click and select Restore to recover the items to their original locations
Can I recover deleted files that were too large for Recycle Bin?
The storage space and the files you stored on the computer will be times larger than on a phone. So there is no need to set a time limit. When the files you deleted exceed the size limit, they will be permanently deleted, making it impossible to directly recover files from Recycle Bin. Use DiskInternals Uneraser for fast deep recovery of lost or corrupted files.
How do I recover permanently deleted files from the Recycle Bin?
1.Double-click the Recycle Bin icon on your desktop
2. Locate the deleted files you want to recover
3. Select the deleted files
4. Right-click any of the selected files
5. Choose the Restore option to move them back to their original location
Where do deleted files go after the Recycle Bin?
Where do files go after being deleted from the Recycle Bin? They don't go anywhere! Windows simply marks the storage space they occupy as free, allowing other files to be stored on it. Until the original files are overwritten, you can recover them with DiskInternals Uneraser data recovery software tool.
Related articles
Please rate this article.