Last updated
: Apr 04, 2023
Recover Empty Recycle Bin
Initially, when a file or folder is removed from a computer, it goes directly to the recycle bin where it remains for up to 30 days before being destroyed from the computer. You may manually empty the recycling bin over the 30-day grace period to make extra useable space available on your hard disk.
Imagine, however, that after emptying the recycle bin, you find out that there are certain files you still require. Can data that have been deleted from the recycle bin still be recovered? What steps do you take, if any at all? Hence, after emptying the recycle bin, this article describes how to restore lost data.
Is Recycle Bin Recovery Even Possible?
In essence, it is not feasible, but if you are aware of certain advanced activities you could do, it is. Simply said, it is still feasible to recover files that have been deleted from the recycle bin, but you will need to do some particular sophisticated activities or employ data recovery software. Yet, if you want your rehabilitation to be completely effective, there are some guidelines you must follow.
One of the first things to do is to halt hard disk saving when you realize that you have unintentionally deleted some crucial data from the recycle bin. You risk overwriting the deleted data with a new date if you keep saving to the same storage disk. The fact is that files that are deleted from the recycle bin continue to exist until they are overwritten; this overwriting is what you want to prevent.
Where Do the Deleted Files Go from Recycle Bin?
The computer won't identify deleted items from the Recycle Bin as important data since they are transferred to a secret sector or partition on the hard disk. The files haven't vanished entirely, though; they are still present on your hard disk.
Unless fresh data is added, these files remain in their demoted division. The files would remain in that secret hard drive sector until they were rewritten, thus there is no set time limit on how long they may remain there.
Are Files Deleted from the Recycle Bin Recoverable?
Since the files are still on the hard drive, definitely, you can recover them. But you will need a tool that can search deeper into your storage drive to locate the erased files in their hidden partitions. The data recovery solutions explained in this article also work for SHIFT + DELETE files. In other words, if you used SHIFT+DELETE to erase a file from your PC, these solutions will help you out, too.
How to Recover Deleted Files After Emptying Recycle Bin?
Here are some satisfying methods on how to retrieve files that you have completely erased from the computer.
1. Using Windows Built-in Backup Function
Windows OS has a built-in backup function that saves "Previous Versions" of your files. So, by retrieving the previous versions of your files, you get the files back to your PC. This utility tool is free and available on every Windows OS computer.
Windows Key + R to launch the Run dialogue box
Enter "Control" and hit the enter key to launch Windows "Control Panel"
Look out or search for the "Backup and Restore" feature and open it
Under the Restore section, you can select to restore your files if you had earlier activated the backup option.
2. Using a Data Recovery Software
Using a third-party professional data recovery software is one of the surest ways to get back your deleted files. DiskInternals Uneraser is a professional data recovery solution that works on all Windows OS computers from Windows 7 to Windows 11. It is super intuitive and easy to use.
Successfully recovers deleted files after emptying the recycle bin
Recovers over 1,000 file types
Supports all known Windows, macOS, and Linux file systems
Works very fast to recover various types of files from different storage drives
Preview the recovered files to confirm they are the ones you need to recover
Swift recovery process following the Recovery Wizard.
How to use DiskInternals Uneraser Software?
Step One: Install the Software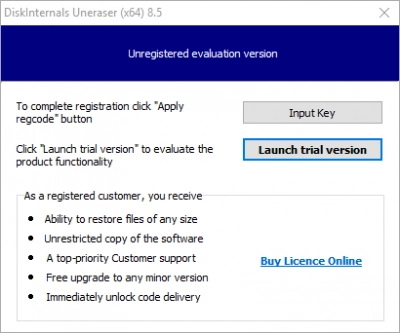 First things first, you have to install the Uneraser software on your computer system and launch it to recover your files.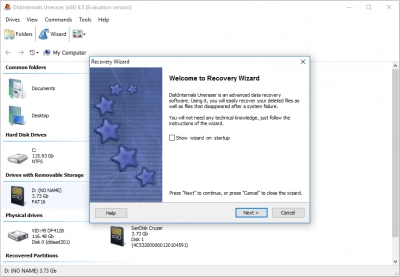 Second Step: Select the Drive and Scan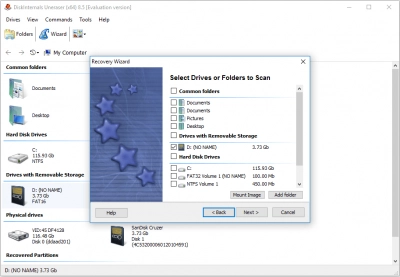 Select the primary storage disk used by your computer and choose Full Recovery mode. Fast Recovery mode may not recover files deleted from recycle bin, so Full Recovery mode is the best to use.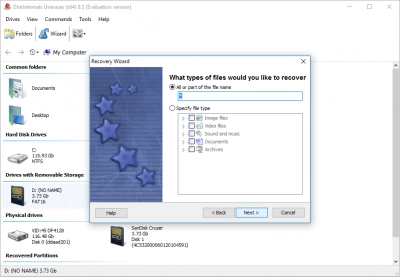 Third Step: Preview the Recovered Files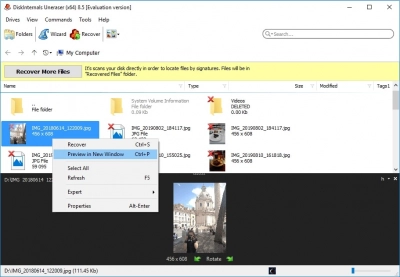 After the scanning is complete, the deleted files will appear with a red asterisk to separate them from the existing files on your drive. You can preview the recovered files to confirm they are the actual data you were looking out for. Once the files are confirmed, you can save them back to your PC (on another storage).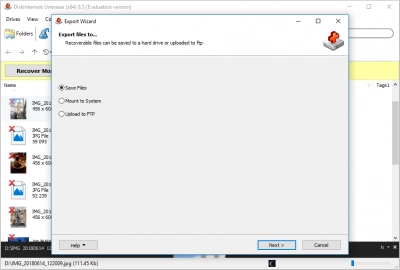 3. Try "Previous Version"
File history is a built-in feature on Windows 7, 8, and 10; it lets you retrieve the previous versions (history) of a file. This data recovery method recovers the file to the state it was when the file history was recorded, which means recent changes to the file may not be saved, but what matters is that you'd get the file back. But File History won't work for you if you haven't activated it earlier.
Create a new file or folder and name it exactly the same name as the one you mistakenly deleted. If you can't remember the exact file/folder name, try other methods because this one won't work.
Make sure the file or folder is saved in the same directory as the deleted/lost one.
Now, right-click on the file/folder and select Properties.
Toggle to the "Restore previous versions" tab, and you will see the available histories of the file/folder – you can restore anyone you wish to.
4. Use Command Prompt
There are CLI commands that can help you attempt to recover files you deleted from the recycle bin. These commands are advanced syntaxes to reverse your actions, so you must have Admin access on the computer before you run this command. Hereunder are the steps to carry out this method:
1. Shut down the computer and boot it into safe mode. To boot into safe mode, press the "F8" button multiple times while the PC tries to reboot, then select "Safe Mode with Command Prompt." This works best for Windows 7.
2. Type "cd../.." (without the quotes) and hit Enter.
3. Type "cd $Recycle.Bin" or type "cd RECYCLER" for a Windows XP system and hit Enter.
4. Type "cd" and press the tab key. You should see the directory name after this. Press Enter.
5. Type "dir/a" to display all files > "copy [file name] [file location]"> "cd../.."> "dir"> "ren [file name]." (Note: Hit Enter following each command before proceeding with the next).
This should recover the file you were looking for. Remember, the [file name] and [file location] should be replaced with the actual data.
5. Try System Restore
Have you tried restoring your system to a previous state? Well, system restore does not only get back your lost files, but it will also undo a lot of actions, including uninstalling third-party software apps you installed recently – post the system restore point. Here's how to access the system restore feature to roll back your computer to a previous state.
Windows Key + R to launch the Run dialogue box
Enter "Control" and hit the enter key to launch Windows "Control Panel"
Look out or search for the "System Restore" feature and open it
Find a "Restore Point" that is most likely to contain those deleted files and restore from that point.
6. Check Your OneDrive
Windows computers come with built-in OneDrive support; some people turn on synchronization to backup all their files to the OneDrive cloud. If you activated OneDrive synchronization and then discover that some files are missing from your local folders, simply check for the files on OneDrive, they may still be there.
Open the OneDrive application on your PC and log in to your account (if you're already logged in, skip this step)
Look out for the Recycle Bin folder and open it
Check for the files in there; you should see them.
How to Avoid Data Loss from Recycle Bin Again?
Here are some safe practices that can save you from experiencing a fatal data loss situation, as explained in this article. Keeping up with these practices will always provide you with a place to fall back on when you mistakenly erase the recycle bin or encounter any other fatal data loss scenario.
Back-Up To OneDrive: You can sync your local folders with Microsoft's cloud solution, OneDrive, to save a copy of all your important files and folders to the cloud. This way, you can always have access to them, regardless of where you're located. You can use other cloud storage services. It's not compulsory to use OneDrive.
Pay Attention to Irregularities: Be sensitive to know when your primary hard drive (HDD or SSD) is beginning to fail, so you can move your files out and have them saved on a more safer storage.
Install Antivirus Software: Install antivirus software to checkmate malware and virus attacks, which can lead to data loss.
Shutdown Properly: Always shut down the computer gradually – not forcefully shut it down unless you're troubleshooting.
Conclusion
This article explains how to recover files deleted from the recycle bin. The six methods explained here are effective and have worked for many people. However, the most reliable method is using third-party data recovery software like DiskInternals Uneraser.
Related articles
Please rate this article.