Perform JPEG Recovery By Yourself!
Any file can be lost or deleted and a JPEG file is no exception.
Here you will find out information on how to recover JPEG files easily and fast.
Are you ready to perform JPEG recovery? Let's read!
A few words about JPEG
JPEG is a photographic image format that typically provides compression from 10:1 to 20:1 with minimal loss of image quality. This format is the most common of image formats and is used in digital cameras, smartphones and other devices. JPEG photos have a wide color palette, supporting more than 16 million colors, and are of excellent quality. This is why JPEG is so popular among modern users. In addition, this image format is equally well supported on the Windows, Linux and Mac operating systems.
But JPEGs can be lost or deleted, as with any other photo file. What do you do in such situation? How do you recover deleted JPEG files from a hard drive, SD card or any other storage device?
Let's read about it!
The best advice for JPEG recovery
You need to recover JPEG files as quickly as possible. And here, it does not matter in which storage device you have lost the JPEG files (SD card, hard disk drive, USB drive, memory card, etc.). The longer you wait, the greater the chance that the JPEG file will be overwritten by another file.
Of course, if you stop using the device, this risk will be reduced.
But stopping using a storage device is not always possible. For example, it is easy to stop using an SD card or other portable media, but it is more difficult to stop using a laptop or personal computer.
Therefore, you must choose: either stop using the gadget and start JPEG recovery, or continue to use the device, but lose your photos and other data.
Perform JPEG recovery!
In order to recover JPEG files, you need to use special JPEG image recovery software. The choice of specific software will determine the result and quality of the recovered photo.
DiskInternals Uneraser is a great choice and here is why:
This recommended program to recover JPEG files supports the following file systems: UFS, HFS, NTFS, XFS, Ext2/3/4, ReiserFS, FAT12, ReFS, and Reiser4.
The software has a convenient and at the same time simple built-in recovery wizard. This is a very handy feature that will help you to restore JPEG files, even if you are doing it for the first time and it seems to you that you cannot cope with this task.
You can download a free trial before you buy a license. Only after you make sure that you can perform JPEG recovery and get your files back, do you need to purchase a license for this product.
Another useful feature is a "Preview files". You can use it before recovery and preview files will protect you from wasting money, if you are unsatisfied with the final results. But this is unlikely to happen, as DiskInternals Uneraser JPEG file recovery software guarantees good and high-quality results.
If any questions arise during the restoration, you can contact the company's support service. Your request will not remain unanswered, you will be contacted as soon as possible.
You only need to download DiskInternals Uneraser to perform JPEG photo recovery and follow the step-by-step instructions that are described below.
1. Download DiskInternals Uneraser to perform JPEG recovery.
2. Then run the DiskInternals Uneraser software and click the Next button as many times as necessary to install the software.
3. The recovery wizard will start automatically. You will be prompted to select the location where the files were lost. Then select the image files to search for and click Next.
4. Scan the disk. Wait for the process to complete; it may take some time.
5. In the new window, you will see the files that can be restored. They will be marked with a red cross in the upper left-hand corner.
6. Preview and restore. Select the files you are interested in and right-click on "Preview in a new window" or press the hot keys "Ctrl + P".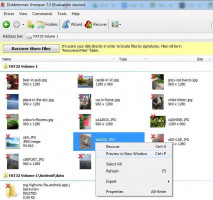 7. Preservation. You just need to purchase a license and enter the license key. After that, you will be able to finish JPEG recovery.
Do not forget to save your recovered JPEG files in a safe place (not the original place!).
Good luck!