Last updated
: Aug 31, 2022
How to reset VMware virtual machine
Virtualization is a great concept that brings about the software layer of running different deployments on your physical computer. The advantage that virtualization brings to modern computing is evident in the number of applications and services that run seamlessly from the same host. While it does pack several advantages, it is also prone to some problems that physical computers face.
One problem that every computer user knows about is data loss. Where data loss occurs for a variety of reasons, data recovery and its different techniques are useful for securing important data. Thankfully, DiskInternals recovery software is handy for this primary reason.
Article content:
What are virtual machines used for?
Are you ready? Let's read!
What are virtual machines used for?
Virtual machines are useful for running two or more operating systems on one host machine. This host computer is the physical system on which the virtualization takes place. Virtual agents are referred to as guest machines that run on physical computers. Virtualization provides businesses with the option of running different operating systems that behaves like completely separate computers on the same hardware.
Interestingly, virtualization brings its own level of handy features that allows its users to specify the different level of processing power it needs. For this reason, its users can use it to run different applications and simulate different scenarios on the same host machine without direct impact on the host.
How do Virtual Machines Work?
The virtualization of the different guest operating systems on their host computer comes about by running these different processes just like every other application. Technically, virtual machines are your typical application window that runs just like your normal browser. Only this time, they are actually another computer running on your machine.
For virtual machines to work, it requires some specific key files to have a successful operation. These key files include log files, NVRAM setting files, configuration files, and virtual disk files. Virtualization software simulates virtual hardware to run the specified operating system on the host machines. With the above mention key files, a virtual machine image can function in its virtual environment as a separate computing environment.
Symptoms of VM Errors
Virtual machines run into their fair share of errors and troubles. Just like their host system, some errors can cause virtual machines to become unresponsive. Understanding these errors and their meaning will enable you to troubleshoot and apply the right solution to get your virtual machine working once more. The list below are some of the common symptoms that may prompt you of virtual machines error that may result in your virtual machine becoming unresponsive.
An unresponsive virtual machine that appears to hang or freeze when carrying out specific computing operations
Black screen with no option to refresh your virtual machine
VSCSI I/O warning counters indicate inactivity
Failing tasks on the virtual machine
Frozen screen with no possible action
No network or disk traffic from the virtual machine
No connection method is available via RDP, Center Server virtual machine console screen, among other connection methods.
Rebooting or Resetting a Virtual Machine
Refreshing your virtual machine is useful for returning it back to its original configuration before an error occurred. To restart your virtual machine, you could take two possible routes:
In several applicable situations, the need to reboot or reset your virtual machine may arise. This could be to accommodate an update or reverse a configuration change. In most cases, rebooting simply restarts the virtual machine that is on the host computer. For situations where the virtual machine is unresponsive or appears to be hung, a reset of the virtual machine is useful.
The step requirements for rebooting a virtual machine differ from one virtualization technology to another. The common steps necessary to reboot your virtual machine on your host computer are as follows:
Navigate to virtual machines to select the virtual machine you wish to reboot
Right-click on the virtual machine you wish to reboot and click on the reboot option from the drop-down menu
Confirm your selection by clicking Ok in the confirmation prompt
The above step is the common steps you have to take to reboot your virtual machines. However, to reset your virtual machine, follow the steps below:
Click on compute and navigate to the virtual machine you wish to reset
Right-click on the virtual machine and select Reset on the drop-down menu
Confirm your selection by clicking Ok in the confirmation prompt.
Recover Lost VMFS Data Easily
While the two above techniques provide you with a delicate and complex way of recovering your lost VMFS partition from your disk, there is an easy way to carry out VMFS partition table recovery. To take care of any disk issue, human error, or array corruption, you can trust DiskInternals VMFS Recovery software to read and repair your VMDK architecture while recovering your file.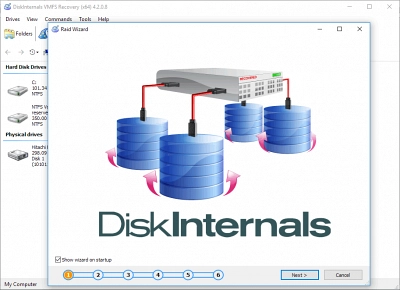 DiskInternals software is an easy-to-use software that guarantees you 100% chance of recovering your data from your faulty or corrupt VMFS partition table directory. It packs several outstanding features that cater to other data recovery needs for its user.
To recover data from your VMware, you can connect via ESX/ESXi server or vSphere.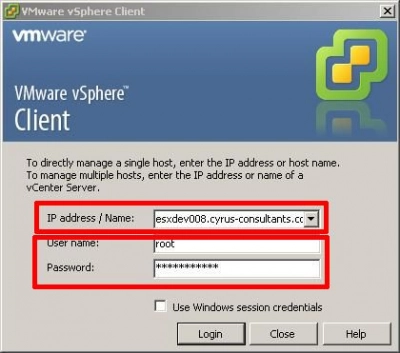 Here, you will have to enter your login credentials before gaining access. After your login is complete, select the machine you wish to perform recovery. Make sure the data store is added to the list before proceeding to click on the VMFS volume.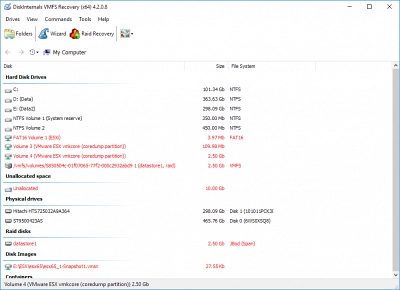 Next, right-click on the volume and open it. This triggers the search for lost files and your volume structure.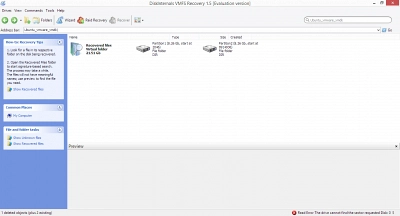 On completion, you should be able to preview the content of lost files. Select the files you wish to restore. Right-click on your selection and click on the export option. Select the folder you wish to save your files and recover your files to this folder.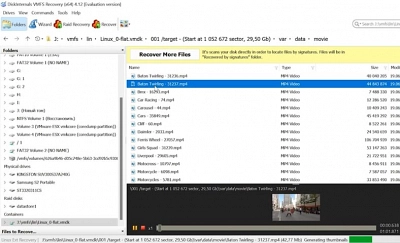 Video Guide
VMFS data recovery software from DiskInternals allows you to scan and recover lost data on your VMware environment. You can use this software to access damaged or deleted disks on your VMware. One thing you should know is that when you finish scanning, you can preview your recovered files for free to ascertain that the recovered data is correct.
Conclusion
DiskInternals offers some outstanding features that distinguish it from the rest. Its architecture encompasses everything you may need to perform file recovery on your VMware. To get access to your lost data today, start by downloading DiskInternals software to kick-start your data recovery journey.
Related articles
Please rate this article.