Last updated
: Nov 22, 2022
Browse VMDK file
VMDK files can be accessed on VMware to run virtual machines. If the VMDK files are corrupted or damaged, you still can read or access them via VMware; you'd need to use a specialized software tool to view the files.
Due to the high relevance of VMDK files – for running virtual machines on VMware hosts/servers, it is important to back up and protect your VMs VMDK files. Also, you may want to know the different ways you can browse and open VMDK files, and that's what this article looks to explain.
In this article you will find:
How to Browse VMDK Files?
How to Use a Professional VMDK Recovery Tool?
Ready? Let's read!
What are VMDK files?
VMDK is a file format – a container format – that represents a virtual hard disk (VHD). A virtual hard disk is practically the same as a physical hard disk drive – the difference is that you cannot touch a VHD since it is "virtual" (but it can be a physical disk that contains a virtual disk) and stored as a soft file (a VMDK file). So, a VMDK file is basically a virtual hard drive, where all information and data about a VMware virtual machine (VM) is saved.
Advanced PC users create multiple virtual machines for running different activities, such as software testing, OS tests, and other purposes. For you to access and launch a virtual machine, the VMDK file must be accessible and mounted; otherwise, the VM won't launch. That said, if a VMDK file is inaccessible, the connected VM won't launch.
How to Browse VMDK Files?
How to browse VMDK files simply mean "how to open" VMDK files, and there are quite different ways to do that.
1. Using VMware
The first method is to use the VMware software; the software has a built-in virtualization engine to create as many virtual machines as possible; if you have an existing VMDK file, you can view the contents by creating a virtual machine based on it. Hereunder are the steps to go about it:
Launch your VMware Workstation and go to File 🡺 Map Virtual Disks 🡺 browse and import the VMDK file.
Select the Drive Letter and click OK to finish.
The VMDK file would now be mounted to the virtual machine with the assigned drive letter, and you can view the VHD from Windows Explorer.
Note: Open the VMDK file in read-only mode, so you don't mistakenly tamper with the content and cause the file to be corrupt.
Another way to go about this is to open the directory where the VMDK files are saved, right-click on the VMDK file you want to access/mount, and click on Map Virtual Disk.
2. Using 7-Zip
This method would only work for you if you had previously attached the VMDK files to your Windows or Linux system. The 7-Zip tool is an archive extractor utility capable of un-archiving various file formats, including VMDK.
Download and install the 7-Zip software on your system
Go to the directory where the VMDK file is saved, right-click on the file, choose 7-Zip, and then select Open Archive.
Extract the VMDK file content to any other location/directory/folder to view them.
3. Using Linux Reader
A freebie tool, Linux Reader, can help you to access and read VMDK files. The Linux Reader tool is quite easy to use – follow the guide below.
Install the Linux reader tool on your system
Launch the app and click on Mount Image from the menu options
Select Containers and go to VMware virtual disks
Browse and import the VMDK file(s)
Check the boxes next to the VMDK file(s) you important and click on Mount
Once this is successful, you can view the VMDK's files by opening the mounted volume
You can save the files if you wish – right-click on the file to be saved and click on the save button.
4. Use a Professional VMDK Recovery Tool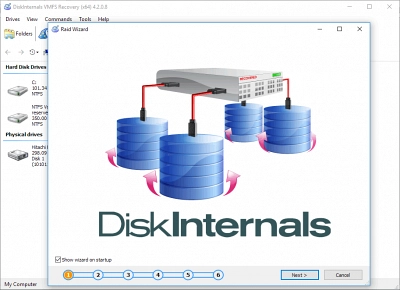 If the VMDK file is damaged or inaccessible due to corruption, the only way to repair it and access the content is to use a professional VMDK recovery tool. DiskInternals VMFS Recovery software can recover and repair corrupt VMDK files for free, so you can mount them and access the content – all of them after purchasing a license.
The DiskInternals VMFS Recovery automatically repairs VMDK files, and it can recover files from any file system format, including NTFS, FAT, and EXT. This tool works perfectly on all Windows OS versions, including Windows Server versions. DiskInternals VMFS Recovery is the preferred VMware VMDK recovery solution for many IT experts.
Whether the VMDK files were permanently deleted using SHIFT+DELETE or got lost due to other possible data loss scenarios, DiskInternals VMFS Recovery will look deep into the drive and recover everything.
Steps:
1. Download and install DiskInternals VMFS Recovery on your Windows computer.
2. Launch the software and select the hard drive where the VMDK file(s) is saved.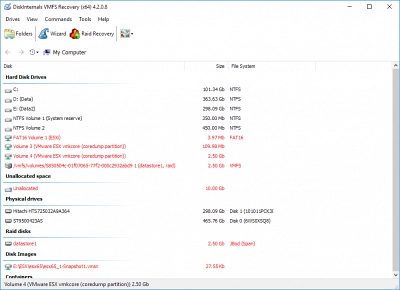 3. Under the Full Recovery mode, select VMFS recovery and launch the scan.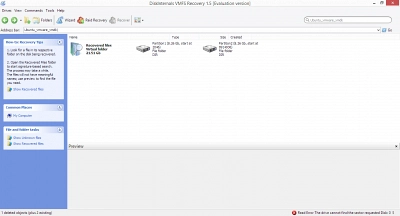 4. When the scan is complete, you can preview the recommended files and restore them.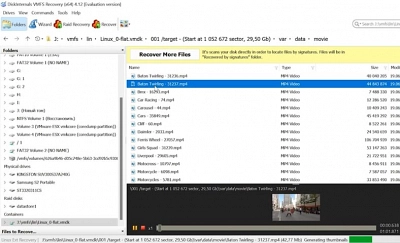 After you have recovered the lost VMDK files, you can mount them easily using DiskInternals VMFS Recovery for free using special preview option. If everything is right, purchase a license to get a full control over your mounted VMDK files.
Conclusion
These are the possible ways to browse, access, and open VMDK files. If the files are corrupt and won't open naturally, use DiskInternals VMFS Recovery to repair them and re-mount them. DiskInternals VMFS Recovery also works for recovering various other files and can recover files from different RAID arrays.
Related articles
Please rate this article.