Last updated
: Jul 31, 2023
VMDK Recovery Tool (VMDK Descriptor, VMDK Flat, VMDK Delta, and RDM VMDK)
Managing a lot of virtual machines can be overwhelming – you may end up losing one or more VMDK files, which will lock you out from launching the VMs. With a VMDK recovery app handy, you can always recover your lost or mistakenly deleted virtual machine files at any time.
Interestingly, there are many of these VMDK recovery tools, but not all of them are very efficient. So, here is a thoughtful list of the best ones to try out when faces with a VMDK file loss scenario. All these software programs are easy to use and offer a handful of features for the need.
5 Best VMDK Recovery Tools to Recover VMDK File
1. DiskInternals VMFS Recovery
VMFS Recovery by DiskInternals is one of the best feature-rich programs for recovering lost or corrupt VMFS/VMDK files. It comes with a simple-to-understand interface and can read all kinds of storage drives – mainly SSDs and HDDs. DiskInternals VMFS Recovery supports free file previews, so you get to confirm that what was recovered were the files you actually needed.
Interestingly, the DiskInternals VMFS Recovery software can retrieve your VMDK files irrespective of what caused the file to get lost. With the help of the built-in wizard, anyone – professionals and newbies – can use this program without encountering any hassles. You can run this program on any version and edition of Windows OS.
Read the VMware VMFS file system perfectly

Recovers from corrupt VMFS-formatted drives

Recovers remotely in online mode 

Integrated step-by-step recovery wizard

Supports Unicode filenames and multi-level folders

All features are available for free
2. Recoverit Data Recovery
The Recoverit Data Recovery software is pretty intuitive to use, and it comes with a handful of impressive features. It allows you to recover a wide variety of file types from SSDs and HDDs. More interestingly, this application is available for Windows and macOS systems. Regardless of how you lost the VMDK file, this tool can help you get it back. However, you must be on the PRO version to enjoy all of its features.
3. Bitrecover VMDK Recovery Wizard
Bitrecover VMDK Recovery Wizard is one of the recommendable solutions to retrieving VMDK files on Windows computers. It is built hi-tech algorithms that effectively read the VMFS file system to recover your virtual machine data.
These algorithms can also repair and recover corrupt flat VMDK and descriptor files; it works pretty fast and the interface is easy to navigate. Bitrecover VMDK Recovery Wizard runs on various Windows OS versions and can restore VMDK data from missing or lost virtual disk partitions.
4. Aryson VMDK Recovery
Aryson VMDK Recovery is a go-to Windows OS program for recovering lost or mistakenly deleted VMWare VMDK files. It is a professional tool and supports VMDK files created with VMware products like VMware Sphere, VMware Workstation, VMware server, VMware vSAN, and VMware Fusion. This utility app runs on all versions and editions of Windows OS.
With this tool, you can recover VMDK files flat, split, sparse, or delta VMDK files. It is inarguably one of the best out there, but the PRO version is a bit expensive. This file recovery solution supports all known file systems of popular operating systems; this includes FAT, FAT16/32/64, exFAT, NTFS, and EXT2/3/4.
5. Sysinfo VMDK Recovery
Sysinfo VMDK Recovery will both recover and repair corrupt VMDK files. It is a handy tool for VM operators. The Sysinfo app is built with a set of powerful algorithms that recovers all types of VMDK file data – including the ones that have split into parts – so you can regain access to your virtual machines. One of the things to like about this program is the user interface, which is pretty intuitive and easy to navigate. Also, recovered files can be previewed for confirmation.
6. Kernel for VMDK Recovery
Here's another tool you can trust to help you recover VMDK files from a variety of storage drives – mainly HDDs and SSDs. This is a professional tool; you need to buy the PRO version to access all its features, but to get you started, there's a FREE TRIAL version to download first.
Kernel for VMDK Recovery supports previewing of the recovered files and can recover from both NTFS and FAT file systems. It is a handy tool to recover VMDK files created using VMware Workstation, VirtualBox, ESX, Fusion, QEMU, and SUSE Studio.
How to Recover Deleted VMDK File with DiskInternals VMFS Recovery
Here are the procedures to recover your deleted, corrupt, or lost VMDK files using the DiskInternals tool.
Step One: Install and Launch the Tool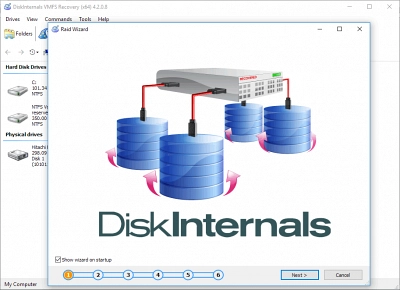 Download the DiskInternals VMFS Recovery software on your Windows computer – make sure the hard drive that contains the VMFS partition (which stored the lost VMDK file) is connected to the computer – launch the recovery program and select the drive.
Step Two: Choose a Recovery Mode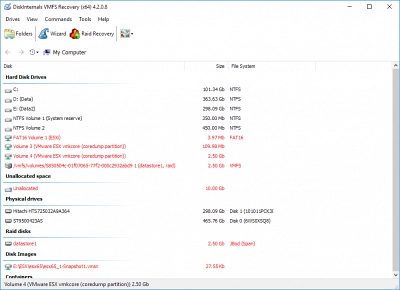 There are two notable recovery modes supported by DiskInternals VMFS Recovery: Fast Recovery and Full Recovery. You can try the Fast Recovery mode first – if you're in haste. However, the Full Recovery mode is what guarantees up to 97 percent efficiency.
Step Three: Wait for the Scan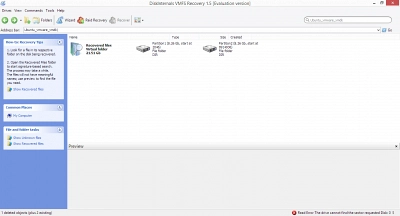 Whichever recovery mode you choose, wait for the recovery process to run completely. However, before the scan start, DiskInternals VMFS Recovery will automatically examine the current state of VMware VMFS datastores, volumes, disks, RAID (if used), and the VMFS structures where possible – after this automated process, the scanning kicks off.
Step Four: Preview the Files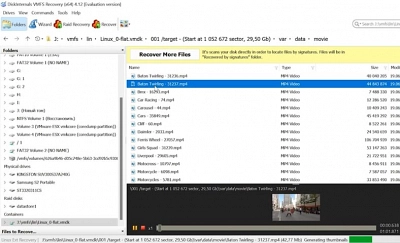 Once the scan is complete, the recovered files will appear with a red asterisk, and you can preview them for free. After previewing, to save them back, you need to purchase the PRO edition of VMFS Recovery.
Recover VMware Files in Batch
Already, DiskInternals VMFS Recovery recovers VMware files in batch, which means that it searches deeply into the hard drive and retrieves any VMware file cluster that may be stashed out in hidden or deleted partitions.
VMware Recovery Software Specifications
Supports VMFS partitions created in VMware vSphere v3.5-6.5 and ESX/ESXi servers

Supports VMFS3, VMFS5, and VMFS6

Recovers up to 64TB

Allows Unicode file names in VMFS5 and VMFS6

Reads all VMFS drives stored on any RAID array type: RAID JBOD, 0, 1, 1E, 0+1, 1+0, RAID 4, RAID 5, 50, 5EE, 5R, RAID 6, 60

Runs on all versions of Windows OS from XP to 11 and Windows Server 2003 to 2016 

Read and recover from various file systems and disk images, including RAIDZ, Dynamic Disks, ZFS, APFS, FAT16/32, EXT2/3/4, NTFS, NTFS 4/5, EFS, Forensic Disk Images, Storage Spaces, ReiserFS, XFS, Hikvision, HFS, HFS+, exFAT, and Mac.
When Do You Need a VMDK Data Recovery Tool?
There are different scenarios that would make you want to download and try a VMDK recovery tool. These scenarios include:
1. When you need to repair VMDK Flat File,
2. When your VMDK file cannot launch due to access errors,
3. When you need to restore a corrupt flat VMDK or descriptor VMDK file.
Conclusion
This article explains how to recover VMDK files easily, as well as list some of the best tools you can use for such practices. DiskInternals VMFS Recovery is verified by experts to be the go-to solution for VMFS/VMDK data recovery.
Related articles
Please rate this article.