All about Hyper-V Nested Virtualization
Here you will find out:
main Uses of Hyper-V Nested Virtualization
how to Set Up Nested Virtualization to Operate a Nested VM
how DiskInternals software can help you
Are you ready? Let's read!
Definition of Nested Virtualization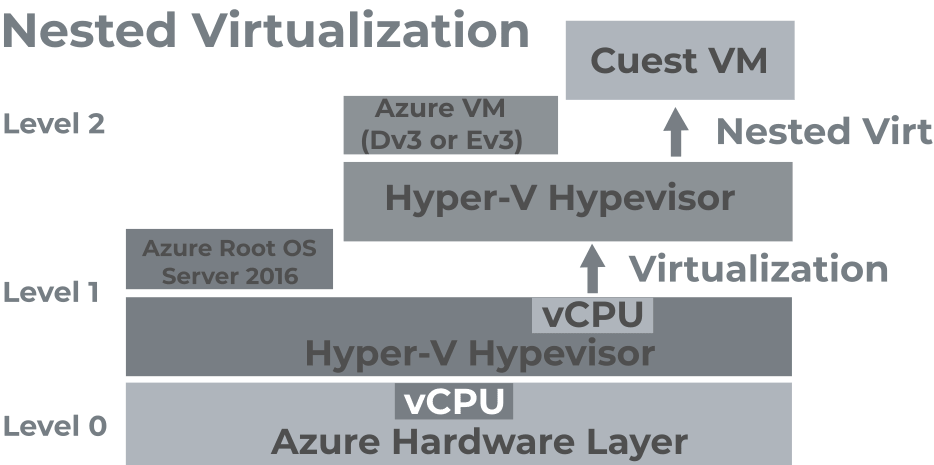 Nested virtualization is the ability to create Hyper-V virtual machines inside another Hyper-V virtual machine using hypervisors. Accordingly, such VMs are called nested virtual machines.
There are several ways to set up Hyper-V nested virtualization:
Sandbox allows you to create nested virtual machines that communicate with each other through an isolated virtual network.
Using nested virtual machines, it is easy to train employees in new software, as well as test various virtual environments.
Deploying a private cloud using nested VMs will be much cheaper and easier to implement.
Main Uses of Hyper-V Nested Virtualization
Using nested virtualization for Hyper-V, you gain a number of advantages in working with VMs:
To exploit more capabilities and functions of virtualization of the environment, you do not need to buy additional expensive hardware.
One server can use completely different hypervisors; it's your choice.
The possibility of safe testing.
Saving your money with support container.scales.
Scalable VMs with nested cloud-based virtualization.
What do you need to start?
Using nested virtualization for Hyper-V, you gain a number of advantages in working with VMs:
Windows Server 2016 or Windows 10.
Hyper-V version 8 and above.
Intel processor With VT-x and EPT technology.
Sufficient Physical memory.
In order to be sure of high VM performance, it is best to use SSD disks.
How to Set Up Nested Virtualization to Operate a Nested VM
This can be done in several stages:
1. Host creation.
After making sure that you have met all the specifications for creating nested virtualization, install Hyper-V. If you are using a fully functional Windows operating system, add the Hyper-V server role.
2. Install and configure a guest virtual machine.
Install an operating system that supports nested virtualization for Hyper-V in the guest virtual machine and start configuring it.
Hardware virtualization support was initially disabled; this can be fixed using PowerShell. As soon as you are about to do this, disconnect the guest VM. Required commands:
Get-VMProcessor -VMName vm_first | fl *
(to determine if hardware virtualization is enabled for the guest virtual machine)
Set-VMProcessor -VMName first_vm -ExposeVirtualizationExtensions $ true
(to enable hardware virtualization functionality inside the guest virtual machine)
3. Configuring network parameters.
This can be done in two ways:
- spoofing the MAC address (cannot be used when a private pseudo-cloud is deployed);
- spoofing NAT.
4. Enabling NAT with PowerShell only.
First, a virtual communicator is created:
New-VMSwitch -Name "Name" -SwitchType Internal
* Name - the name of the switch.
Next, define the subnet behind NAT and enable NAT.
New-NetNat -Name "network_name" –InternalIPInterfaceAddressPrefix 'ip-address / netmask'
Create a list of available adapters to check their names:
Get-NetAdapter | ft - auto size
Assign an IP address to the interface on which NAT is enabled.
5. Select the settings for the nested virtual machine. Select the newly created virtual switch in Hyper-V Manager, configure the TCP / IP parameters in the network adapter properties of the nested virtual machine, and assign the IP address, gateway, default subnet mask, and DNS server manually. Finally, check your firewall settings so that it doesn't block network connections.
Protect your data with VMFS Recovery
DiskInternals VMFS Recovery is a professional dedicated tool for VMware® data recovery, VMFS file system recovery, or VMDK file read and recovery. If you have deleted disk images created on the VMware ESX / ESXi server, you can also restore them with this application. Any virtual disks can be mounted on a local device for easy viewing of files. You will be guided by a smart and intuitive Recovery Wizard, so you don't need any technical skills in this area.
Be sure to carefully read this guide before downloading and installing DiskInternals VMFS Recovery:
1. If necessary, connect via SSH and open a drive (local drive or SSH).
2. Click on the "Scan" button, then find the files you need and mount the VMDK file.
3. Open this VMDK file in order to view the files (for free).
4. Then purchase a license on the company's website and complete the entire process by exporting data using the obtained license key.
Export is available to the storage device of your choice. Technical support by the company's specialists will be available to you throughout the year from the date of purchase of the license.
Related articles