Last updated
: Oct 05, 2023
How to recover Virtual Disk?
A virtual hard disk drive is represented by the file format known as Virtual Hard Disk (VHD). The only difference between VHDs and physical drives is that, if a VHD is saved in a location other than a physical drive, it cannot be physically touched. VHDs have the same features and properties as physical drives. A boot record, file systems, disk partitions, and folders/files are common components of a VHD file.
VHD files can be directly mounted to a Windows PC running Windows 7 or later versions, despite the fact that they are normally used for logical drives in a virtual machine environment. Data loss happens even if virtual hard drives (VHDs) are stored on non-physical drives and cannot be touched physically since they are susceptible to corruption, accidental deletion, and destruction for a variety of reasons.
In this article you will find out:
How to Recover Data from Virtual Disk
What Actually is a Virtual Hard Disk
Reasons for Data Loss in Virtual Systems
Ready? Let's read!
How to Recover Data from Virtual Disk
When a Virtual Disk file is corrupted, it becomes difficult – sometimes impossible – to access the files and data. But then, it is possible to recover files from virtual disks. However, the process requires the use of a professional data recovery software like DiskInternals VMFS Recovery.
DiskInternals VMFS Recovery stands out from other virtual disk data recovery programs out there because it offers a suite of built-in handy tools and features:
Designed to clearly read Virtual Disk,
Recovers information from corrupted or healthy Virtual Disk drives,
Recovers remotely in online mode (no shutdown is required),
Recovers VHD drives stored on corrupted and inaccessible hard drives,
Automated recovery includes step-by-step recovery wizard,
Virtual drives can be mounted as local disks accessible by Windows Explorer etc,
Windows restrictions are bypassed by recovery process!
Also, the software can recover your VHD file irrespective of how it got lost – hard drive partition damage, accidental deletion, wrong formatting, or any other scenario.
To get started, download the trial version; this trial version is fully functional and also allows you to preview the recovered Virtual Disk files for FREE
Step 1: Select Your Virtual Disk Drive (The Physical Drive, Actually)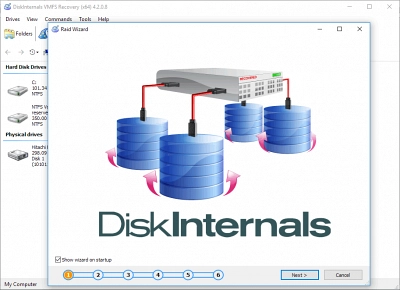 Launch the DiskInternals VMFS Recovery software – the Recovery Wizard will launch automatically too – select the disk where you had saved the VHD file and choose a scanning/recovery mode.
Step 2: Scan The Drive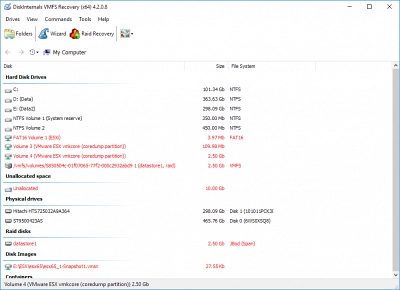 You may start with the Virtual Disk Fast Recovery mode, which is pretty fast and time-saving. However, if you want to do a wholesome recovery to repair corrupt or damaged files, choose the Full Recovery mode. While the recovery scan is ongoing, DiskInternals VMFS Recovery will automatically examine and structure/fix bad sectors on the disk.
Step 3: Preview and Recover Your Data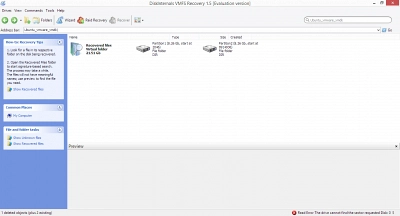 Once the scan is complete, the deleted files will be marked with a red asterisk – search carefully and find the VHD file you were looking to recover.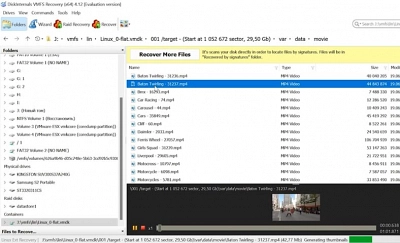 DiskInternals VMFS Recovery lets you preview recovered Virtual Disk files for free, which means you can preview the files you just recovered to figure out the ones that are more important to re-save to your computer.
Part 2: What Actually is a Virtual Hard Disk?
Put simply, a Virtual Disk (abbreviated as VHD) is a computer storage drive you cannot touch physically (if it is not a physical drive where the VHD is saved). A VHD functions like a typical hard disk drive (HDD) or solid-state drive (SSD), but you can't just remove it or tamper with it physically. Notwithstanding, VHDs can be tampered with – the features and properties can be changed.
Virtual hard disks are used with a virtual machine; so to say, every virtual machine is linked to a virtual hard drive where the virtual machine's files and important configuration data are stored. VHDs can be formatted with any file system, depending on the purpose. Also, you can install and run operating systems through virtual disks – this shows that a VHD is the same as a physical drive.
A virtual hard disk may be set up to have a flexible or fixed storage capacity; actually, the storage size is controlled by the parent OS or virtualization manager software.
Part 3: Reasons for Data Loss in Virtual Systems (Virtual Disks)
Everything that could cause data loss to a physical HDD or SSD can also cause data loss on virtual hard drives. However, hereunder are some of the most common reasons for data loss on virtual hard drives or disks – whichever you choose to call them.
Reformatting: If you reformat the VHD (or the physical drive where the VHD is saved), it could lead to data loss.
Corruption: If the virtual machine files or the VMFS datastore volumes are corrupted, it could lead to data loss.
Hardware Failures: Hardware failure can occur due to power surges or OS crashes. If the physical hard drive fails, the VHD stored inside will most likely fail too.
RAID Problems: If the VHD is saved on a RAID array, any problem with the array will lead to the loss of the VHD file.
Accidental Deletion: The system user may accidentally delete the VHD file.
Conclusion
Conclusively, this article explains how to perform data recovery on Virtual Disks (VHDs). The process is all about installing a powerful data recovery solution and launching a Full Recovery on the physical drive where the VHD is stored.
FAQ
Related articles
Please rate this article.