Last updated
: Oct 31, 2022
How to Repair VMware Virtual Machine
VMDK (Virtual Machine Disk File) files are like ISO files; they are the virtual image container format for storing virtual machine's data. A corrupt VMDK file would make it impossible to launch the virtual machine it connects to; if you find yourself dealing with a corrupt VMDK file, this article explains how to fix things up using a reliable software solution for Windows OS - DiskInternals VMFS Recovery.
Article content:
What Corrupts VMDK Files?
How To Fix/Repair Corrupt VMware VMDK Files
Are you ready? Let's read!
Symptoms of corrupted virtual machine
Windows performance is degraded,
Virtual machine frequently crashes,
Unable to install application in Windows.
Causes for corrupt VMDK file
There are quite many reasons why a VMDK file could get corrupted; however, the most common reasons are explained below. VMDK files are liable to corruption, just like every other known file format.
Forceful Shutdown:
When you forcefully shut down the system that has the VMDK file stored inside, chances are that the next time you power the system, the file might be inaccessible because it has corrupted. The forceful shutdown is one of the main reasons for most disk error problems.
Virus or Malware:
This refers to when a virus or malware finds its way into the system and encrypts or corrupts the files saved inside. There are many ways viruses and malware can get into a computer system, one of the commonest ways is through malicious links.
Unexpected File Termination:
When you forget to save your work progress before quickly or mistakenly terminate an ongoing process, it can lead to the corruption of the file. Always ensure to properly save your files before closing them off.
These are the most typical reasons for having a corrupt VMDK file; now, we can talk about how to fix/repair your corrupted file(s).
How To Fix/Repair virtual machine
Before we proceed, it is important to note that the VMDK file format comprises two parts: "VMDK" and "**-flat.vmdk." The former is the plain text pointer for the latter, and the (**) represents the VM Server's name. Hereunder are the possible ways to repair a corrupt VMDK file and re-access your virtual machine(s).
1. Reboot The Virtual Machine
Sounds funny? Well, you can fix a corrupt VMDK file by rebooting the virtual machine it is attached to. While this method looks pretty easy, it is definitely not as easy as you think; here, you need to correctly get the Cylinders, Heads, and Sectors information to match what's saved in the **-flat.vmdk file. Here we go!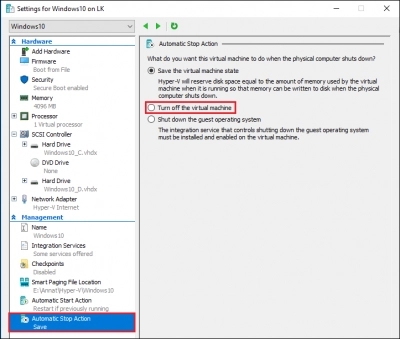 Back up the main (corrupted) VMDK file.
Create a copy of the pointer file using another VM in the system.
Modify the file and enter the important details correctly, then save the changes when done.
Now, reboot the virtual machine, and this may just fix the corrupt VMDK file.
2. Use Windows Command Prompt
The CMD (Command Prompt) utility is a free built-in tool that assists Windows PC users in making critical changes and executing advanced tasks on their Windows OS computers. However, to fully utilize Windows CMD privileges, you must be logged in with an Admin account on the system (PC).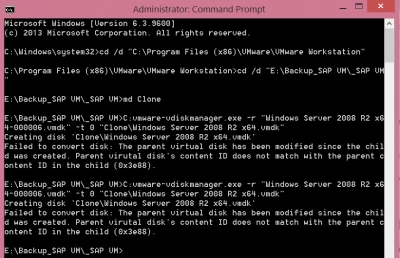 Using an admin account, right-click on Start and select "Command Prompt (Admin)" or "PowerShell (Admin).
Access the VMware Dev Kit installation folder in the local storage directory and run this code VMware-vsdiskmanager.exe
This could help you fix the situation, but if it doesn't, it's time to try a third-party application.
3. Using a Professional VMDK Repair Software
When you've tried the free methods above, and none seems to be working, maybe you should give a professional solution a trial. DiskInternals VMFS Recovery is a proven software solution for recovering data from VMFS-formatted drives and repairing corrupt VM (VMDK) files.
It is a professional tool built for IT experts and newbies; hence, it features a built-in, intuitive Recovery Wizard that helps the users through the processes. DiskInternals VMFS Recovery is available for Windows OS computers and can be run on Windows OS version 7.0 up to the newest 11.0 and Windows Server OS from 2003 upwards.
Step One: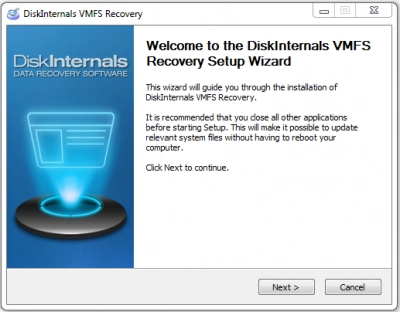 Install the software from the official download webpage to avoid downloading a virus-infested installer package. With the software installed on your PC, connect the disk that contains the corrupted VMDK files you want to recover, then launch VMFS Recovery.
Tip: You can access the VMDK disk via SSH connections, iSCSI or Fiber Channel interface connections, or booting Windows to ESX / ESXi from an external drive and then launch the VMFS Recovery utility.
Step Two: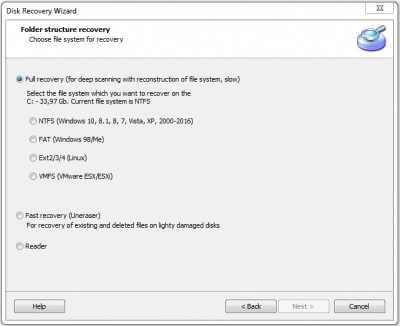 The Recovery Wizard would appear automatically; simply select the disk with the VMDK files and choose a scanning mode - Fast Recovery Mode or Full Recovery Mode.
Step Three:
Allow DiskInternals VMFS Recovery to scan the disk and discover all the files you have ever saved on it. At the end of the scan, you'd be presented with all the files you've ever saved on the drive, with the deleted/lost ones indicated with a RED asterisk.
Step Four:
You can preview the recovered files, but to save them back to another storage, you must upgrade to DiskInternals VMFS Recovery Pro version, and if you can't find the files you wanted to recover, you can request DiskInternals Guided Repair Service to have an expert attempt full recovery of your files from the selected disk.
Video Guide:
Conclusion
In conclusion, this article explains the three surest methods to fix or repair virtual machine files saved in VMDK format. DiskInternals VMFS Recovery also supports creating backups as "Disk Images" to keep your files safe and protected against data loss scenarios. A video guide is provided above on how to use the VMFS professional recovery tool on Windows OS computers.
Related articles
Please rate this article.