Last updated
: Nov 01, 2022
Download VMware Data Recovery
There is a need to have VMware data recovery software handy. It would come in to save you when you need to recover VMDK files or repair corrupted VM files. This article explains the due process of downloading and installing the most reliable VMware recovery software for Windows PC.
Article content:
how to use VMware Data Recovery Tool
Ready? Let's read!
Should You Install a VMware Data Recovery Tool?
.vmdk files are the hard disk files of virtual machines hosted with VMware. If anything should happen to your VMDK files, you won't be able to log in and access your virtual machines.
A VMware data recovery tool is simply a software solution that provides you with the right tools to handle and fix VMDK file corruption issues or recover files if they were mistakenly deleted from the system.
Features of a Typical VMware Data Recovery
In essence, a VMware Data Recovery program should be able to read and retrieve virtual machine data saved in a variety of formats. However, you still want a simple, quick, and effective recovery solution, which is where DiskInternals VMFS Recovery comes in.
The DiskInternals VMFS Recovery is a professional software used by IT experts for over eighteen (18) years. It is reliable and offers a lot of handy features for recovering VMware files. This third-party data recovery tool read and recover VMware files lost due to software error, malware, or unintended user errors.
Hereunder are some of the important features of the DiskInternals VMFS Recovery software app.
Reads and access VMFS file system and VMware VMDK images
Connects remotely in online mode
Recovers files from corrupted and inaccessible drives
Integrates a full-featured Recovery Wizard
Supports Unicode filenames and multi-level folders
Includes all features of DiskInternals RAID Recovery
How Is VMware Data Saved?
Below is a detailed step-by-step guide on everything you should know about VMware data recovery.
Overview
VMware is the most popular virtual environment platform provider. To create virtual machines, you need to first create a virtual environment, and that's what VMware provides.
VMware's VirtualBox platform allows Windows PC users to create and run multiple virtual machines on a single physical server. All information about the virtual machines you create using the VMware platform is stored as a VMDK file.
VMDK Files Do Get Corrupted
Just like the regular files saved on your hard disk, virtual machine files (VMDK files) can get corrupted too. When this happens, it becomes impossible to access your virtual machines.
Apparently, at this point, the solution is to repair the VMDK files, and the best way to do that is to recover a previous "uncorrupted" version of the file(s) using a professional software.
When the VMDK file is corrupted or tampered with, you will receive error message prompts when you try to launch your VMs. Common VMDK error messages include:
"Failed to power on. A file was not found."
"The system cannot find the file specified."
Repair and Recover VMDK Files In Three Steps:
Step One: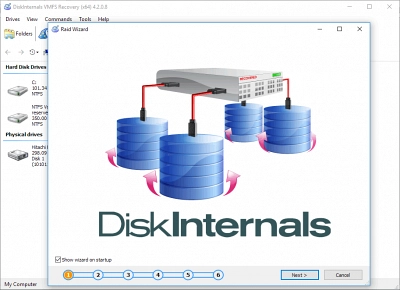 Install DiskInternals VMFS Recovery from the official webpage and install it on your PC. After installation, connect the disk that contains the corrupted VMDK files you want to recover, then launch VMFS Recovery.
Tip: You can access the VMDK disk via SSH connections, iSCSI or Fiber Channel interface connections, or booting Windows to ESX / ESXi from an external drive and then launch the VMFS Recovery utility.
---
Step Two: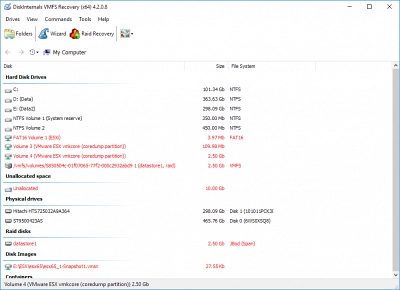 Select the disk with the VMDK files when the Recovery Wizard appears automatically. Choose a scanning mode - Fast Recovery Mode or Full Recovery Mode.
---
Step Three: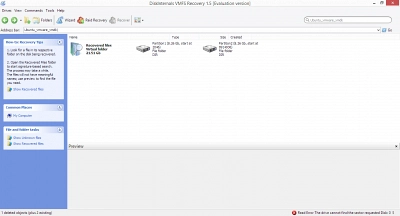 Allow DiskInternals VMFS Recovery to scan the disk and discover all the files you have ever saved on it. At the end of the scan, the deleted/lost files are indicated with a RED asterisk.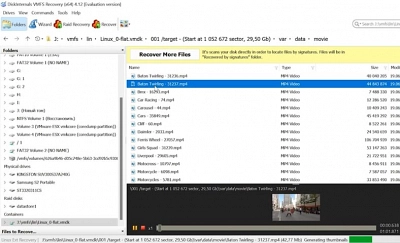 Note: DiskInternals VMFS Recovery free version lets you preview the recovered files but won't let you save them back to another storage. To save the recovered files, you must upgrade to the DiskInternals VMFS Recovery Pro version.
---
Conclusion
When it comes to recovering technical files like VMDK files, it is best to use the full version of DiskInternals VMFS Recovery, so you can request Guided Repair Service if you need professional assistance.
Related articles
Please rate this article.