3-2-1 Backup Rule for Data Safety
Why do you need a backup on a VM?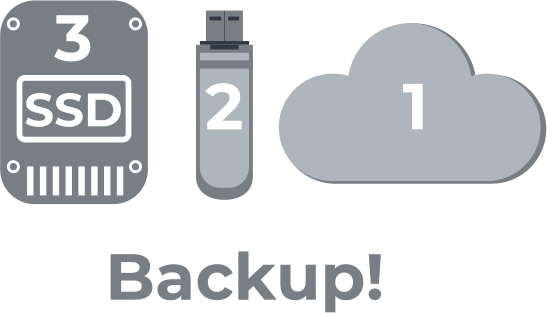 Backups, as a method of protecting your data, save many people every day when their computers or hard drives suddenly fail.
If this is a backup of one physical disk, then usually there will be no problems. When it comes to backing up virtual environments, things will be a little more complicated because there can even be several thousand virtual machines. In this case, you need effective backup tools and using the 3-2-1 backup rule, you can easily manage virtual machines.
Backup amounts
The 3 2 1 backup strategy is this: having one copy of the data is very ineffective, especially if it is stored on a similar medium and in the same room as the primary data. Therefore, you need at least three copies of your data:
primary data;

two backups of this data.
In this case, it will be difficult to take you by surprise and sudden external events (fire, theft, disgruntled employee, ordinary vandalism, etc.) will no longer be so scary.
Where should you keep backups?
Backup Rule 3-2-1 suggests taking advantage of the best backup locations to minimize the risk of data loss.
You should keep two backups on different devices because any storage device will fail over time. This could be due to physical or logical damage to the drive, or simply to the end of its useful life.
Thus, two drives of the same type are more likely to fail simultaneously than two drives of different types. Backup rule 3-2-1 states that if you store data on an internal hard drive, then the backups must be on a different storage device such as cloud storage, optical drive, external hard drive, etc.
You can even use a NAS, which you can directly plug into your network and use to store the relevant data in a redundant format. Even if your system crashes, NAS devices work and data can be retrieved from them, regardless of the rest of the infrastructure to which they are connected.
Store at least one off-site backup offsite or in the cloud. In this case, the data will be available in another city and even on the continent.
Conclusion:
One backup must be kept off-site - this greatly improves overall data security.

The second backup provides quick recovery in the event of a failure.
Why Two On-site and One Off-site?
Backing up on the spot - a quick way to get to your data if your computer anything happens. However,  off-site backup is the most key component of the 3-2-1 strategy.
What else do you need for VM safety?
For data security, you will also need a VMware data recovery tool, VMFS recovery, VMDK file read and restore. DiskInternals VMFS Recovery has earned the trust of IT and forensic professionals over 15 years for its unrivaled performance.
The tool automatically checks the current state of VMFS datastores, disks, RAID (if used) and reads VMDK images and VMFS structures where possible, and subsequently recovers as much data as possible.
Before you start using the application, read the step-by-step guide to using DiskInternals VMFS Recovery:
First download and install this application on your computer and start the recovery process.

If necessary, connect via SSH, and thenopen a drive (local drive or SSH).

Scan it and find the necessary VMDK files andmount the VMDK file.

Open this file and use the preview function to check the integrity of the recovered data.

The last and most important step is to obtain a license and export the data to another medium.
Related articles
Please rate this article.