Last updated
: May 23, 2023
Top 5 RAID Data Recovery Software [2023]
RAID data recovery software tools help you to get back all the files and data you lost from RAID array disks. However, while there are many of such tools out there, not all of them are very efficient and recommendable. Hence, this article reviews the top 5 best RAID Recovery software apps to use on a PC. Interestingly, these software programs are pretty intuitive and can be run on any Windows OS computer.
Article content:
Ready? Let's read!
Comparison table for RAID Data Recovery Software
| | | |
| --- | --- | --- |
| Product | Pros | Cons |
|  1. DiskInternals RAID Recovery | All types of recovery, lets you mount and access virtual drives via File Explorer as though they are local disks | It only runs on Windows OS systems |
|  2. ReclaiMe RAID Recovery | Compatible with multiple RAID types | You may need to use another compatible data recovery software to complete the RAID data recovery process |
|  3. Stellar Data Recovery Technician | Rebuilds probable RAIDs even when the parameters are not known | Cannot recover data from RAID 1 to RAID 10 drives |
|  4. EaseUS RAID Data Recovery | Available for Windows OS and macOS platforms | Some recovered files may be broken – not usable |
|  5. Zero Assumption Recovery | Integrates multiple RAID data recovery features | No longer active – discontinued by the developer |
Best Free RAID Recovery Software
These are the best-recommended software apps to use when trying to retrieve lost files from any type of RAID disk:
1. DiskInternals RAID Recovery
The DiskInternals RAID Recovery software app is designed for all PC users, thanks to the super-easy-to-understand interface and many handy features to help recover all your lost data. This RAID recovery solution can run on any Windows OS PC and supports all DiskInternals Partition Recovery software features. There's a built-in Recovery Wizard to guide users on how to use this app to recover their lost data.
DiskInternals RAID Recovery can retrieve your data lost from any type of RAID array, from RAID 0 – 6; plus, it can recover data lost due to a damaged RAID controller. It also works for reconstructing RAID arrays and easily identifies your RAID configuration. With DiskInternals RAID Recovery, you can get back your files saved in RAID arrays, irrespective of whether the RAID drives are paired to a controller or RAID-enabled motherboard.
Pros:
Easy RAID data recovery from software and hardware-based RAIDs
Supports Microsoft's Dynamic Disks, JBOD, RAID 0, 1, and all other RAID arrays
Lets you mount and access virtual drives via File Explorer as though they are local disks
Automatically detects disk arrays
Integrates all DiskInternals Partition Recovery features
Restores data from Apple, Linux, NAS, and UNIX RAIDs.
Cons:
It only runs on Windows OS systems
Does not support bootable and disk image recovery.
2. ReclaiMe RAID Recovery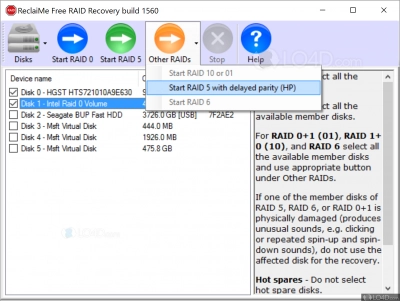 One of the reasons to go with this RAID recovery solution is that it is completely free to use and does not contain any adware or spyware. The interface is quite easy to use – even for a novice computer operator – and there are a number of handy features to flex. ReclaiMe RAID Recovery stands out in recovering data from RAID 0, RAID 5, RAID 10, RAID 6, and RAID 5E.
With the ReclaiMe Free RAID Recovery software, you can recover RAID configuration parameters like disk order, block size, and start offset. Furthermore, this software solution works for hardware, software, and NAS (QNAP, NETGEAR, Synology, and Buffalo) RAID disk sets. However, you can't use this software for file-by-file recovery.
Pros:
Intuitive and simple interface
Compatible with multiple RAID types
Supports NAS devices such as QNAP, Buffalo, NETGEAR, and Synology.
Cons:
You may need to use another compatible data recovery software to complete the RAID data recovery process
No support for Linux and macOS systems.
3. Stellar Data Recovery Technician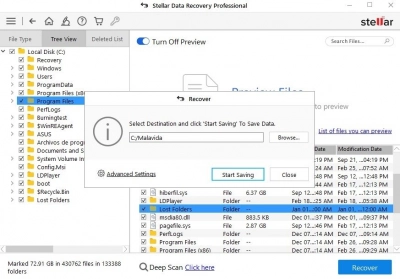 The Stellar Data Recovery Technician software is a comprehensive tool that helps users to recover various file formats from their RAID drives. It can access and retrieve files from formatted RAID logical volumes and create bootable USB media for data recovery from a crashed system. This software program is designed for Windows OS users, and it runs Windows 7, 8, 8.1, 10, & 11.
Stellar Data Recovery Technician supports NTFS, FAT, and exFAT file systems and can recover data from any RAID array type. Furthermore, this recovery program works to recover lost files from hardware and software RAIDs. It is simply an advanced RAID recovery solution with a ton of decent features and built-in tools.
Pros:
Recovers files from NAS-formatted RAID drives
Rebuilds probable RAIDs even when the parameters are not known
Supports RAID partition recovery.
Cons:
Cannot recover data from RAID 1 to RAID 10 drives
Only available on Windows OS.
4. EaseUS RAID Data Recovery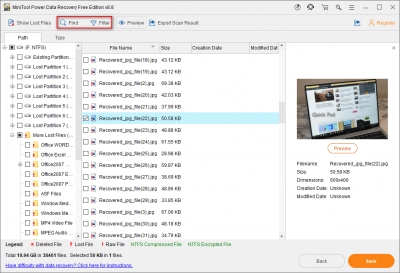 Here is a RAID data recovery solution you can run on Windows and macOS computers. The EaseUS RAID Data Recovery software is a "one of a kind" tool for recovering all you've lost from your RAID drives. It features a built-in Wizard interface that guides the users through the recovery steps seamlessly.
With the EaseUS RAID Data Recovery app, you can retrieve your lost files from multiple RAID levels and failed RAID drives. This software can recover files from RAID 0, RAID 1, RAID 5, or RAID 10 arrays. Furthermore, this software supports all known file system formats.
Pros:
Available for Windows OS and macOS platforms
Intuitive and easy to use with a built-in Wizard
Recovers data from a variety of RAID array types
Recovery is done at a decent speed.
Cons:
Some recovered files may be broken – not usable
5. Zero Assumption Recovery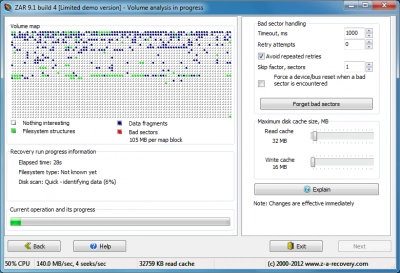 The Zero Assumption Recovery tool is a piece of utility that allows users to get back the files and data they lost from RAID drives, regardless of the RAID array configuration. However, this software has been discontinued by the developer after being active for about twenty years. The ZAR software is replaced by Klennet Recovery, another impressive tool for all kinds of data recovery needs.
Pros:
Integrates multiple RAID data recovery features
Simple to understand interface
Supports NAS data recovery.
Cons:
No longer active – discontinued by the developer.
How we tested the best data recovery software
1. Performance. A common issue with many of these recovery programs' rescue functions is that they only support a few different file formats. When a recovery application supports the restoration of a wide range of file formats, you may safely recover deleted pictures, videos, audio files, and other file types. Another unhappy discovery is that the bulk of your products do not support file recovery from external storage devices like external HDDs or USB flash drives. This is really unpleasant because the bulk of data loss today happens on external or portable storage devices.
2. Speed. Nobody has enough time in this day and age. The scanning and recovery processes cannot be expected to take an entire day to complete before users can access something important. Most efficient data recovery software packages include options for fast scanning. Some even provide customized scanning while concentrating on the recovery of a specific file.
3. Preview. The ability to preview already-identified files is a crucial feature. The recovered files must also be in the same quality as they were originally.
4. User-Friendly. Having the finest data recovery program in the world is useless if only the creator can use it. Any software must have a straightforward user interface and be simple to use. Many recovery solutions have bright icons and ostensibly advanced functions that are actually fairly pointless. Most of the time, all the end user really needs is a clearly defined interface that works.
What Is RAID?
RAID is a type of file storage technology – previously used by large corporations only, but now used by even home users – where data is saved across multiple disks in an "Array." The term RAID is short for Redundant Array of Inexpensive Disks, and it is a data storage virtualization technology.
There are pretty many types of RAID storage called "Arrays." You need at least two different disks to create a RAID array. With RAID storage technology, PC users and companies can combine as many disks as possible to create a large logical storage unit where data is saved and backed up immediately.
Also, RAID storage has a lot of benefits to offer, but the benefits are dependent on the type of RAID array you create. The main benefits of RAID storage are data redundancy and fault tolerance, in the sense that – depending on the RAID array you created – you can still access your file(s) when one or more disks fail in the array.
Initially, RAID storage was used by server administrators and large corporations to create large logical storage at minimal costs, but the storage technology has grown to become common among many tech-savvy individuals for creating personal DIY cloud storage or home media centers. There are two major types of RAIDs, hardware and software RAIDs
Hardware RAID
Hardware RAID, as the name implies, requires the use of physical systems – controllers or RAID cards – to manage the RAID storage configuration independently from the operating system. RAID controllers process and run independently; they don't take processing power away from the connected disks; hence, you'd get faster read and write data speeds from your RAID array.
You can easily remove and replace a failed disk from the array, but of course, purchasing additional hardware – the controller(s) or RAID cards – makes hardware RAID more expensive to set up. Furthermore, if the controller fails, you must find the same exact controller or a compatible one to replace the failed controller and get the RAID system working perfectly again.
Software RAID
Software RAID does not require any additional hardware to set up – you only need the disks you'd be using in the array. However, software RAIDs run in your operating system, meaning more processing power is being put on your OS, which can cause slightly lower read and write data speeds.
However, the cost of setting up a software RAID is cheaper, and you can easily reconfigure the arrays without getting a new RAID controller. The disadvantage of software RAIDs is that they tend to be slower compared with hardware RAIDs. Also, software RAID is OS-specific; you can't use it on multi-OS partitions and replacing a failed disk is a bit more challenging.
What Are the Benefits of Using RAID?
RAID offers a bunch of benefits you may find difficult to overlook. The main benefits include redundancy and faster speeds. Other noteworthy benefits include higher fault tolerance, improved parity check, and higher data security.
1. Improved performance | Faster Speeds
One of the great benefits of RAID is providing faster speeds for data storage. For example, if you want to save a 2,000 MB (2 GB) file on a storage drive with a maximum read & write speed of 200 MB/s, it'd take 20 seconds for the transfer to complete. On the flip side, if you have a RAID array of 10 x 200 MB/s hard drives, transferring the 2 GB file only lasts for 2 seconds as the 2,000 MB would be split among the ten disks – each disk saving just 200 MB of the data.
2. Data Redundancy
Redundancy means you can still access your files even after one or more disks fail in your RAID array. If you're setting up a RAID array for redundancy, it means every data saved on the array will be mirrored to another disk in the array; this may take up much space, but it's the preferred RAID setup for some people because it acts as a perfect way of backing up their important data.
RAID recovery refers to the process of retrieving the files and data lost from a storage disk used in a RAID array. Yes, as secure and reliable as the RAID storage technology may appear, it is not formidable against data loss. Your RAID array disks may fail or get corrupted; thus, you'd need to get back your important files using a RAID recovery software app.
Different types of RAID arrays have different tolerance levels; RAID 0 arrays do not offer data redundancy, so if you lose your files from such arrays, you won't have any other way to access the files asides from launching a RAID recovery practice. Regardless of the RAID array type you've got, you can always retrieve your lost files using a professional RAID Recovery software.
When Is RAID Data Recovery Needed?
There are pretty many scenarios that can lead to data loss on RAID array disk; the most common scenarios are discussed below.
User Mistakes
You can call this "accidental deletion," in the sense that this data loss scenario occurs when the RAID storage user mistakenly or accidentally deletes one or more important files or folders and need to recover them back.
Data Corruption or Malware Attack
RAID technology does not actually offer protection against data corruption, which may occur due to third-party software bugs, disk errors, or malware attacks. When a saved file is corrupted, you need to retrieve a previously uncorrupted version of the file to regain access to the content.
Physical damage
For pretty many reasons, one or more of the disks in a RAID array may get physically damaged, which may affect the accessibility of the drive by the user or system's OS. Some RAID recovery solutions can access inaccessible drives and get back your important data.
Overwriting Existing Data
Maybe you saved some new files, and it appears like the new file had overwritten some important files on your RAID disks; this happens rarely, but many have been faced with such data loss situations.
Formatting Gone Wrong
When you attempt to format a disk – maybe to another file system format – and along the line, the formatting process gets interrupted, you may end up losing some important files saved on the disk.
How to Recover Data from RAID Hard Drives
Hereunder are steps to how you can recover files from your RAID drives using a professional RAID Recovery software.
1. Connect One of The RAID Drives To Your Computer
To start with, you need to remove the RAID drive(s) where the file(s) you want to recover is saved, then connect the drive(s) to your computer where the RAID recovery software – DiskInternals RAID Recovery – is installed.
2. Scan The Drive
Launch the recovery app and select the RAID array for your inserted drive, then proceed with choosing a Scan Mode.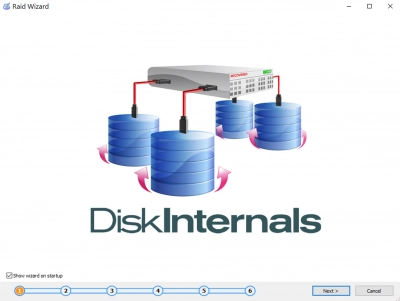 There are two modes available: Fast Scan and Full Recovery mode. Whichever you choose, DiskInternals RAID Recovery will check the status of your RAID array, controller, file system, and disks, then retrieve the deleted files.
3. Recover Lost Files From The RAID Drives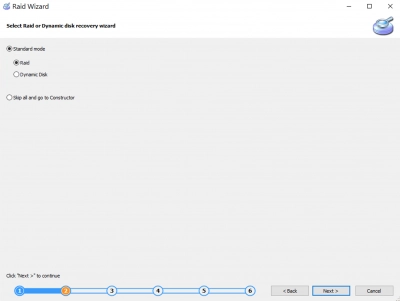 The retrieved files will be available as "Read-Only." You can preview them to confirm that they are the files you want to recover. When you have confirmed, then you will need to upgrade to DiskInternals RAID Recovery Pro to complete the recovery.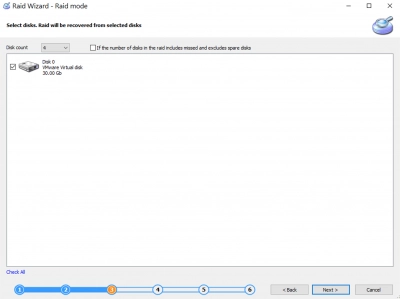 Repeats the steps to recover files from all of your connected RAID array disks. If you can't recover your files using the DiskInternals app, you can request for Guided Repair Service to have a DiskInternals expert attempt the recovery in a more professional and manual way.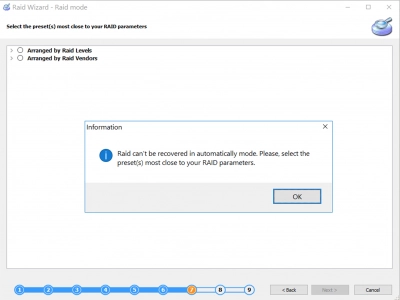 Common Causes of RAID Failure
Quite a lot of actions can cause RAID disk failure, but the most common causes are listed below:
Multiple disk failures due to bad sectors or malware
Summary
This article clearly reviews the best free and professional software solutions to use for RAID data recovery, as well as highlights much important information you need to know about RAID storage technology and application.
FAQ
Related articles
Please rate this article.