Last updated
: Nov 01, 2022
Data Recovery from Virtual Hard Disk (VHD) Files
Recovering files from virtual disks is possible and seamless at the same time; you just need to use the right data recovery solution. Interestingly, the VMFS Recovery solution from DiskInternals, which has been tried and endorsed by IT experts for many years, is available to all Windows PC users and supports recovering all file types from virtual disks.
Article content:
How to Recover Data from a Virtual Hard Disk
What is Virtual Hard Disk
Are you ready? Let's read!
How to Recover Data from a Virtual Hard Disk
Whether the virtual disk is accessible or not, you can still recover your files. Yes, that's possible, and this article explains just everything you need to know about getting back files from responsive and unresponsive virtual disks of different formats and file systems.
The program to employ in this situation is DiskInternals VMFS Recovery, a specialized software application made to help experts and novices alike retrieve or access the contents saved on a virtual drive. Since virtual disks and virtual machines are frequently connected, it's probable that if you can't access one, you also won't be able to access the other (VM).
But why choose DiskInternals VMFS Recovery out of the many data recovery solutions out there? The DiskInternals VMFS Recovery stands out by offering a super-intuitive interface, integrating a simple-to-use Recovery Wizard, and supporting a ton of handy features, including support for multiple file system formats.
Furthermore, DiskInternals VMFS Recovery supports Partition Recovery, Deleted File Recovery, and RAW File Recovery.
Partition Recovery
Partition Recovery comes in handy if you mistakenly deleted some partitions on your virtual drive or formatted the partition(s) wrongly. This DiskInternals VMFS Recovery feature also helps unhide hidden partitions or get back lost partitions.
Deleted File Recovery
If you mistakenly delete files from your virtual hard drive, VMFS Recovery can you get back those files if you haven't overwritten them. The files will be recovered if they are not in your system's Recycle Bin folder.
RAW File Recovery
This means retrieving inaccessible files or files that are badly damaged due to several possible reasons, including malware attacks and file system damage. You can recover RAW hard drives and RAW partitions using this software application.
Recovery Process
Hereunder is a detailed and elaborative guide to using DiskInternals VMFS Recovery to get back your lost files from virtual drives.
1. Download and install VMFS Recovery software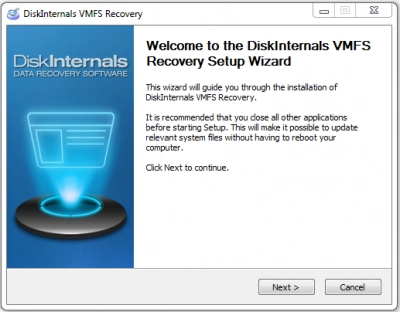 First, you must download and install the DiskInternals VMFS Recovery software app on your PC. When the installation is complete, you should connect the physical hard drive where the virtual drive was created, then proceed with the steps below. DiskInternals VMFS Recovery can be installed on systems running Windows Vista upwards and Windows Server 2003 – 2019.
2. Run VMFS Recovery and Select a Target Object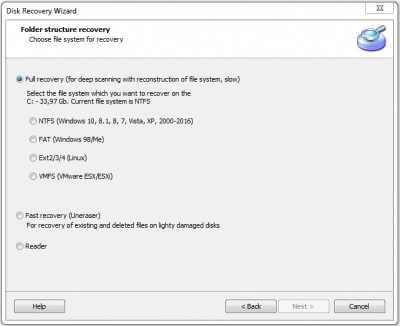 Launch the DiskInternals VMFS Recovery software and select the hard drive that contains the virtual drive data. After this, the next is to scan the drive for the lost files. This software app supports two scanning modes: Fast Scan and Full Recovery.
If you're in haste and would love to recover your files faster, you should select the Fast Scan mode; however, it is important to note that this mode would not recover all files lost from the selected drive/disk. That said, if you need a complete recovery, or didn't find the files you want to recover in Fast Mode, then you should use the Full Recovery scanning mode.
Full Recovery mode launches a deep search and looks into every section of the selected disk to find all files that have ever been saved on the disk. The efficiency of this mode is up to 99%.
3. VMFS Recovery Automatically Examines The Datastore and Other Aspects
While the scan is ongoing, DiskInternals VMFS Recovery automatically checks the current state of VMware VMFS datastores, disks, volumes, RAIDs (if used), VMDK images, and VMFS structures where applicable.
4. Access The Recovered Files
When the scanning is complete, all the files that have ever been saved on the scanned hard drive will appear. The recovered files would be indicated using red asterisks. You can preview the recovered files to confirm they are the ones you actually wanted to get back. After the confirmation, you will need to purchase a PRO license to save/retrieve the files back to your system (save on another drive or remote storage directory).
5. Purchase a License for VMFS Recovery
Activate the DiskInternals VMFS Recovery PRO plan to download the recovered files. Do not save the files on the same drive where they got recovered from. You have to save the files on another storage drive.
What is Virtual Hard Disk
The term "virtual" means the drive/device is not physical – it cannot be touched. A virtual hard disk (VHD) is a storage drive that functions as a physical hard drive but cannot be touched physically. VHDs are used to save virtual machine files.
Every virtual machine is attached to a virtual hard drive, so when the virtual drive gets corrupted, the virtual machine becomes inaccessible. VHDs can have the same partitions as physical drives and can be formatted with different file systems.
You can also install an operating system on a virtual hard drive. In fact, the only difference between a virtual hard drive and a physical hard drive is that you can't touch/remove a VHD. Furthermore, the size of a virtual hard disk can be flexible or fixed
Repair deep damages?
If you use the DiskInternals VMFS Recovery software and still unable to recover your lost virtual disk files, you can request Guided Repair from the DiskInternals expert team. To request Expert Assistance, you should follow the instructions keenly.
Once you request Guided Repair, the DiskInternals team will manually examine the state of VMware VMFS data stores, volumes, disks, RAID, and internal structures of the VMDK and VMFS files in your disk.
If the Guided Repair service doesn't get back your lost files, you'd be fully refunded the amount you paid for the VMFS Recovery license.
Video guide
Here is a detailed video guide to put you through the steps explained in this article visually:
Conclusion
So, virtual disk recovery simply refers to recovering lost, deleted, or corrupted files from a virtual drive. This can be achieved using quite many software programs, but the best program to use is the DiskInternals VMFS Recovery; it has a higher success rate and features a super-intuitive interface that both professionals and beginners can easily understand and navigate.
Related articles
Please rate this article.