How to Recover Deleted Video Files from a PC Fast
Do you know, that the most popular questions about deleted videos are:
how to recover deleted videos from computer?
how to restore deleted videos on PC?
how to find deleted videos on computer?
And a plethora of similar questions. But! If you have the same problem and the same kind of question - you are in the right place.
Are you ready? Let's read!
Deleted videos on PC are gone forever?
Can I recover deleted videos from my computer? You might be surprised, but the answer is YES. Most videos can be recovered.
Video files after deleting are present for some time on the hard disk. They are assigned a value of 0; that is, the space is free to record other data. Therefore, as soon you start to recover deleted videos from the computer, the more of a chance you have to succeed.
Recovery of formatted video files can vary in difficulty. It all depends on what the formatting was: quick or full. In the first case, there is nothing difficult about restoration. But with full formatting, the chances of returning your videos are minimal. But it is still worth a try!
Recover deleted videos from your computer's Recycle Bin
After deleting any files, including video files, they are placed in the Recycle Bin. An exception is the use of the Shift + Delete key combination or emptying the Recycle Bin. If you did not do either of these, then boldly proceed to recover deleted photos and videos from computer. To do this, go to the Recycle Bin, find the video you need, right-click on it and select Restore. That's it; the video file will be waiting for you at the original place.
If this method does not suit you, here are other methods. Keep reading!
Recover deleted videos with Windows Backup
It is possible to recover deleted videos from Windows through a backup, provided that the backup was previously saved. In order to recover deleted video files, you need to perform a few simple steps.
Right-click on the Start button and from the suggested list of actions select Control Panel. Then click System and Maintenance, and with the left mouse button select Backup and Restore.
Now you need to click Recover My Files. Windows Backup has a wizard that helps you deal with all possible questions.
If the backup has not previously been saved, you will be assisted by software that can easily bring your precious videos back.
How to recover deleted videos on your computer
If all these methods aren't helping you, and you still do not know how to recover deleted videos from your PC, DiskInternals Video Recovery is what you need. A team of professionals for more than 15 years has been painstakingly and thoroughly examining all possible issues about recovering files deleted by users. Therefore, you absolutely will not have any difficulties with this program. It supports all video formats, including MPG, M4V, 3GP, AVI, MP4, MOV, MPEG, RM, etc.
Also, it works with many types of file systems: NTFS, NTFS5, UFS, FAT, FAT12, FAT16, FAT32, ExFAT, HFS + (Mac ), Ext2, 3, and 4 (Linux), ReFS, XFS and ZFS. Video Recovery has a trial version, with which you can try out all the features absolutely free. A built-in recovery wizard will allow you to quickly and easily restore videos, even for beginners.
How to restore deleted video files on a computer with Video Recovery
Below are step-by-step instructions for using DiskInternals Video Recovery.
Step 1. Download and install DiskInternals Video Recovery.
Step 2. The recovery wizard will start automatically. You only need to click the Next button.
Step 3. You will be prompted to select the basic parameters of searching for deleted videos; do this and proceed to the next stage of scanning.
Step 4. Preview and restore. After scanning, you should see the files that can be recovered. Right-click on your video file and select Preview. So you can verify the correctness and quality of the video files found. Video recovery will occur automatically.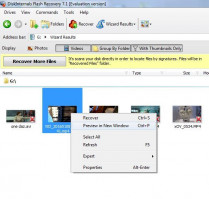 Step 5. Saving. To do this, you just need to purchase a license and enter the license key. Next, the program will ask you to choose a place where you want to save your recovered files. It is best to not save the video files in their original place; save them in another safe place.
How you recover deleted videos on your computer is your choice. But if you use DiskInternals Video Recovery, you will not regret it.
DiskInternals Video Recovery is a guarantee of quality and availability.
Good luck!