The best methods on how to recover webcam videos!
How to recover old webcam videos on Windows? Or, maybe, your last week webcam video was deleted and you want to restore it? That's not a problem!
In this article, you will find out:
reasons for webcam video absence
possibility of its recovery
how DiskInternals Video recovery can help you
Are you ready? Let's read!
Why are webcam videos lost?
It may well be that you accidentally delete a video. This is the most common reason for losing webcam videos.
In addition, malicious applications be secretly installed on your computer, which may also contribute to video loss. You may have just formatted the disk, and only then remembered that important webcam videos were stored on it.
Do not forget that, when deleting a profile, all files associated with it are deleted. So that also could be a reason for a lost webcam video. If this happened to you, do not get upset. This article will tell you about everything related to recovery of deleted or lost webcam videos.
Is it possible to restore webcam videos?
Yes, you can recover deleted or lost webcam videos. Just remember some tips:
Recover webcam videos as soon as possible. Slowness in this case will not be forgiven.
You should not do any actions (copy, delete, add, paste, etc.) with the disk on which the video was stored.
If you ignore these tips, then sooner or later, the data will be overwritten. And this is an irreversible process. All ways to recover deleted or lost webcam videos will be useless, and you will lose your videos forever. Therefore, be very careful and do not hesitate with this matter.
Recover deleted webcam video with DiskInternals Video Recovery
Once you are ready to recover deleted videos, download software DiskInternals Video Recovery.
It is professional software that has been used for many years to quickly and accurately retrieve your data and the issue of how to recover old webcam videos on Windows will disappear forever from your life.
DiskInternals Video Recovery supports the following file systems: UFS, FAT12, ReFS, Reiser4, HFS, NTFS, XFS, Ext2 / 3/4, and ReiserFS. You can also use the free trial version of the application and make sure that the recommended software is very easy to use, as well as quickly and correctly recover deleted or lost webcam videos.
The amount of recoverable data is unlimited, so your possibilities are endless. Preview of recoverable files is also free. Use the step-by-step instructions that will help you to retrieve webcam videos without incident.
Step 1. Install and run DiskInternals Video Recovery.
Step 2. The recovery wizard will start automatically and ask you to select the type of files you want to restore and the location where the data was lost.
Step 3. Scan. This may take some time.
Step 4. Preview. View deleted files by right-clicking on them and selecting "Preview in a new window".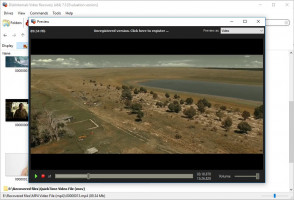 Step 5. Saving video files.
You just need to buy a license for this application and enter the license key in the appropriate window. In order to avoid overwriting the data, save the recovered video in another safe place. It is also recommended to make a backup of the data in order not to fall into such situations.
Tips to avoid webcam video loss
1. Always have a good and updated antivirus program; it will protect your data from hacking and extend life of your computer, as well as the safety of your webcam videos and other files.
2. Do not use the disk whose data you want to recover to save your recovered filed. This is due to the possibility of overwriting data.
3. Back up all the important videos, because a system failure or simple deletion may happen to anyone.