How to get back deleted videos
The video can be deleted, but there is always a chance to get it back.
In this article, you will find out:
why the video became deleted or lost;
how to find a deleted video in the Recycle Bin;
what the best software for video recovery
Are you ready? Let's read!
Why your video becomes deleted or lost
There are actually many reasons for the loss of videos.
Here are the main ones:
1. Accidental deletion using "Shift + Del" or simply pressing the Delete button.
2. Empty the Recycle Bin without backup.
3. Formatting a disk, flash drive, memory card or any other storage.
4. Wearing down of storage device.
5. Virus attack or file corruption by malware.
6. Power outages during operation of the device on which the video files are located.
7. Operating system errors.
8. Incorrect operation of the device the video files are on, such as using the same memory card in different cameras, turning off the camera during recording, transferring data, and unsafe removal of the memory card.
As you can see, there is no immunity from the loss of video files.
But, how do you find deleted videos? How do you get back deleted videos?
All this is possible!
You only need a little patience and to keep reading.
How to find a deleted video in the Recycle Bin
The first thing you have to do if you lose a video is to check the Recycle Bin. So, go to the Recycle Bin and search for the desired video by file name.
But what do you do if you do not remember the exact file name?
In this case, you can search by file type: AVI, WMV, MXF, RM, MOV, MPEG, or any other video file extension.
Select the video you need and click the Restore button. Search for your recovered files on the desktop or in the original location. It depends on the version of your operating system.
If there are no lost videos in the Recycle Bin, do not give up. There is another option! You can use specialized professional video file recovery software.
How to find a deleted video with Video Recovery
Undoubtedly, the best video recovery software is DiskInternals Video Recovery. Don't believe it? Then consider this:
This software restores all known video formats: AVI, WMV, MXF, MPG, M4V, 3GP, AVI, MP4, MOV, MPEG, RM, etc.
There are no limitations in the amount of data that can be recovered.
It works with many types of file systems: FAT32, FAT12, FAT16, ExFAT, HFS+ (Mac), Ext2/3/4, NTFS, NTFS5, ReFS, UFS, XFS and ZFS.
DiskInternals Video Recovery has a simple and friendly interface, which is equipped with a recovery wizard. With this feature, you will not have any problems with retrieving the video.
There is a free trial version of Video Recovery, which you can use right now.
The Preview function will prevent you from wasting money. After reviewing the found video files, you will be assured of the quality and accuracy of the recovered video.
Manual: how to get back deleted videos with Video Recovery
Step 1. Download and install DiskInternals Video Recovery.
Step 2. The recovery wizard starts automatically and prompts you to select the basic parameters for searching for deleted videos.
Step 3. Scan the disk. Select the scan mode: fast or full (recommended). Then wait for the process to complete.
Step 4. Preview and restore. After scanning, you should see list of files that can be recovered. They will be marked with a red cross in the lower right-hand corner. Right-click on the video that interests you. Select "Preview in New Window".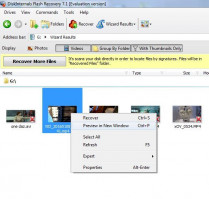 Step 5. Saving. To do this, you just need to purchase a license and enter the license key. Do not save recovered videos on the same device.
Good luck!