Recover deleted DOC, DOCX, XLSX, XLS, PPT, PPTX, VSD, RTF files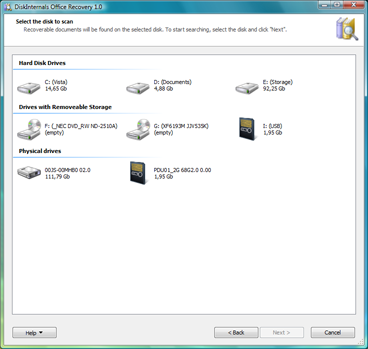 Recover latest versions of deleted documents even after a hard drive failure with DiskInternals Office Recovery.
Unlike general-use undelete and data recovery tools, DiskInternals Office Recovery benefits from being designed to handle documents stored in Microsoft Office format. General-use tools scan the computer's file system in order to locate files that were deleted or corrupt because of a hard drive failure. However, they fail to work properly if the file system is damaged, which happens a lot after hard drive failures.
DiskInternals Office Recovery scans entire surface of your hard drive in order to locate all Microsoft Office documents. In order to find the documents it uses a set of signatures characteristic for the Office file types. The file system is also scanned in order to retrieve the names of the files. The results of the disk scan are matched against information contained in the file system, and you are presented with a complete list of all documents that are on the disk and that are still possible to recover.
Often you don't want to see the list of all Microsoft Office documents that are on your computer. There's no point in spending time scrolling through an endless list of files if you need the latest revision of a PPT presentation or an XLS spreadsheet right away. DiskInternals Office Recovery offers an extensive set of filters allowing you to display only the files that you need with just a few mouse clicks. If you need a DOC file that you worked with today, simply activate the File Format and Date filters, and only the Word documents that were saved today will be displayed. If you don't remember the name of the file, but know its title or the person who created the document, the Title and Author filters will show you those files. Similarly, if you only remember a line or even a few words of text from the document, you can instantly locate that particular file by activating the Text filter. Full document preview is available in the free version.
 DiskInternals Office Recovery Features:
Boot CD.More ...
Recovered files can be burned to CD or DVD!More ...
Installed Microsoft® Office® isn't necessary.
Installed StartOffice or OpenOffice isn't necessary.
Can recover documets created with Microsoft® Office® 95, 97, 2000, XP, 2003, 2007
Can recover documets created with StartOffice, OpenOffice 1.x and OpenOffice 2.x
Can Preview and recover

PPTX - Microsoft PowerPoint 2007 Document
DOCX, DOCM - Microsoft Word 2007 Document
XLSX, XLSM, XLSB - Microsoft Excel 2007 Document

DOC - Microsoft Word Document
RTF - Rich Text files
XLS - Microsoft Excel Document
PPT - Microsoft PowerPoint Document
VSD - Microsoft Visio Drawing
PUB - Microsoft Publisher Document
MAX - 3D Max File

SDW - StarOffice Word
SDC - StarOffice Calc
SDA - StarOffice Drawing
SDD - StarOffice Presentation

ODT - OpenOffice 2 Text
ODS - OpenOffice 2 Spreadsheet
ODP - OpenOffice 2 Presentation
ODG - OpenOffice 2 Graphics

Easy Recovery Wizard.
Display Summary Information
"On the fly" filters
Works under Microsoft® Windows® 95, 98, ME, NT, 2000, XP, 2003 Server, Vista.
Supported file systems: FAT12, FAT16, FAT32, NTFS (NT 4), NTFS5 (2000, XP), ISO9660, UDF, Linux Ext2, Ext3, Raiser.
Recovered files can be saved on any (including network) disks visible to the host operating system.
Recovered files can be burned to CD or DVD!
 DiskInternals Office Recovery can:
Restore files deleted from any device.
Preview recoverable documents before purchasing the program
Recover documents deleted by accident
Recover unsaved documents
Recover documents from the erased or formatted media
Undelete files deleted from the Recycle Bin.
 From various storage media including:
Hard Drive
CD
DVD
iPods
Mp3 Players
Digital camera
Floppy disk
Zip Disk
Jaz Disk
Smart Media Card
Sony Memory Stick
Compact Flash card
MicroDrive
Secure Digital Cards
xD Picture Card
Flash Card
PC Card
Multimedia Card
Any USB disk
and many others
Related articles
Please rate this article.