Fine-Tuning Data Recovery with Pre-Recovery Previews
 

Lost a whole lot of documents, pictures and music files due to a system failure? Accidentally deleted a bunch of important files? You can recover missing data with many tools available on the Internet, but don't rush into it as you can just make things much worse

Instant previews of deleted files and documents are available in the free versions of all DiskInternals data recovery products. If you see the preview, then DiskInternals can recover that file – guaranteed! Even if your entire partition or hard drive has gone out to the wild, you can still browse and preview files that used to be there
If your hard disk contains several files that were deleted at different time, chances are that two or more of these files overlap, occupying the same physical clusters on the hard disk. This in turn means that you can only recover one of these files, and the rest will become unrecoverable the instant you recover that file. That's the main reason why you should never rush into recovering files before learning how to do it properly.
There are generally two approaches allowing you to recover as many files as possible. First, you can use another hard disk or partition to save the restored files to. Second, you can manually pre-select the files you are going to recover, and only salvage those ones.
Saving everything onto a separate drive or partition is faster, allowing you to recover everything first and pick the correct ones later. This approach requires you to have a spare disk with enough free space to hold several-fold the information from the original drive to allow storing the overlapping duplicates.
Pre-selecting files does not put such restrictions, but recovering certain files to leave the others behind does not do any good if you do it blindly. In order to overcome the problem, use instant pre-recovery preview available in many data recovery products.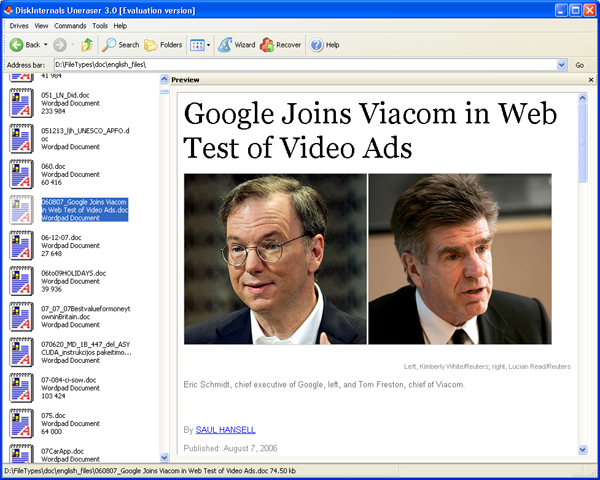 If you see the preview, then DiskInternals can recover that file – guaranteed! Even if your entire partition or hard drive has gone out to the wild, you can still browse and preview files that used to be there.
Why using instant previews?
You can certainly recover all deleted documents and every file on the damaged disk or partition, but do you really need them all? Some files will be recovered corrupted, and some files have overlapped segments that make it possible to only recover one of them, and not both. PowerSearch locates a huge number of files, and not all of them can be named correctly. The preview allows you to find exactly what you were hoping to restore, even if the name is no longer available.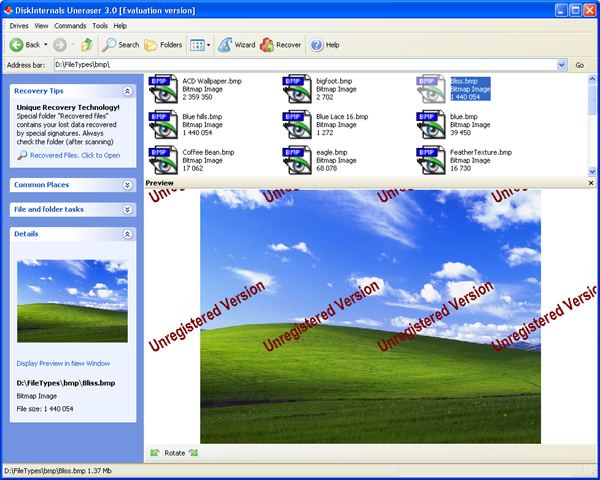 DiskInternals products will recover your documents, photos and files – guaranteed when you saw a preview!
DiskInternals tools allow you to preview over 18 types of office documents including Microsoft Office 95-2007, StarOffice and OpenOffice). Microsoft Office documents are shown complete with full formatting and embedded objects. First page only for OpenOffice and StarOffice documents. If a Microsoft Office 2007 document is damaged, DiskInternals will repair it automatically on-the-fly before showing a preview. DiskInternals does not require Microsoft Office, OpenOffice, or StarOffice installation to preview documents.
You can easily preview and recover pictures such as CRW, CR2, RAW, TIFF, TIF, NEF, PEF, X3F, JPEG, JPG, TIFF, BMP, PNG, GIF, TGA and other images. Salvage video files just as easily with fully featured previews. DiskInternals products comes with a built-in video player. The player supports all major video formats including WMV, MPEG1, MPEG2, MPEG4, Avi, vob, mpg, blueray video. The player uses installed codecs to support playback of certain file types. You can play back deleted music files The product comes with a full-featured built-in audio player. You can play the entire tune before making a decision to recover it. DiskInternal tools support mp3, wma, asf, wav, ogg, wv, ra, rm, vqf, mid and voc formats. You can even play back deleted audio files while recovering other data!
Pre-recovery data preview is an essential part of data recovery workflow. Don't even consider using tools without this essential feature! Download DiskInternals software for free.