Need to Recover Notepad Files Today? Find out how to do that!
In that article you will find out:
basic knowledge about Notepad files
two useful recovery methods for unsaved and deleted Notepad files
how DiskInternals Word Recovery can help you
Are you ready? Let's read!
Let's talk about Notepad files
In any version of Windows, you can find the built-in program Notepad, where you can work with text documents. Such documents usually have the format .txt; they are in fact quite simple and without a lot of metadata. These files, like all others, can be lost, accidentally deleted or damaged for a variety of reasons. In this article, we will focus on the fast and high-quality recovery of Notepad files.
What Notepad program alternatives are there?
At the moment, there are at least 10 alternative programs that perform the same functions as Notepad. Many of them have several advantages. Of course, this is due to the fact that technology does not stand still and application developers are trying to fulfill all the wishes of modern users. You can easily download one of the following applications and get additional functions: Notepad2, PSPad, Sublime Text, Atom, Notepad2-mod, Gedit, Vim, Notepad ++, etc.
How to increase your chances for Notepad file recovery
Of course, you can recover unsaved Notepad files, but this can cause problems if you do not follow these rules:
you must stop using the device where the lost file was. This can lead to data overwriting, and thus, recovery of deleted Notepad files is simply impossible.
begin recovery of Notepad files as soon as possible, as time is not on your side.
If you listened to these tips, your chances of recovering deleted Notepad files are good.
Method 1. Recover unsaved Notepad files
You can search for a deleted file in temporary files that have been stored on your computer for some time. This can be done via the Start button. In the search bar, you will need to type "%AppData%" and confirm the action by pressing Enter.
Next, you need to go to the folder with temporary files:
"C:\Users\USERNAME\AppData\Roaming"
In the new window to the right, you need to select the type of file you want to find and restore or if you remember the exact name of the file, its name. Now scroll the entire list of found files and select the one you need and restore it by clicking on the appropriate button.
If you did not find the lost file, do not worry; there is another proven method to recover Notepad files.
Professional software can always come to the rescue for recovering lost Notepad file — like DiskInternals Word Recovery.
This application occupies a leading position in the market and is fully adapted to the needs of users. This software tool supports many file systems, including FAT12, ReFS, UFS, HFS, NTFS, ReiserFS, Reiser4, XFS Ext2, Ext3, and Ext4. With the free preview function, you will be sure that the files will be recovered as they were before they were lost. You can also use the free trial version of the program and test its performance in practice.
Here is a step-by-step guide for recovering unsaved Notepad files using recommended software. Be sure to use it during recovery of unsaved Notepad text.
Step 1. Download and install on your computer DiskInternals Word Recovery.
Step 2. The recovery wizard welcomes you and offers you to choose the storage for scanning and the mode for recovering unsaved Notepad files: "reader", "uneraser" or "recovery" (recommended). Click Next.
Step 3. Scan.
Step 4. Preview. Select the Preview function and view the files you need to restore. The process of recovery of unsaved Notepad files is fully automated.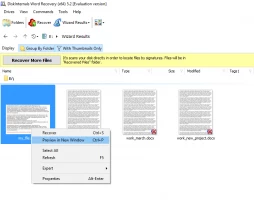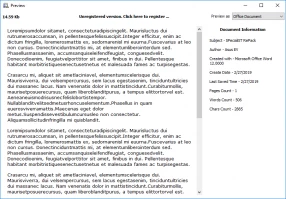 Step 5. Saving. To do this, simply purchase a license and enter the license key (the Wizard will help you).
It is best to save the recovered deleted Notepad file elsewhere, to prevent data from being overwritten.
Related articles