How to perform safely ODT file recovery
Here you will find out:
how DiskInternals can help you
Are you ready? Let's read!
What is an ODT file?
An ODT file is a text file in the OpenDocument format; they are usually created by Openoffice or LibreOffice.
These can be reports, spreadsheets, notes, books, and so on. This format has been used in office programs since around 2014, and it has spread quite widely. Moreover, it is easily converted to other popular formats and is not difficult to use. This format can be opened not only in OpenOffice, but also in many other programs (Lotus Symphony, NeoOffice, Corel WordPerfect, and even Google Docs.).
Corrupted ODT files will certainly bring a lot of problems, but their recovery is quite possible if you approach this wisely.
1. How to find a backup copy
OpenOffice or LibreOffice are reasonably well-designed programs and have a file backup function. Therefore, without a panic, check the backups that are created in special folders.
C: name Users / AppData / Roaming LibreOffice 4 user backup — for LibreOffice
C: name Users / AppData / Roaming OpenOffice 4 user backup — for OpenOffice
Look for files with the ending .bak — this is your salvation.
It is a pity if the file was not found there; this happens if the copy function is disabled.
2. A simple trick to do if ODT file is corrupted
Not everyone knows about this, but by opening a blank document and selecting the Insert tab on the taskbar, then File, you can get back a damaged file. It's as simple as that, and you are lucky if this trick works!
If not, corrupted ODT documents require ODT recovery; DiskInternals Word Recovery software will help unquestionably.
3. How to recover ODT files with DiskInternals Word Recovery
This application is the best if you need to find and recover an ODT file.
Word Recovery is compatible with all versions of Windows and does not require any additional features for your computer. You can return a specific document using the "On the fly" filters. They allow you to display files with a specific header, containing specific text, created by a specific author, having a specific size, or last saved on a specific day. This will help you quickly select the required document and save you from long file reviews. Preview in DiskInternals Word Recovery is free. So, download a trial or the full-featured paid version of the program and then rely on the guide below.
1. After you open Word Recovery, click on the Wizard icon and select the disk.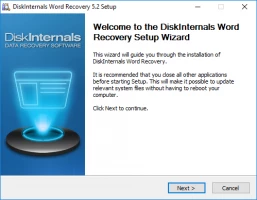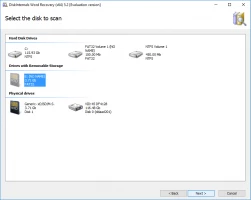 2. Click the Next button. After the scan is completed, you will see search results.
3. In a new window, you can use the On-the-fly filter or use the preview function to view a file's content.
4. Saving is the last stage but requires the paid version. You can buy a license for Word Recovery without leaving your home.
5. After you've purchased a license, prepare a reliable repository (another partition or external storage) for saving recovered data to. It is best to not use the original storage since overwriting data can overtake you at the most unexpected moment.
Good luck!
Related articles