DiskInternals Updates Uneraser with Accessibility Features
DiskInternals updates Uneraser, a Windows data recovery tool for homes and small offices, with a handful of usability and accessibility features. Virtual Disks make it possible to use Windows Explorer and any other Windows software to access recoverable files and folders by mounting partitions and hard drives being recovered onto a separate drive letter. The updated pre-recovery preview is now able to display thumbnail images of supported files such as pictures, videos, and documents. Added support for Ext2/3 and MacOS hpfs+ file systems helps Windows users access healthy and problematic Linux and Mac disks.
About Uneraser
DiskInternals Uneraser helps ordinary computer users to recover lost and deleted files and folders from all types of healthy and damaged media. The product can undelete deleted files, recover files and folders from damaged, corrupted, formatted, and inaccessible disks and other media including flash memory drives, memory cards, desktop, mobile and external hard drives. Uneraser features fully guided, step-by-step user interface to make data recovery easily possible and error-free for ordinary computer users.
What's New
The latest update to DiskInternals Uneraser, version 4.5, adds important features that make the product not only better than before, but put it ahead of the competition. Newly added Virtual Disk support allows mounting recoverable files and folders, corrupted partitions, and entire hard drives, onto a separate drive letter. This allows users accessing recoverable files and folders from any Windows application including Windows Explorer. Virtual Disks make it possible to map damaged, corrupted, and completely inaccessible hard drives onto a new drive letter. Users can copy recoverable files from the new drive by using Windows Explorer or their favorite file manager, view pictures with image viewers, open and edit office documents with Microsoft Word, access email and enter compressed archives. Disks of any size can be mapped instantly after the Uneraser completes scanning the file system.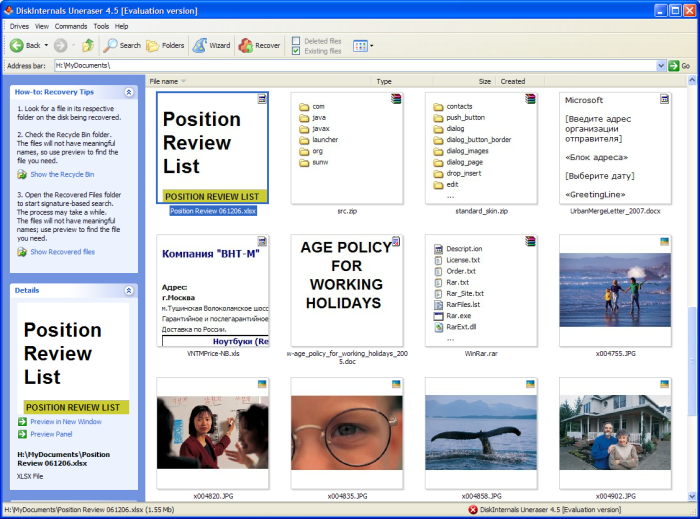 Pre-recovery preview available in both full and free evaluation versions of DiskInternals Uneraser now supports thumbnails for all supported files and documents, over 150 in total. Thumbnails make it easier to recover only healthy, uncorrupted files.
In addition to all revisions of FAT and NTFS, the new Uneraser adds support for Ext2/3 and MacOS hpfs+ file systems, making it possible for Windows users to read and recover information from Linux and MacOS disks.
About DiskInternals
Founded in 2003, DiskInternals is a modern software engineering company delivering latest data recovery technologies to ordinary computer users around the globe. Developing a wide range of high quality, award-winning disk and data recovery products, DiskInternals provides quality service to thousands of satisfied customers all over the world. Company's data recovery products are renowned for their ease of use and excellent recovery rate.