October, 2008
For Immediate Release
DiskInternals Updates RAID Recovery Software
DiskInternals announces the update of RAID Recovery, a leading product to recover all types of RAID arrays. The new release supports all configurations of RAID arrays, including RAID 0, 1, 5, 0+1, and JBOD (span), and supports dedicated RAID controllers and native RAID chipsets embedded into motherboards produced by Intel, NVIDIA, and VIA. RAID Recovery fully supports Microsoft Dynamic Disks and software RAID arrays in all configurations. The new release can recover data and repair RAID arrays even without the original RAID controller or RAID-enabled motherboard installed, making it possible to quickly back up data from RAID configurations after a physical failure of a RAID controller or motherboard. The latest version adds support of Adaptec RAID Controllers and DDF compatible devices.
About DiskInternals RAID Recovery Software
DiskInternals RAID Recovery makes it possible for anyone to recover corrupted RAID arrays with or without the original RAID controller. RAID Recovery implements sophisticated technologies to recover files and data, and can recover many types of files even if one or more disks are missing from the chain.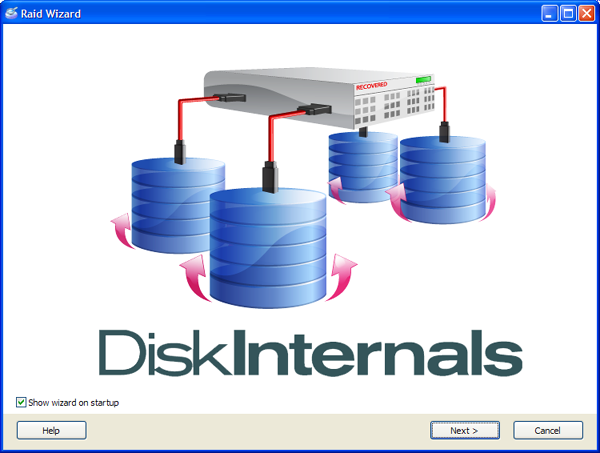 The RAID recovery tool is able to automatically sense the type, manufacturer, and essential parameters of the RAID array being recovered, allowing fully automated operation to both new and expert users. The innovative user interface features drag-and-drop control to assemble RAID configurations from separate hard disks.
The latest release makes it possible to transfer disks that were part of an array into a new PC with or without the original RAID controller, recover files and data and repair the array without the original RAID controller or RAID-enabled motherboard installed. This feature makes Raid Recovery indispensable when recovering RAID arrays after a failure of the original RAID controller or motherboard.
About DiskInternals
Founded in 2003, DiskInternals Research develops and markets a wide range of disk and data recovery products. Data recovery software produced by DiskInternals Research deliver quality service to thousands of customers every month. DiskInternals products work on a variety of Windows systems, and recover failed disks, files and data. The company's unique recovery algorithms allow its products to locate and recover data such as office documents, digital pictures and multimedia files even from badly damaged and inaccessible disks.