May, 2006
For Immediate Release
DiskInternals Research Releases DiskInternals NTFS Recovery 1.5
Sure Way to Bring Drives to Life and Salvage Data
DiskInternals NTFS Recovery brings salvation to users who face data loss. It utilises self-healing features of the NTFS file system to recover files and partitions that otherwise would be lost. While scanning a drive, the program also ensures that no further damage is done to it. At a critical point NTFS Recovery always knows what to do and how to do it.
DiskInternals Research today announces the release of an upgrade for DiskInternals NTFS Recovery, an automated recovery engine. To its impressive capability list NTFS Recovery v1.5 has added a partition recovery and a special support for unbootable drives. Now it can recover not only damaged or formatted disks, but also those with an impaired master boot record. The new version also features Partition Recovery Wizard. It recovers partitions that the system doesn't see for some reason. The new features help when the system gets out of hand after changes in settings.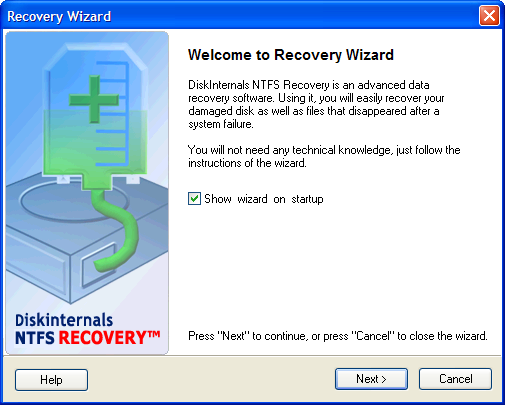 "While developing NTFS Recovery, we paid special attention to two things," says Alex Babenko, CEO of DiskInternals Research. "Firstly, it had to be a program that everyone could use. Frequently, it's users with less experience that need our help most. That is why we automated recovery as much as possible. The program is a recovery wizard and its dialogues are pretty much self-explanatory. Secondly, when something goes wrong with the system, there is always a chance to make things worse. That is why our recovery engine has a built-in protection against further damage. It is 100% safe to use on damaged drives and partitions."
DiskInternals NTFS Recovery can scan any physical drive or virtual image. It doesn't make any changes to the drive itself and can be safely used even on the system volume. While scanning the drive, its recovery wizard shows the progress with the number of found files and folders. When the scanning is over, the user can change some of disk properties. You can, for instance set up a new cluster size or proceed with the existing one. The program displays all recoverable files and folders in the explorer-like window. It has customary interface and the same choice of controls found in the explorer. A search engine will help you find desired files and move them to a safe location. With DiskInternals NTFS Recovery, you can access files that the system fails to see. It is an easy and safe solution that will always help you out.
DiskInternals NTFS Recovery Features at a Glance
Recovery of damaged and reformatted disks;
Recovery of lost partitions and unbootable disks;
Search for lost partitions;
Support for virtual images of drives;
Protection against further damages;
Customary interface and recovery wizard.
System Requirements:
Windows 9x/ME/NT4.0/2000/XP/2003.
At least 16 MB of RAM, a mouse, and enough disk space for recovered files.
The administrative privileges are required to run NTFS Recovery under Windows NT/2000/XP/2003/Vista