September, 2008
For Immediate Release
DiskInternals Updates Mail Recovery
DiskInternals announces the update of Mail Recovery, its flagship product to recover and repair deleted and corrupted email databases by various mail clients. The new release supports Microsoft Outlook, Outlook Express, Windows Mail, Thunderbird, and TheBat, and recovers messages, attachments, contacts, tasks, calendars, and address books.
About DiskInternals Mail Recovery
DiskInternals Mail Recovery allows everyone to recover and fix email databases used by Microsoft Outlook, Outlook Express, Windows Mail, Thunderbird and TheBat. The new version works fully automatically. The tool locates, recovers and repairs email databases automatically even if the disk is damaged or inaccessible.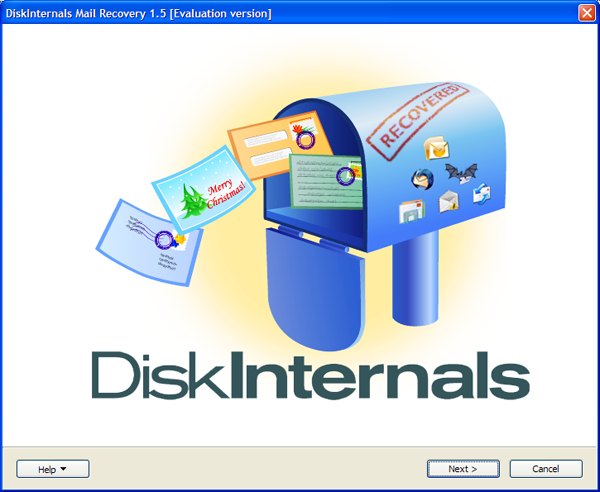 DiskInternals Mail Recovery combines sophisticated data recovery technologies with simple, convenient user interface and fully automatic operation. The technologies used in Mail recovery are the same data recovery algorithms utilized by DiskInternals Uneraser, a top-of-the-line data recovery product to recover files and data from damaged, corrupted and inaccessible disks. Mail Recovery combines those data recovery techniques with new algorithms developed to fix corrupted email databases after they've been recovered. DiskInternals Mail Recovery recovers the original messages complete with attachments, contacts, address books, calendars, tasks, and indexes.
DiskInternals Mail Recovery is available as a free evaluation download, making it possible for evaluation users to preview the recoverable messages and attachments before the recovery. The full version of the product allows saving the results of the recovery to the disk. Mail Recovery supports export to Microsoft Outlook and Outlook Express formats, as well as to eml and vcf files.
About DiskInternals
Founded in 2003, DiskInternals Research develops and markets a wide range of disk and data recovery products. Data recovery tools produced by DiskInternals Research deliver quality service to thousands of customers every month. DiskInternals products work on a variety of Windows systems, and recover failed disks, files and data. The company's unique recovery algorithms allow its products to locate and recover data such as office documents, digital pictures and multimedia files even from badly damaged and inaccessible disks.