Last updated
: Nov 15, 2022
Bootable Partition Recovery
Can you recover your PC's bootable partition? Basically, when you install an operating system, the newly installed OS creates a small partition on the primary disk where booting data and other crucial OS data are saved. This partition cannot be used to save regular files and data; it's important not to attempt formatting the partition too.
But then, something may happen, and the boot partition could get corrupted – in essence, the data stored in the partition gets corrupted and becomes inaccessible. When this happens, one of the ways to save the day is to launch a bootable partition recovery software to retrieve the OS/boot data, so your computer system can run smoothly again. How do you go about this?
In this article you will find:
What Is a Bootable Partition Recovery Tool?
When Is a Recovery Tool Necessary?
Why Choose DiskInternals Partition Recovery
Ready? Let's read!
About DiskInternals Partition Recovery software
Losing your system's bootable partition is a sad situation. The computer system won't be able to boot until you recover those files – and one of the ways to recover such files is by using a bootable partition recovery tool.
A bootable partition recovery tool is a software utility app that can recover boot files from your hard drive. This means that the software app can launch a recovery process and retrieve your system's bootable partition with the important files saved inside; this way, you can regain access to your computer's important files, resave them, and get the system working smoothly again.
Also, a bootable partition recovery tool is able to boot a computer system even when the OS files are not there. It is such an essential tool for every advanced PC owner or admin.
2. When Is a Recovery Tool Necessary?
How everyone uses a computer differs, but definitely, a daily computer operator will, at some point, try to delete some files or partitions, or try to create new partitions for pretty many reasons. These actions – while they may be highly needed at those moments – may lead to other critical scenarios.
For example, the user may end up formatting or deleting the boot partition or mistakenly deleting some files from the boot partition. When such things happen – tampering with the boot partition files – the OS would not be about to boot the computer because it cannot access the necessary files, data, and partition to complete a booting cycle. Thus, the computer won't boot.
Mistakes happen to anyone, and it's understandable. Many people have formatted the wrong drive, deleted the wrong partition, reformatted partitions they shouldn't have touched, and pretty many other similar occurrences. Even so, the hard drive may be attacked by malware, which encrypts the files saved on the drive – the boot partition files may be among the encrypted ones.
Now, all these scenarios explained above – and other relatable ones – are what depict that you need a bootable partition recovery tool. It would be even much better to get a more advanced tool that doesn't only recover boot partitions but can also recover other partitions (regardless of the file system) with every file saved inside still intact. Yes, there are such partition recovery tools like that; a decent example is the DiskInternals Partition Recovery software for Windows.
However, if you don't want to use a third-party application to save the day, you can practice this troubleshooting tip – but this would only work if you have at least two working PCs (with operating systems installed in each) or another disk – maybe an external hard drive – with OS installed in it.
So, let's say Disk 1 is the one with the lost boot partition, and it is the primary disk in System A. So, you take out Disk 1 and connect it as an external drive to System B, then use a partition recovery software to recover the boot partition, or simply format it and install a new OS (this would delete everything on the disk!).
Secondly, if you have another disk with OS installed inside (maybe an installation media or bootable disc/drive) – let's call it Disk 2, you can connect Disk 2 to the PC that has refused to boot due to lost boot files, and then boot the computer from the connected Disk 2, instead of the primary Disk 1, and then attempt recovery on Disk 1 after the computer has booted.
So, practically, in all scenarios, you'd still need a recovery tool to recover the boot files on your primary disk, and that's where DiskInternals Partition Recovery comes in handy.
DiskInternals Partition Recovery is a utility solution for computer owners who run Windows operating system. It is an advanced recovery solution capable of retrieving all your lost partitions, regardless of the partition file systems.
| | |
| --- | --- |
| Partition Recovery Expert | DiskInternals Partition Recovery comes standard with built-in NTFS Recovery and FAT Recovery engines, which means that it can efficiently recover these partition file systems easily. Of course, it can recover other partitions formats; this software supports many file system formats, which include: FAT, ReFS, UFS, HFS, NTFS, ReiserFS, APFS (reader mode), RomFS (reader mode), Reiser4, XFS, EXT2, EXT3, and EXT4. |
| Multiple Scanning Modes | Furthermore, the DiskInternals Partition Recovery offers three unique disk recovery wizard scanning modes: Fast scanning (This scanning, as you may guess from its name, will take less time.), Full Recovery (This is a deep scan of every disk sector for retrievable data.), and Reader modes (This means that you can open disks in File Explorer). |
| Fast and Efficient | DiskInternals Partition Recovery is very fast in scanning hard drives, and its recovery rate is highly efficient – proven over 18 years by IT experts and home users. You would get back almost all your lost files that have not been overwritten. |
| Preview For Free | With DiskInternals Partition Recovery, you can preview the discovered files to confirm they were actually the ones you needed to recover. This lets you perform selective recovery instead of restoring everything – including unneeded junk files – back to the computer. |
Recover partition with DiskInternals Partition Recovery
Finally, decided to use the DiskInternals tool to get back the bootable partition. First, you have to install the DiskInternals Partition Recovery software on a working computer, then connect the disk from the problematic computer to the good one (where you installed the DiskInternals software). Or, boot the PC from another drive, and install DiskInternals Partition Recovery.
1. Download The App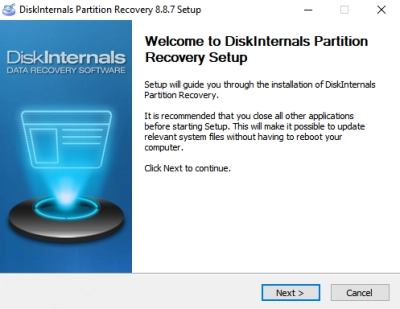 Firstly, you have to download DiskInternals Partition Recovery from the official website. After downloading, double-click on the .exe file and install the app.
2. Launch The App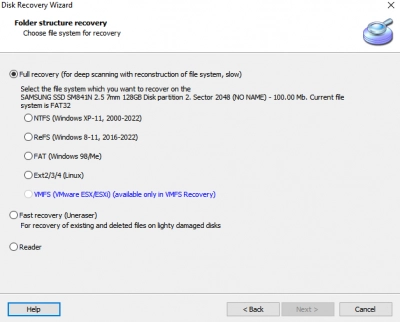 After installation, launch the app and select the drive (where the deleted/lost partition was previously created). When you click and select the drive or partition, then click the "Next" button to continue.
3. Choose a Recovery Mode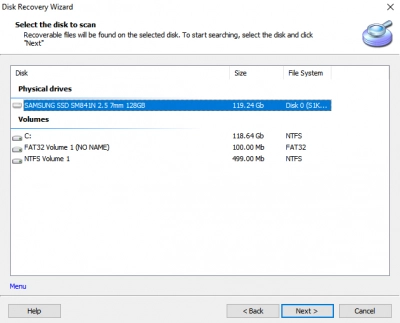 If you can still remember the partition format, select it and continue; if not, simply choose Full Recovery and proceed with the recovery scan procedure. The Fast Recovery mode is quick but may not recover all your lost files. Use the Full Recovery mode if you want to recover everything you have lost.
4. Preview The Partition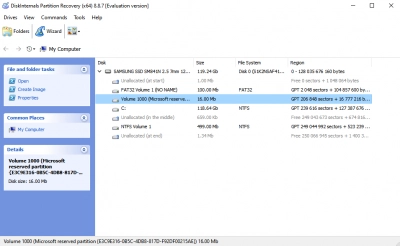 Click "Finish" to complete the recovery scan, and you'll see all the lost partitions, files, and folders deleted from the scanned drive. Here, you will find the boot partition and recover the files.
Note: You shouldn't save the recovered files to the same partition or drive; choose another storage device.
Conclusion
DiskInternals Partition Recovery is the go-to solution for most IT experts for anything data recovery. It reads all types of partition file systems and can recover any file format, including PDF, JPG, PNG, DOC, and many others. The app flaunts a simple-to-use interface that virtually any computer operator can easily understand and navigate the interface.
DiskInternals Partition Recovery has the tendency to get back your lost boot partition so you can regain access and run your computer smoothly. The most interesting part is that everything about this software is freely available; you only have to pay when you've confirmed that the needed files or partitions you want to recover have been successfully retrieved.
Related articles
Please rate this article.