Error code 0x80131500? Fix it now!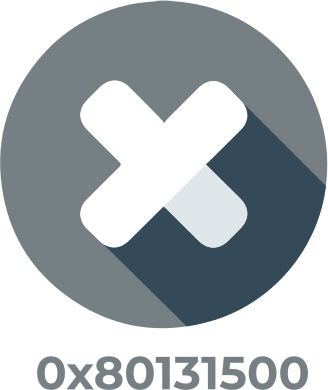 Here you will find out:
how DiskInternals can help you
Are you ready? Let's read!
About this issue
Windows 10 invites you to use the Microsoft Store to quickly and securely download a wide variety of applications and programs. However, there are times when you try to access the Microsoft Store and nothing comes out. Instead of opening the application, you get the message "the error code is 0x80131500."
This could be due to a variety of issues on your computer, or it could be due to a problem with the Microsoft Store app itself. You can fix this problem with this article without harming your data, so let's get started!
Let's fix it
1. Turn off system protection
Error 0x80131500 may appear due to the work of your antivirus or firewall. Sometimes, in order to protect the system, your antivirus can interfere with Windows applications and prevent them from working properly.
To test this hypothesis, you should disable certain antivirus features or antivirus in general. If your antivirus application has a built-in firewall, also disable it and see if that helps resolve the "Microsoft store code 0x80131500" issue.
Sometimes, simply disabling your antivirus is not enough to cope with the situation that has arisen, then you should at least temporarily remove the antivirus from your computer.
If you do not know how to do this, study the corresponding guide, which can be obtained on the official website of the anti-virus application manufacturer.
If this method helps you deal with the problem, you should seriously consider switching to a different antivirus.
2. Choose a different region
You can also try changing your regional settings and application computer settings. This simple method is also very effective in solving the "the error code is 0x80131500" problem. You need to go to the Time & Language section, select the Region and language option of the tab. Next, just change your country or region to the desired result.
3. Use another account
Creating a new user account will also help you log into the Microsoft Store without any errors.
To implement this solution, open Settings and go to accounts. Next, select Family and other users, open the Other users section and click Add someone else. Next, select the line "I have no login information for this person" and click "Add a user without a Microsoft account."
Now enter the name and password for the new user, click Next and complete the creation of the new account. Now you need to switch to the newly created account and reopen the Microsoft Store. In the future, you can transfer all your personal files to a new account and use only one account for more comfort.
4. Adjust DNS preferences
If the previous methods did not work for you, change the DNS.
On the taskbar, click the network icon and select your network. Next, change adapter settings, select find your current connection and right-click it. Now select Properties, then select Internet Protocol Version 4 (TCP / IPv4). Click the Properties button, select "Use the following DNS server addresses." Next, enter 8,8,8,8,8 as your preferred DNS server and 8.8.4.4 as your alternate DNS server.
Save changes and check if code 0x80131500 is still saved.
5. Troubleshooting
You can also run the Microsoft Store Troubleshooter to automatically fix the situation. This method will help you if the problem is with your Universal Apps or the Microsoft wizard itself. All you need to do is download the Microsoft Store troubleshooter, then open it and follow the on-screen step-by-step instructions.
After restarting your computer, code 0x80131500 should no longer pop up.
6. Work with app
The Xbox Connectivity application in Windows 10 can lead to an error of 0x80131500. This problem is solved easily - you just need to completely exit the Xbox application on your computer.
7. SFC & DISM
Scan with built-in SFC and/or Dish Scans.
In the search bar, enter CMD and click "Run as Admin." As soon as the command line opens, enter SFC / SCANNOW and press ENTER to start scanning. It will take up to 15 minutes, so do not interfere with the restoration of your system files.
We now turn to the DISM scan (Internet connection is necessary).
Open the command prompt in the same way or PowerShell as an administrator and enter the following command:
DIP / ONLINE / CLEANUP-Image / RESTOREHEALTH, Press Enter.
It can take a little longer than the previous scanning, so be patient and not interrupt it.
8. Clean boot the OS
Clean booting allows the system to boot without any background applications. If this helps you fix the problem, then one of your software is the culprit. You just have to figure out which one is preventing access to the Microsoft Store. To do this, just turn on one application at a time until you find the reason. Then you can uninstall this application and the problem will be completely resolved.
So, how to do a clean boot:
Press Windows + R and type msconfig, click OK. Next, go to the Services tab and uncheck the Hide all Microsoft services option. Next, go to the Startup tab and open the Task Manager.
Now turn off one item at a time from the beginning of the list to the end of the list.
Then go back to the system configuration window, click Apply and ok and restart your computer.
Need to roll back OS updates? Protect your data!
Downloading and installing a professional DiskInternals Partition Recovery application on your computer will help you not only recover data, but also create a disk image.
The program has a high potential due to the mechanism of deep scanning of each disk of the partition so as not to miss one lost file. It is also possible to convert any selected file system if it is damaged (FAT, REFS, UFS; HFS, NTFS, REISERFS, APFS (read mode), ROMFS (read mode); Reiser4, XFS, Ext2, Ext3 and Ext4).
Forget about the limitations of recovery, besides, after any scan (full or superficial) you can see every file found in read mode for free.
Then, at any time, you can buy a license directly from the company's website, and save the data in the desired location. DiskInternals Partition Recovery also offers a free option to create a disk image in case of an emergency. You can save the system configuration (along with all data) to another device. Later, if necessary, you can apply this image on your new computer.
Instructions attached:
1. Download and install DiskInternals Partition Recovery from the official website.
2. Select basic options to search for data from a damaged hard or portable disk (the built-in Recovery Wizard will help you with this).
3. Select the scan mode: "Reader," "Uneraser," or "Full recovery" (recommended).
4. Next, scanning will start, which will take some time.
5. Preview and recovery. Right-click on the file and select "Preview in New Window," your data will now recover correctly.
6. If you want to save the recovered files from the disk, just buy a license and enter the license key. The program itself at the right time will ask you to select a location to save the data.
Good luck!